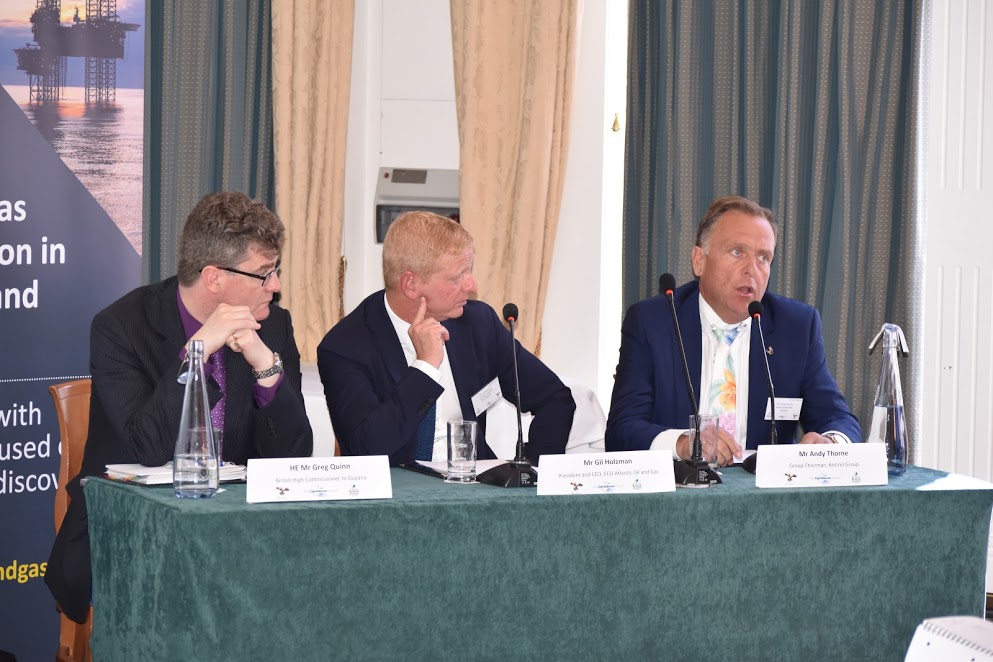 London, United Kingdom – (April 25, 2017) President David Granger said that Guyana, for long term development, has the most exciting investments prospects in the Caribbean and added that the country holds an enviable and strategic position as the link between the South American continent, the Caribbean region and the rest of the world. The President's remarks, which were made at an investment seminar, organised by the Caribbean Council in London, today, were supported by Mr. Gil Holzman, President and Chief Exective Officer of ECO Atlantic Oil and Gas, which has a stake in oil and gas exploration in Guyana. He said, "With everything combined together under the management of the President and his administration, I think the next two to five to ten years will be very transformational and again, from my personal perspective, this is probably the best investment destination in the world at the moment."
President Granger and Mr. Holzman were part of a panel, which included Minister of Foreign Affairs, Mr. Carl Greenidge, British High Commissioner to Guyana, Mr. Greg Quinn and Mr. Andy Thorne, Group Chairman of the Kestrel Group, which is involved in the shipping industry in Guyana. The session was facilitated by British Member of Parliament, Lord Bruce of Bennachie and in the audience were business executives from infrastructure, port development, oil and gas, tourism and hospitality and shipping, who are already operating in the Caribbean and Guyana or are interested in doing so, along with Members of the diplomatic community.
The Guyanese Head of State sold Guyana as an exciting investment destination with several advantages and opportunities. "We have the land, we have an intelligent English-speaking population, we have the resources, and I think people who are looking for something different; something unique, will come to Guyana. I am not suggesting that you leave Belize or Antigua or Barbados but I am suggesting for long-term development, Guyana is the best prospect for investment," he said. President Granger painted a picture of Guyana's potential and the 'green' State development policy, which would see it taking advantage of its eco-tourism product, preserving its environment, pursuing 'green' energy development while taking advantage of coming oil and gas revenues to accomplish these goals, declaring that even as the country transitions, it has to 'walk on two legs'.
Mr. Andy Thorne, Group Chairman of the Kestrel Group makes a point as British High Commissioner to Guyana, Mr. Greg Quinn and Mr. Gil Holzman, President and Chief Executive Officer of ECO Atlantic Oil and Gas listen attentively.
"Oil and gas is a very attractive prospect… We probably wouldn't start to produce oil and gas till maybe 2020… We will continue to develop our sources of renewable energy and at the same time use the revenues from the petroleum industry to funnel our development of infrastructure and education in particular, and ensure that other industries could be diversified away from what we call our six sisters; sugar, rice, bauxite, timber and gold and diamonds. Oil and gas is not going to distract us. We are going to ensure that the revenues… go into our Sovereign Wealth Fund, but we will also ensure that we continue to become a 'green' state by developing our sustainable energy resources," President Granger said.
With the need for cheaper energy to boost the manufacturing sector, the Head of State outlined Guyana's energy generation potential and called for investments in solar and wind energy, biomass and hydropower.
"We can generate electricity from about 100 sites… We have huge savannahs and the sunlight is sufficient to generate electricity in many of our hinterland communities… We are the largest CARICOM [Caribbean Community] sugar producer up to the present time and although there have been uncertainties in market in the European Union, we still have a viable sugar industry, which can generate enough biomass to produce energy," he said.
Even as the administration works to steadily improve Guyana's reputation as an attractive investment destination, President Granger told those gathered that progress is already being made, with regard to the legal and regulatory environment. This he said, combined with the fact that Guyana, the only English speaking country on the continent of South America, has a similar common law, parliamentary system and institutional infrastructure that can be found in other Commonwealth countries means that there would be some ease of doing business for companies from those parts of the world.
"We can assure that your profits can be repatriated. We can assure you that our legal system, our Judiciary, our Ombudsman, our Auditor General, our elections are all entirely in consonance with what is required in Western Europe and the Commonwealth. Only last year we had our Local Government Elections, which under the previous administration had been suspended for nearly two decades and when the elections were held, we created three new towns. The urbanisation of our hinterland is proceeding apace. ," he said.
Supporting this point, Minister Greenidge said that prior to the 2015 elections, there were serious concerns that the device for setting rules and for allocating resources in the various sectors were less than transparent and that there were instances of discrimination, as a result of a number of factors including corruption. "This is something that the current Government has been mandated to address… regulations have been changed, laws have been amended in a wide range of ways, including in relation to money laundering and funding of terrorism, legislation pertaining to the mining sector and the updating of legislation in relation to forestry and the like," he said.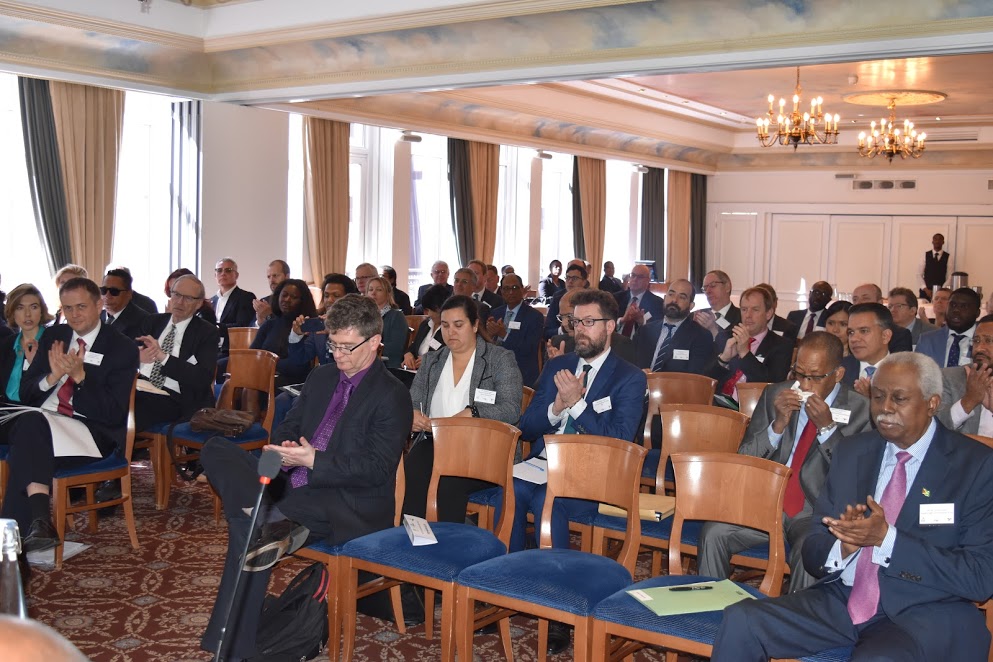 In the audience at the Investment Seminar on Guyana were business executives from infrastructure, port development, oil and gas, tourism and hospitality and shipping sectors, as well as some members of the diplomatic community.
From the foreign policy point of view, the President spoke of the various regional and international bodies with which Guyana is affiliated, such as the Union of South American States (UNASUR), the Organisation of American States, CARICOM, Common Market of the South (MERCOSUR), Community of Latin American and Caribbean States (CELAC) and the United Nations. He also updated the gathering on the Guyana-Venezuela border controversy and assured investors that the matter is on its way to being resolved.
The Guyanese Head of State acknowledged, though, that the country has series deficiencies in the area of infrastructural development and noted that Government is focused on comprehensive development plans that include deep water harbours, aerodromes and road and bridge networks that link the coastland to the hinterland. Minister Greenidge added that the infrastructure needed for the sustained development of the productive sectors is inadequate and stated that this is a major priority area for the administration.
He said, too, that the country is working with its neighbours and international partners to look at the development of a deep water port that allows Guyana and other countries in South America to ship their goods to markets in North America and Europe.
Mr. Holzman from ECO Atlantic Oil and Gas, encouraging other investors to take a look at Guyana said that economic boom that Guyana is about to witness as a result of oil production will have a significant effect on several sectors such as real estate, hotels, tourism, airlines, shipping, education and healthcare and will create exciting opportunities.
"You will have 20,000 expats flying into the country and they will need hotel rooms. The big companies that are going to build the infrastructure, they will need areas next to the port. You will need better roads from the airport," he said.
Nevertheless, Mr. Holzman pointed out that the Government is taking impressive measures in terms of ensuring that benefits of the oil and gas industry redound to the citizens and contribute to national development. He added that while there is a need to develop capacity to manage the sector in Government Ministries and agencies, he said that his interactions with the Ministry of Natural Resources and the Guyana Geology and Mines Commission have been heartening.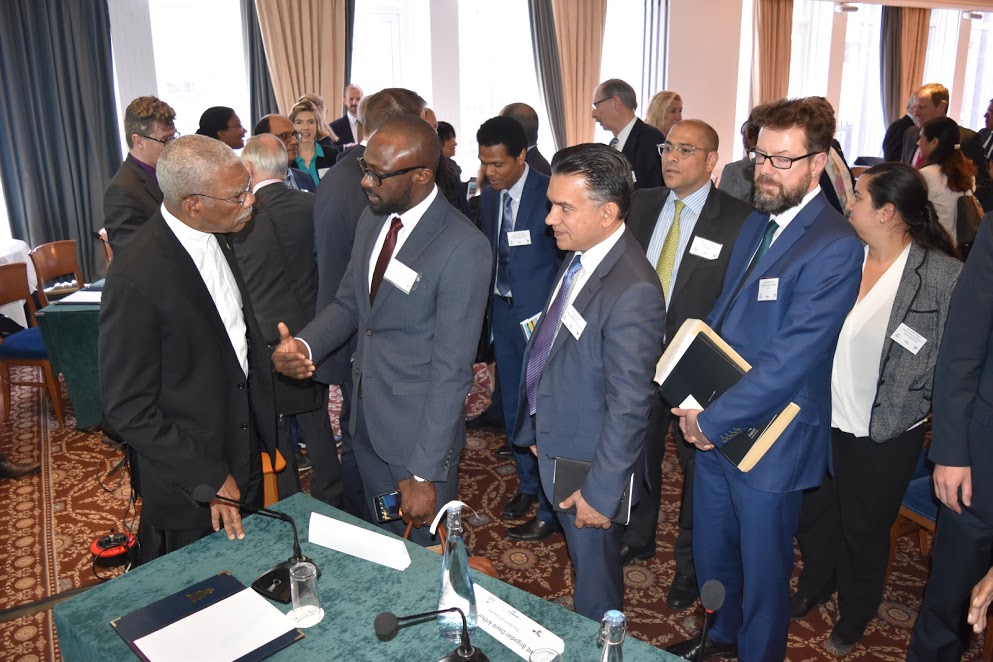 Investors queued up to speak one on one with President David Granger, following the formal presentations. Here the Head of State is pictured in discussion with Director at ION Geophysical, Mr. Folarin Lajumoke.
"These are all very savvy people; they are very responsible. They know that the big opportunity of the oil discovery, which is transformational for the country, should be dealt with very, very carefully… I know that your administration, Mr. President is speaking with everyone there is in the UN, in the United States, here in the United Kingdom, in Norway [and elsewhere] in order to learn from other people's mistakes, in order to take the right measures going forward, taking the oil opportunity and making it for the greater good of your people and your country and I think you're taking very impressive measures," Mr. Holzman said. He also informed the Head of State that his company, which is conducting exploration work in the Stabroek Block, respects the country's 'green' thrust.
Kestrel Group's Chairman, Mr. Thorne, in his remarks, described Guyana as "the most amazing, magical place" where it is safe and easy to conduct business. "Please go to Guyana; it is an amazing country, listen to the people. The opportunities there are amazing but do the right thing; give back to the local people. Do this for them as well as yourselves. Make money but make it the right way. Give a helping hand when you can. People do not want a handout they want a hand up. So please do the right thing," he urged potential investors.
Mr. Thorne also spoke of a project that will be implemented in Guyana under the auspices of the Prince's Trust International. He explained that it targets young people who are unemployed; offering them training in various fields such as tourism, hospitality, port operations, infrastructure and transportation among others and finding them fulltime employment at the end of the programme. He noted that when oil comes on stream there will be an immediate boom in jobs and these individuals will be trained and ready. "It is so important and so valuable that we do this. In Barbados when we started it, I was a little sceptical, but 41 young people went on to the course and 36 ended up in fulltime employment," he said.
British High Commissioner to Guyana, Mr. Quinn said Guyana is moving in the right direction, particularly as it relates to the ease of doing business and the reduction of corruption. "I think we went up 16 points on the ease of doing business between 2016 and 2017 and that was from 140 to 124 and the corruptions perception index, which went from 29 to 34… We believe that this is an Administration and a Government, which we can and want to work with and which has significant potential going forward," he said.
President Granger also spoke, along with the Rt. Hon. Baroness Anelay, Minister for the Commonwealth and the UN, who he had met with earlier in the day at the Caribbean Council's House of Lords Annual Reception and met with Member of Parliament and Foreign Secretary, Rt. Hon. Boris Johnson. Details of that engagement will be provided in a subsequent report. The Head of State will have an audience with Her Majesty Queen Elizabeth II tomorrow at Windsor Castle.