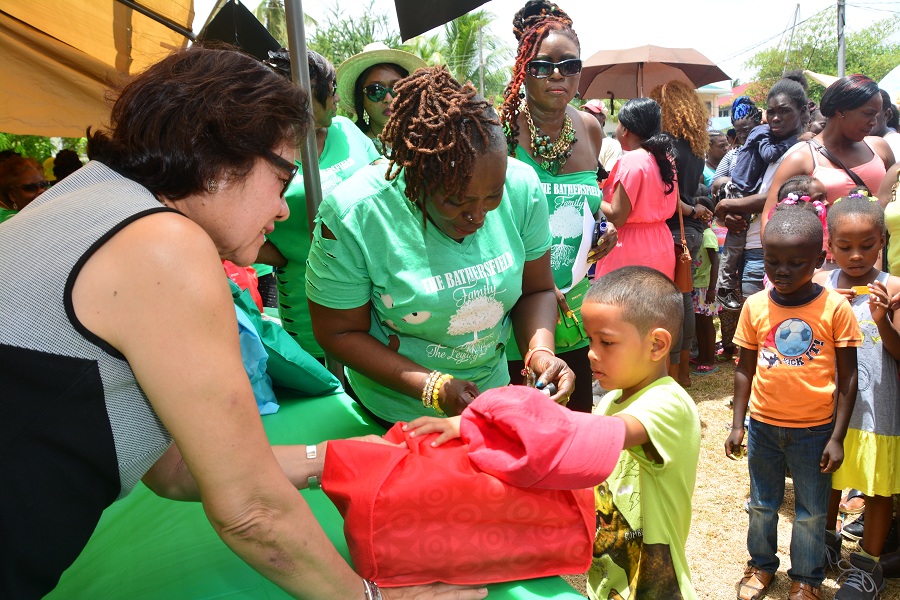 Georgetown, Guyana – (April 18, 2017) First Lady, Mrs. Sandra Granger, today, joined the Battersfield family of Buxton to distribute over 800 toiletry hampers to children from six schools in and near the community, at the Arundel Congregational Church. The family, which is well-known in Buxton, said that they invited the First Lady to participate in the exercise because they are inspired by her commitment to providing educational and other opportunities for Guyanese.
In her remarks, the First Lady commended the family, many of whom now reside in the United States, for contributing to the community. "I think it is a beautiful way for the Battersfield family to introduce this tradition. I don't call it giving back. I call it giving forward because they are using the resources that they have been blessed with," Mrs. Granger said.
The First Lady also applauded other persons from the community, who continue to contribute to enhancing the lives of its residents, such as Ms. Joycelyn Wilson, who facilitated her participation in today's activity. "People go away and they come back. It's as if there's something calling them back to do something for their community… You have examples like Mr. and Mrs. Wilson, you have the Battersfield family, you have other families, who live in the villages… and give forward to the children of the community," she said.
This little boy holds on to his hamper as First Lady, Mrs. Sandra Granger interacts with him.
Meanwhile, Ms. Carol Battersfield said that her family was pleased that the First Lady agreed to participate in the exercise as "she has brought a change to our country with her desire to put her people first". Thirty-five members from three generations of the Battersfield family travelled to Guyana to host the outreach exercise. The children, who received the hampers were drawn from the Friendship Nursery School, Company Road Nursery School, Hendon Nursery School, Friendship Primary School and Company Road Primary and Buxton Primary Schools. This is the second year that the family is hosting the outreach exercise and they expressed the intention to make it an annual event.
In an invited comment, Ms. Marcia Auguste of Buxton, whose son received a hamper, said that she was particularly pleased that the First Lady took the time to meet and interact with the children. "I think it is a privilege to have First Lady here because most times we get the President when it is Christmas and Easter… [but] having the First Lady here is a privilege. Most children don't really know her and never meet her [so] this is very good," she said.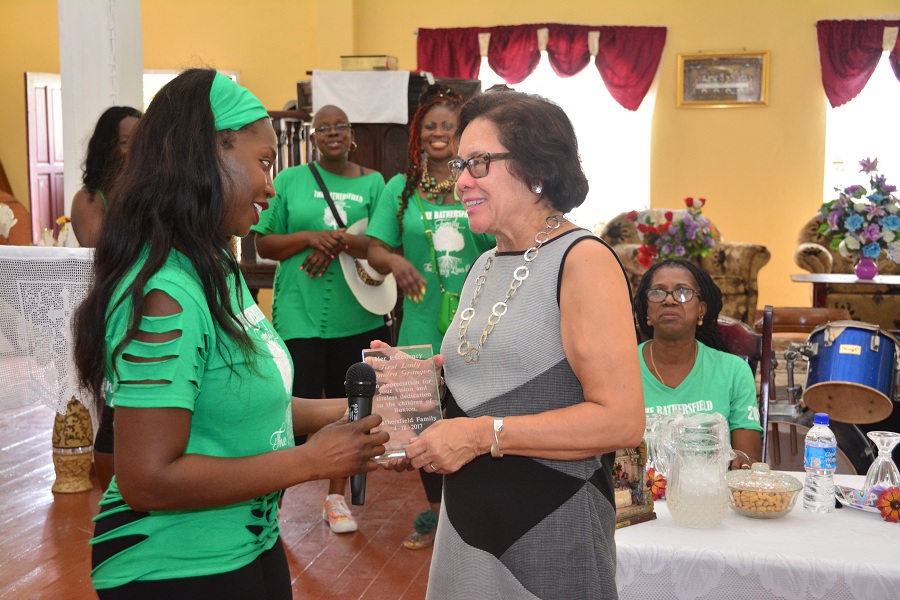 Ms. Tia Battersfield presented First Lady, Mrs. Sandra Granger with a plaque in recognition of her dedication to the Guyanese people.
Ms. Patronella Blair of Friendship, whose two children received hampers, said that she is happy that the Battersfield family thought of this initiative, as it will help to reduce her expenses when preparing them for the new school term. "It is very nice that the Battersfield family could give back to our community and to the children and it is very appreciated by me, also other parents. I would like everyone to know it is… accepted… it is very helpful," she said.