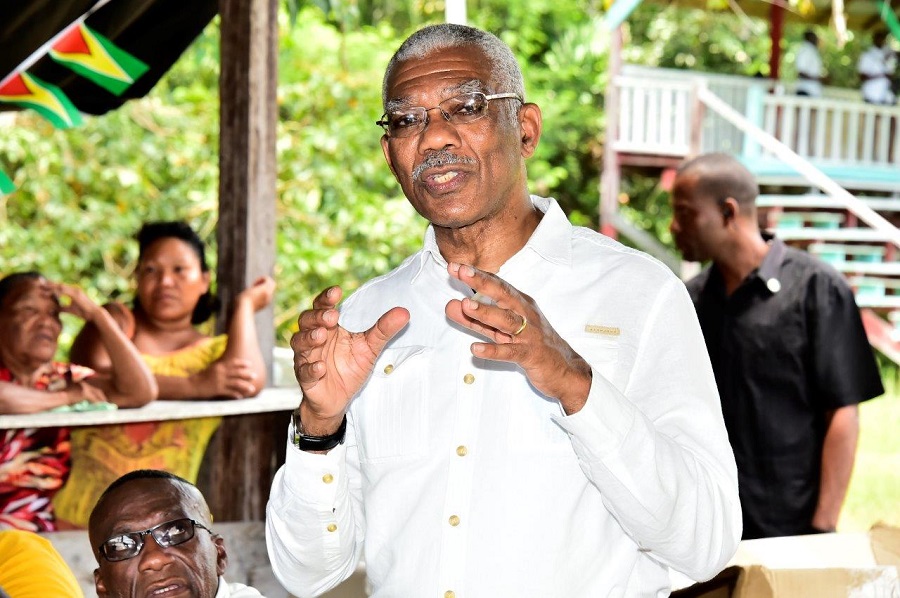 Georgetown, Guyana – (April 13, 2017) President David Granger said that apart from good parenting, food, clothing and shelter, education is the next most important thing that child can receive as that is what will open the door to a good life. It is against this backdrop that the President assured the residents of Muritaro and Malali villages that his Office will be working closely with the Regional Democratic Council of Upper Demerara-Berbice (Region Ten) to rectify infrastructural and other issues at the Muritaro Primary School. In addition he said that his Government will do all that it can to ensure that every child stays in school. The Head of State made these remarks today at Muritaro Village, which is located on the Demerara River, where he distributed kites to the children of the Malali and Muritaro communities.
President David Granger told the residents of Muritaro and Malali that education will open the door to the good life for them and their children
The Head of State said that even before he acceded to the highest Office of the land, he was aware of the financial burden that parents in riverine and hinterland communities were forced to carry just to get their children to school. It is for this reason he said that the Boats, Buses, Bicycles plus Breakfast and Books (Five Bs) programme was initiated. Today, as a result of the Five Bs, there are boats plying the Berbice, Demerara and Pomeroon Rivers, transporting children to and from school free of cost. "Education is the gateway to your future. We believe that every child must be in school. We will continue to work with the business community and with the private sector to make sure that you can get to school and I am confident that once you get to school you will be able to enjoy that good life," President Granger said.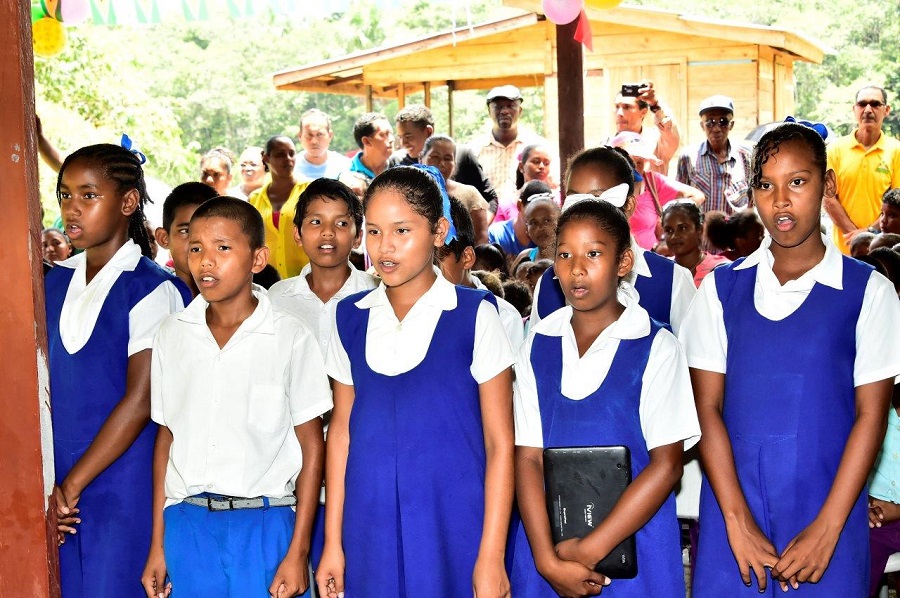 The children of Muritaro Primary School singing for President David Granger
The President spoke at length of the community's agricultural potential and urged them to explore agro-processing avenues. He said that these communities can grow fruits and vegetables which can be processed and sold locally, regionally and further afield. "Don't be left out, there is a revolution going on in cottage industries and we have a Ministry of Business, which is going to help to promote small industries," President Granger said.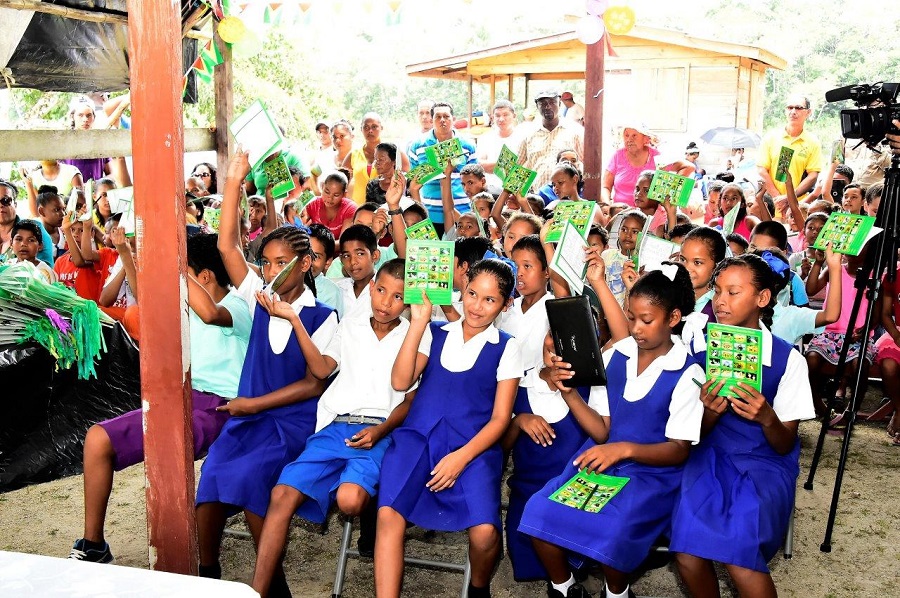 The children also received pens and specially-designed exercise books from the President
The Head of State also emphasised the need for these outlying villages to go into the direction of renewable energy such as solar, water and wind, which will help them to process and package their agricultural produce at a cheaper cost. "I want to encourage you to adopt a form of energy, which is sustainable. It is time for us to get off our addiction to gasoline and dieseline… You will be able to run your machines with renewable energy. You wouldn't have to get generator," he said.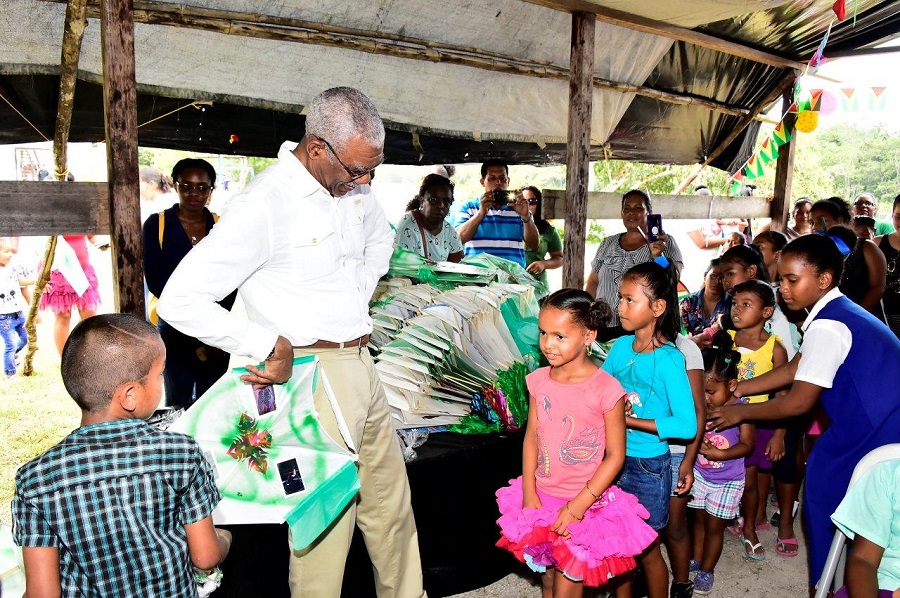 President David Granger took a step back to admire this little lady's fancy skirt
Toshao of Muritaro Village, Ms. Loretta Fiedtkou expressed the community's appreciation for the President's visit, particularly at this festive time. Apart from the kites, the children also received pens and specially-designed exercise books whose covers tell the story of Guyana's wildlife.
Regional Chairman, Mr. Rennis Morian and Assistant Director of the Community Development Councils in Region Ten, Ms. Sandra Adams were also on hand to assist in the distribution exercise.