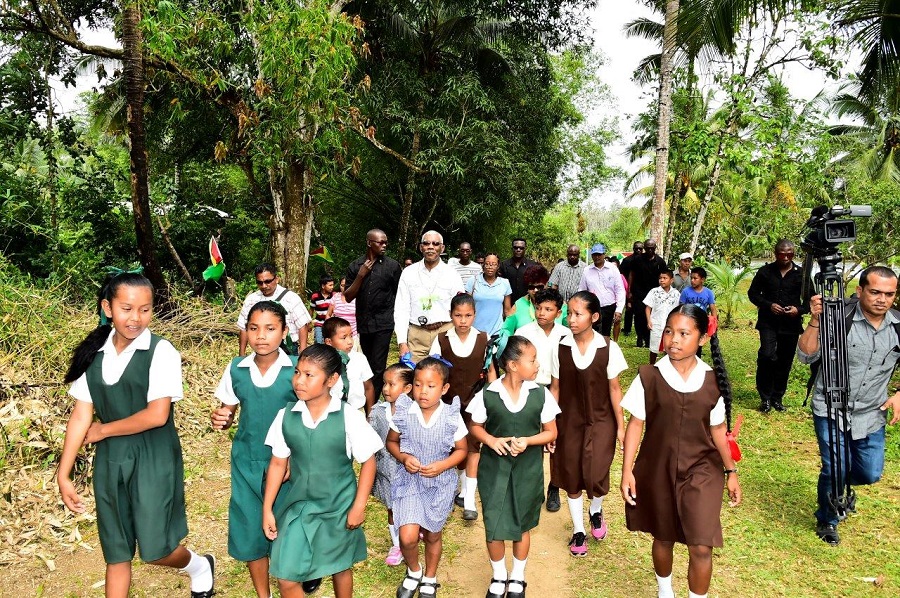 Georgetown, Guyana – (April 8, 2017) President David Granger has announced that his Government will be launching the Guyana Youth Corps on the January 1, 2018, which is aimed at providing employment and other opportunities for youths, particularly those, who have dropped out of school. The President made this announcement earlier today, while addressing residents of Friendship Village in the Pomeroon River, Pomeroon-Supenaan (Region Two), where he and Minister of Social Protection, Ms. Amna Ally launched a kite distribution exercise as the nation prepares to celebrated the Easter season. The President also distributed books and other gifts to the children of the Makaseema-Kabakaburi community in the Upper Pomeroon and Friendship Village in the Lower Pomeroon.
The Head of State urged parents, teachers, community leaders and civil society bodies to assist the Government to identify youths, who are in need of jobs, particularly those who may not have completed school, so that they can be enrolled in the Youth Corps when it is rolled out next year. "I will do everything possible to help you to get jobs but you must also want to help yourselves," he said.
Noting that the role of citizens in economic development will be complemented by Government in its role to create the enabling environment for economic activity, President Granger spoke of the vast agricultural potential of the Pomeroon-Supenaam Region. However, the President explained that farmers must be moved into the realm of agro-processing and adding value to their produce so that they can be competitive in the market place.
President David Granger and Minister of Social Protection, Ms. Amna Ally being escorted into Kabakaburi Village by these children
"The Pomeroon-Supenaam is one of the most productive agricultural zones in the entire country and perhaps the entire Eastern Caribbean… You produce over 44 million coconuts every year, you produce nearly half of the rice that Guyana produces and a quarter of the fish that we produce. So there is no reason for anyone in the Pomeroon-Supenaam to go hungry or go without a job. What we have to do is convert your agricultural wealth into money that you can put in your pockets and into jobs that your young people need," President Granger said.
He also spoke of the Sustainable Livelihood Development (SLED) initiative, which the Government plans to extend so that youths from all across the country can provide a much-needed head start in their journey towards becoming self-employed and financially independent.
Residents of communities along the Pomeroon River depend heavily on gasoline-generated electricity and the President urged them to look at more sustainable ways to generate energy such as solar energy, particularly since there is no shortage of bright sunshine on any given day in the Pomeroon. He also committed to giving the Makaseema-Kabakaburi community, a solar panel to provide power for their community centre or boat landing. "Cheap energy will help you to build a strong economy and a strong economy will help you to get employment and employment will help you to prosper in life," the Head of State told the resident.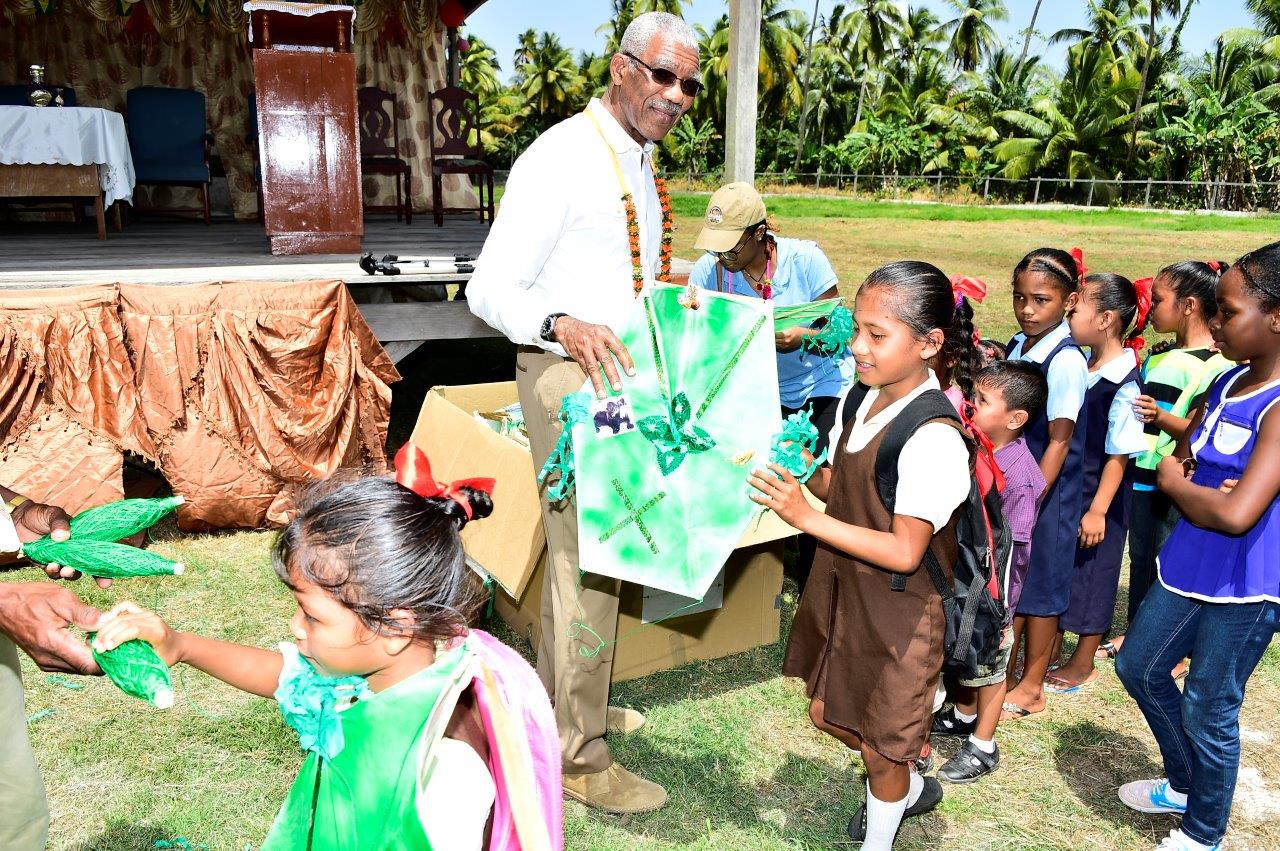 President David Granger distributing kites to children of Friendship Village, Lower Pomeroon
Turning to the children, who were the main reason for his visit, the President spoke of the importance of education in eradicating inequality in Guyana, particularly in rural, hinterland and riverine communities. "Education is important because it is the first step towards equality. This means that when a child comes out of the Pomeroon he or she must have the best possible opportunities to get a secondary education so they can go to the University of Guyana… Education will open that door and it is our duty as a Government, to make sure that children in every part of the country get equal opportunity and equal access to education and that is part of my mission," President Granger said.
He reminded the residents of the Pomeroon that the plight they were facing in getting their children to school on the coast was the driving force behind the Government's Boats, Buses, Bicycles plus Breakfast and Books (Five Bs) programme, which to date, has seen nine boats, 13 buses and hundreds of bicycles handed over to children all across the country. "I was able to find out how people are living and what their needs are and so a lot of what directs my thinking… What I have is a desire to make sure that every child goes to school, so we will keep on working to satisfy your needs," the Head of State said.
In an effort to combat delinquent behaviour in the community at Friendship, the churches' youth groups have come up with an initiative to organise sport activities. This was disclosed by young community member, Mr. Boaz Roberts, who added that the formation of the Pomeroon Sports Club has resulted in an active membership of some 132 persons. In response President Granger said that by July 1, his office will provide sport gear and equipment to the Club to support their efforts.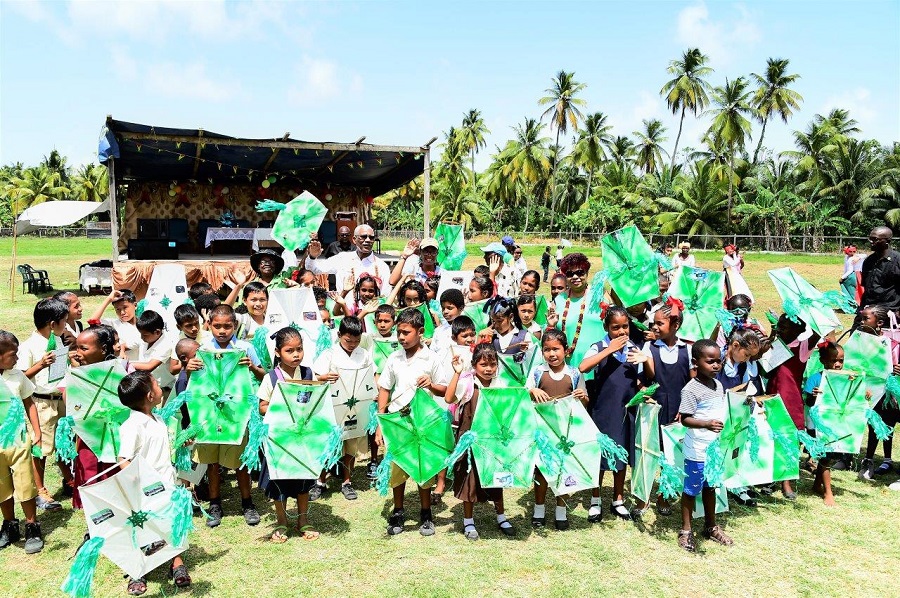 Kites from the President! In this photo, President David Granger and Minister of Social Protection, Ms. Amna Ally pose with the children and their kites
After the President addressed the residents at each village and listened to their concerns and responded to their questions, he was assisted by Minister Ally in the distribution of kites to the children. Minister Ally has been playing an integral role in the organising of these activities of this nature.