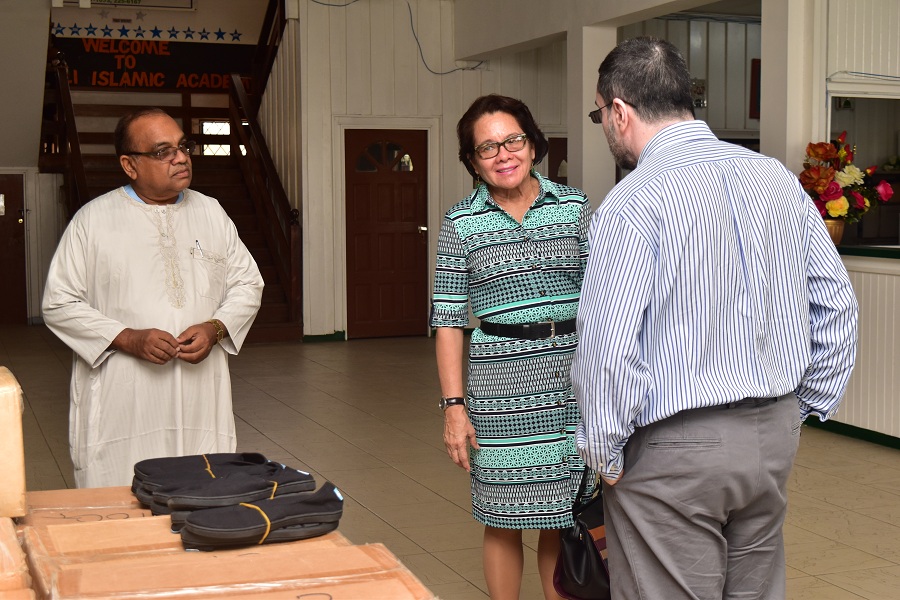 Georgetown, Guyana – (April 4, 2017) First Lady, Mrs. Sandra Granger, today, expressed gratitude to the Central Islamic Organisation of Guyana (CIOG), which presented her with a collection of 1,000 pairs of shoes in support of her programme to provide footwear for students, who are in need, particularly in the hinterland. The presentation was made at the CIOG's Woolford Avenue complex.
The First Lady expressed gratitude to the organisation for its support. "I'm very appreciative of the CIOG's generosity, [which] made this presentation possible … We will find a community or two that can really take advantage of this very kind offer. Please convey to your sponsors; Medical Watch Guyana, how very much we appreciate this. This will help the kids, which I think is our mutual area of interest," Mrs. Granger said.
Examining the donation, the First Lady was pleased to note that it included shoes of varying sizes as she caters for a wide age range and will benefit students at the nursery, primary and secondary levels.
First Lady, Mrs. Sandra Granger glances at a few pairs of the shoes displayed as she listens to Sheikh Mooenul-Hack, Director of Education and Dawah, CIOG, after the presentation exercise. Brother Fazil Hakh, a CIOG member is also pictured first, left.
Sheikh Mooenul-Hack, Director of Education and Dawah at the CIOG, in an invited comment, said that that the organisation decided to make the presentation to the First Lady as it receives many donations from Guyanese locally and in the diaspora, as well as international organisations and it is pleased to share with groups are charitable.
He expressed admiration for the work that the First Lady is doing in support of women, children and vulnerable groups across the country. "We commend the work that you're doing; the people you're reaching. We may not reach some of those folks. I believe in preventing duplication. If somebody is already accessing those communities we prefer to just pass it [on] to your [office]… We do admire the work that you're doing. We have similar objectives and so we are here to support each other," he said. Sheikh Mooenul-Hack then committed his organisation's support to facilitate any of the projects, particularly in areas along the coast.
CIOG Member, Brother Fazil Hakh and Sister Aleema Nasir, who heads the women's arm of the CIOG, also attended the ceremony. After the presentation, the group, led by Sheikh Mooenul-Hack, took the First Lady on a tour of the CIOG's Al-Ghazali Islamic Academy, which caters for students from all religious faiths from pre-Kindergarten to Grade 11.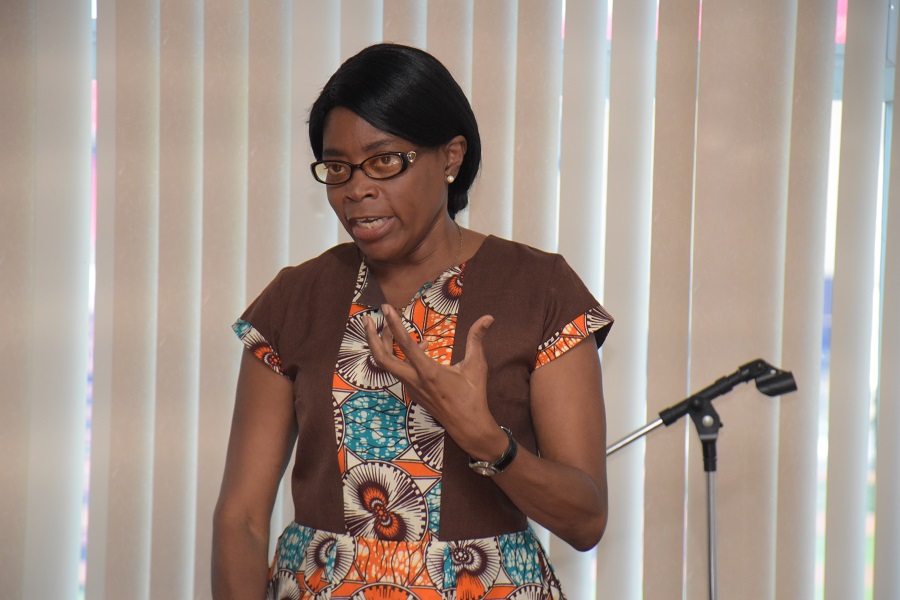 First Lady, Mrs. Sandra Granger interacts with Ms. Jasmat Hack, one of the Nursery One Teachers, at the Al-Ghazali Islamic Academy, CIOG, during a tour of the institution. Sheikh Mooenul-Hack, Director of Education and Dawah at the CIOG is also pictured (centre).
The First Lady has received thousands of pairs of shoes, including "shoes that grow" via the Rethink Initiative – Kind Soles Project and other donors, who were quick to throw their support behind her work. The distribution of shoes exercise was rolled out in tandem with the President's Boats, Buses, Bicycles plus Breakfast and Books ('Five Bs') programme, which is aimed at ensuring that every child has access to education.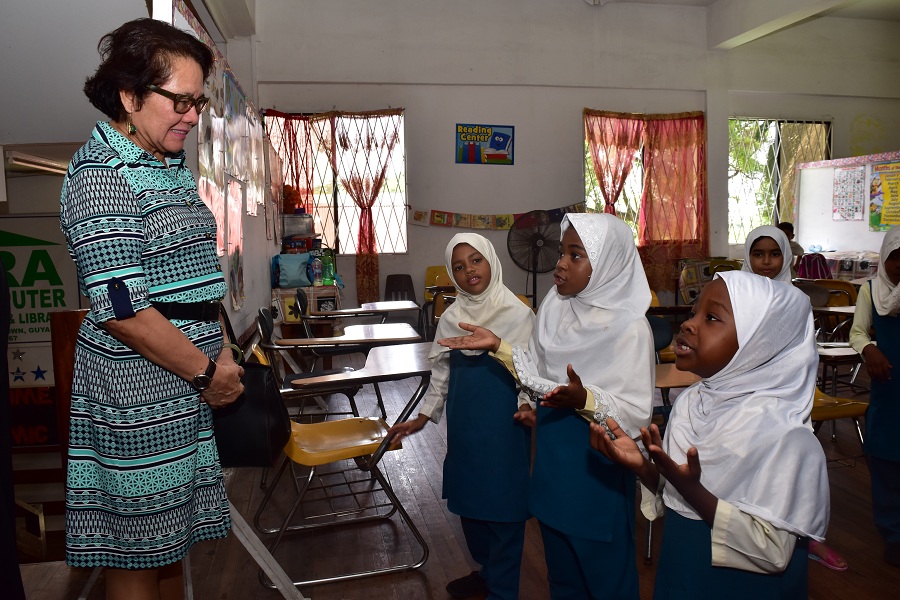 First Lady, Mrs. Sandra Granger pays keen attention to Grade One pupils of the Al-Ghazali Islamic Academy, including Meira Kaia James, Nabeela Khan, Jermela Bacchus, Shaniah Williams and Tahera Douglas as they serenade her with a rendition of "Ten Little Monkeys".