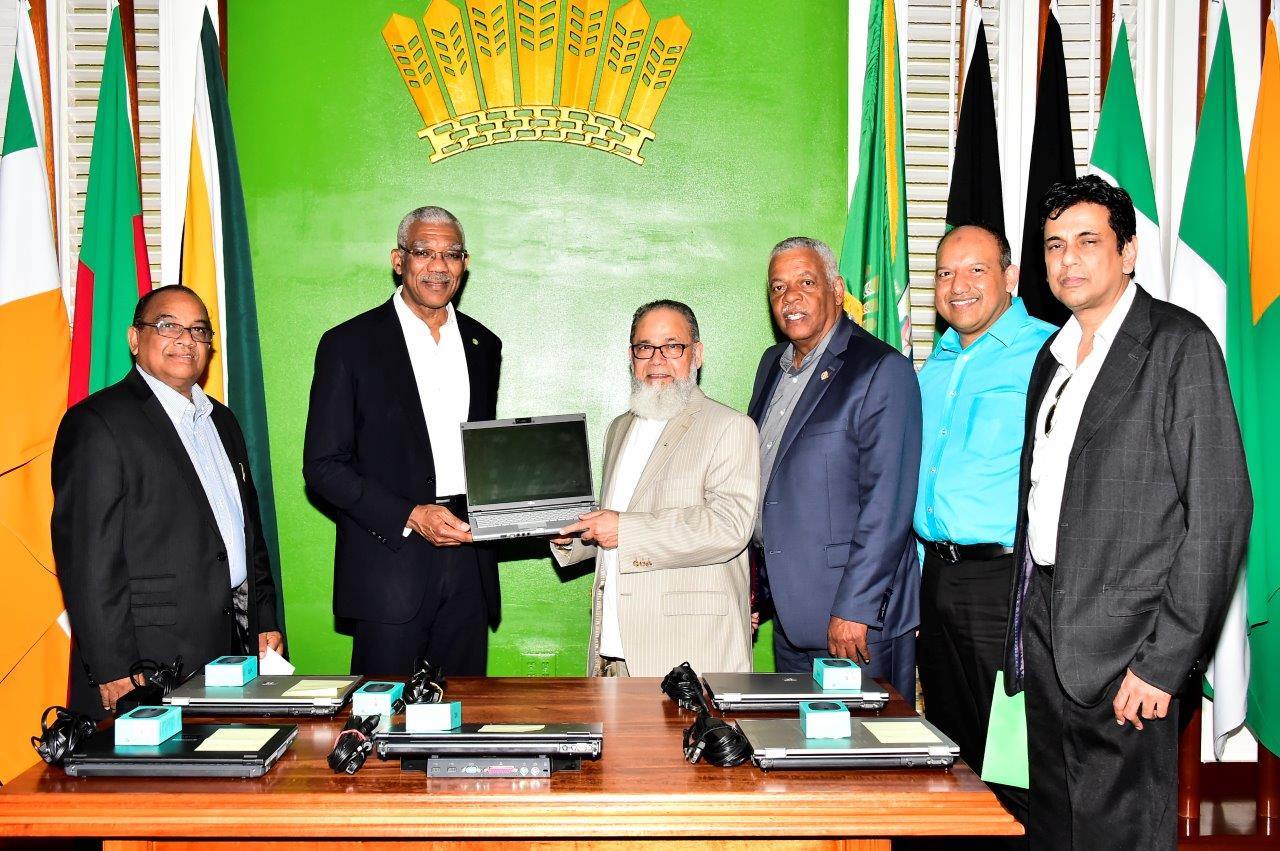 Georgetown, Guyana – (March 29, 2017) President David Granger, today, met with executive members of Canadian housing development company, Ideal Developments at State House and discussed the company's intention to provide subsidised housing for persons in Guyana under its Ideal Hope initiative.
Ideal Developments constructs a variety of luxury homes in various parts of Canada. The Ideal Hope initiative is an arm of the company, which uses a percentage of funds earned from each luxury home to construct homes in developing countries. President Granger told the team that the project is in line with Guyana's housing policy and indicated that he would refer them to Minister of Communities, Mr. Ronald Bulkan to ensure that Government works with the company to ensure implementation for the benefit of those Guyanese who need it.
The company recently completed a project, which saw the construction of 60 houses in Sri Lanka. Chairman of the Ideal Group of Companies, Mr. Najmul Siddiqui, in an invited comment following his meeting with the President said that the initiative is part of the company's social responsibility programme and expressed gratitude to the President for meeting with them to listen to their ideas.
"The people who buy houses from us are wealthy people and they can afford to live in those houses but there are people, who live in a house with bare minimum facilities, yet there are people who cannot have a house; they don't have any resource to even think about a house. So we formed this project so that that when we sell one house in Canada we put a certain amount of funds from that profit that we make and those funds are enough to build a house in a country like Guyana and Jamaica, Sri Lanka, Bangladesh, India and together with Government support we can go and find those areas where this kind of offer would be best used and so that the family, who moves in the house pays nothing. We take care of all the expenses to build the house there and ultimately we hope that we will sell our houses in thousands so we can do these projects in thousands all over the world," he said.
Mr. Siddiqui said that the number of houses that will be built in the country of choice depends on the number of luxury houses sold in Canada and that the actual construction process could take up to three years to complete. "There are a lot of systems we have to go through but the numbers are at the moment unlimited because it is all attached to the number of houses we sell," he said. Mr. Siddiqui said that the company chose Guyana and Sri Lanka because core group members are citizens of those countries, but that other countries could be considered based on their need for housing.
Ideal Developments also donated six laptop computers, which were handed over to President Granger, who assured them that the devices will be donated students. The Head of State informed the team of his One Laptop per Teacher (OLPT) initiative, which was changed from the One Laptop per Family initiative introduced by the previous administration. President Granger told them that he saw it more necessary to refocus the initiative to the teachers, who could use the laptops to plan their lessons, which would aim in the overall efficiency in administering education to Guyanese children.
With regard to the donated laptops, the President said, "I am very happy to accept this on behalf of not only the Government of Guyana but also the school children. This will find itself in the hands of the school children," he said.
The President said that Guyana has not kept up with other Caribbean countries in the area of Information and Communication Technology (ICT), which is why the Government established the Ministry of Public Telecommunications in January last year. "Since that Ministry was established we have been making a lot of progress in ensuring that there is better distribution of hardware and better instruction in schools in ICT so I am very grateful for this and you can be assured that they will find themselves in the hands of people who need it the most," the President said.
Chairman of the Ideal Group of Companies, Mr. Najmul Siddiqui presents one of the six laptops to President David Granger. Posing with them are other company executives (from left): Mr. Fazil Hakh, A.A., Ideal Developments Senior Advisor, Caribbean Sector, Dr. Alvin Curling, Senior Advisor of Ideal Developments, Mr. Mahamad Khan, Project Coordinator, Caribbean Sector and Mr. Michael Fredericks, Director of Business Development
The other Ideal Developments executives who attended the meeting were Dr. Alvin Curling, Senior Advisor, Mr. Michael Fredericks, Director of Business Development, Mr. Fazil Hakh, A.A, Senior Advisor, Caribbean Sector and Mr. Mahamad Khan, Project Coordinator, Caribbean Sector.