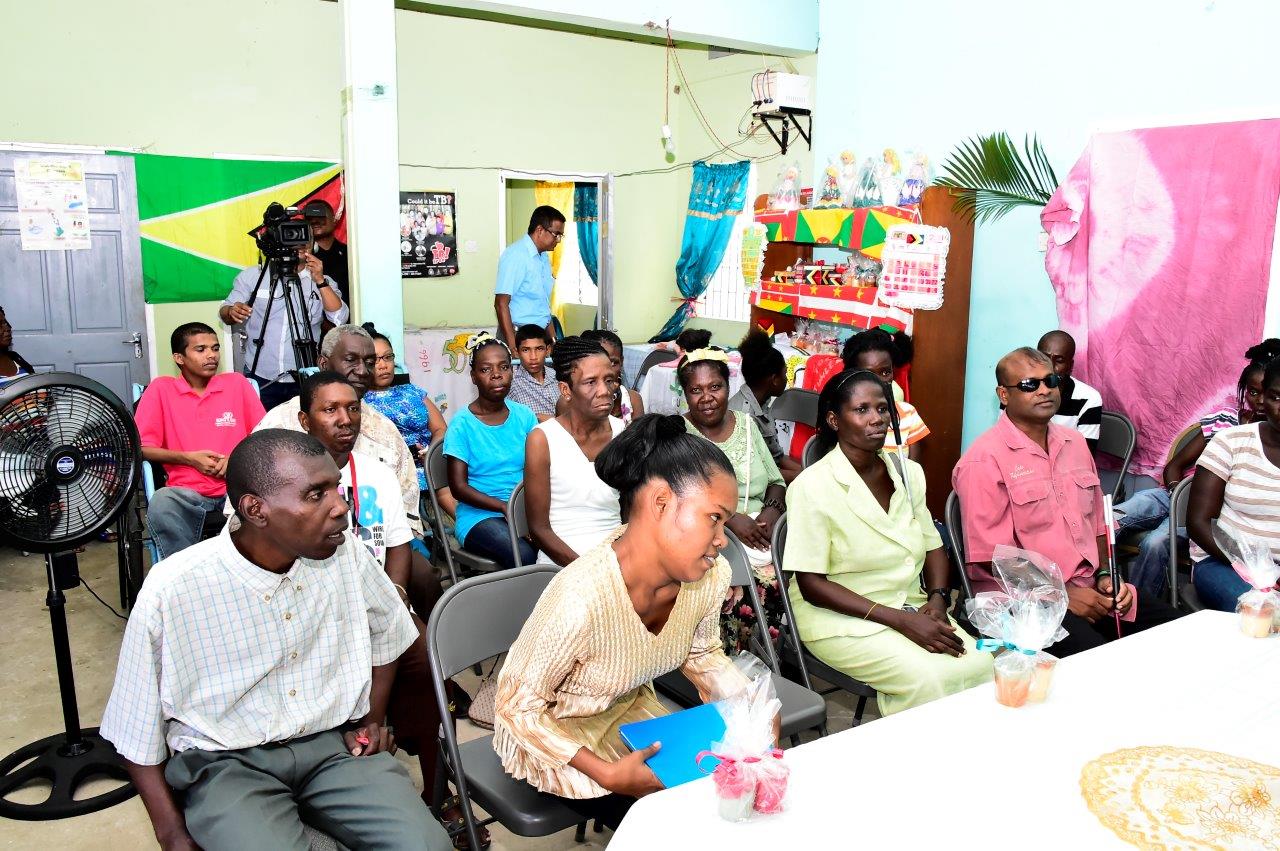 Georgetown, Guyana – (March 26, 2017) President David Granger, today, told members of the Mahaica-Berbice (Region Five) Disabled Persons Network that his Government believes in equal opportunities for all Guyanese and that every person must have equal access to the public services. The President made these comments during a meeting with the group at the Carmichael Centre in Seafield, West Coast Berbice, where the members shared with him several concerns affecting the group and sought the President's assistance to improve conditions for disabled persons in the Region.
"My Government believes in equality; that every Guyanese citizen, every person must be treated as equal and must have access to the public services of this country… so that if you have lost your sight or your mobility it doesn't mean you have become less equal. You remain an equal citizen with the same rights as any person in Guyana," the President said.
As such, the President said that persons with disabilities must, therefore, be given the resources available to improve access to the services and opportunities afforded to all citizens. "In this case we need to consider special education for persons who have different abilities… This means that if it is challenging for you to attend the schools, we must make special arrangements and this is something we must not ignore. Your education should not be left behind simply because of disability… We have to look at individual disabilities if we are to ensure that people get access to the good things the Government has to offer," the President said.
A section of the gathering during the meeting
The Head of State also said that Government will explore options that can improve the ability of persons with disabilities to become financially independent. "There are so many things you can do if you are given the equipment… so you don't have to ask people for help, so that you can generate your own income… We believe in equality and employment for all and we believe in special education and we believe in providing that equality, which would allow you to work without depending on favours," he said.
President Granger greets a young girl who, attended the meeting with her mother
Chairman of the Network, Mr. Mark Archibald, who chaired the meeting, outlined several concerns that were affecting persons with disabilities in the Region. Chief among those issues is the need for bigger premises to house the group's office, since the current building serves as a community centre as well as the group's main meeting place. Mr. Archibald said that the building is too small for its 60-plus members since the group is steadily growing. Additionally, Mr. Archibald said that the building only has one entrance, which makes it unsafe in the event of an emergency. "We try to provide skills training for persons with disabilities in the areas of joinery, computer training and other areas… We want persons with disabilities to develop their own lives and not be burdens to their families. These things can only be possible if we are able to have a proper building to conduct these activities," Mr. Archibald said.
He said that the group was presented with a plot of land by the previous administration but a lack of funds has prohibited them from proceeding with construction. Other issues highlighted included the provision of a bus specially designed for persons with disabilities to aid in transportation of not only the members of the Network, but for other persons with disabilities in the Region.
The Network also requested access to a trained healthcare professional to tend to their health needs during emergencies and a first aid kit. The need for computers to assist in Information Technology (IT) training of its members was also mentioned as well as the need for a review of certain areas of the Disabilities Act to provide more inclusivity to persons with disabilities.
In response to their concerns, the President said that though monies from the Financial Budget have already been allocated for the year 2017, he would look into the various matters to see what resources could be provided to address their concerns. This includes looking at what could be done with regard to the construction of a new building, the provision of a special needs bus, the provision of IT training and access to computers, better health care and other important matters. The President also pledged to provide prompt feedback into the findings of these matters.
"This is an educational experience for me. I am glad I came to listen to your concerns. I ensure you that this is the start of a process in which we will work together to resolve these problems. This is the way we solve problems in a cooperative and consultative manner. These are my commitments to continue to work with you to carry on the work of the previous administrations to ensure that you can play your part as citizens with rights in the Cooperative Republic of Guyana. We need to continue working together to ensure that every child; every adult has access to the good life," the President said.
Members of the group were grateful that the President took the trip to meet with them and have open discussions about their concerns. Mr. Archibald said that the President's visit shows that he is a caring President, one who is concerned about the needs of everyone. "The President took time off to come all the way up here just to see a small group of persons, we are proud of that. I am overwhelmed and happy he would come to visit us today," he said.
Mr. Deonarine Sukhdeo said that he looks forward to whatever support the President will provide to the group and to persons with disabilities in Guyana. "I am so glad the President would reach us today. We had lots of things to tell him about. We hope that we would be able to build a new building. We need to have a space to be able to better ourselves," he said. Ms. Hannah Joseph said that she was excited to be able to meet the President and hoped that he would be able to assist the disabled community in the Region by addressing their concerns. "I am very happy and excited that the President came to meet with us today. Whatever way he can help us we would be very much appreciated," she said
Ms. Abigail Hamilton Young said that the group is grateful for the President's show of willingness to assist the group with their concerns. "We have different types of persons with disabilities here so we need people to have better facilities, better access to health care and emergency care. We would be glad to have our group looked after. I am overwhelmed with joy. We are thankful and grateful for having him here and he has shown us that he is willing to listen to our concerns," she said