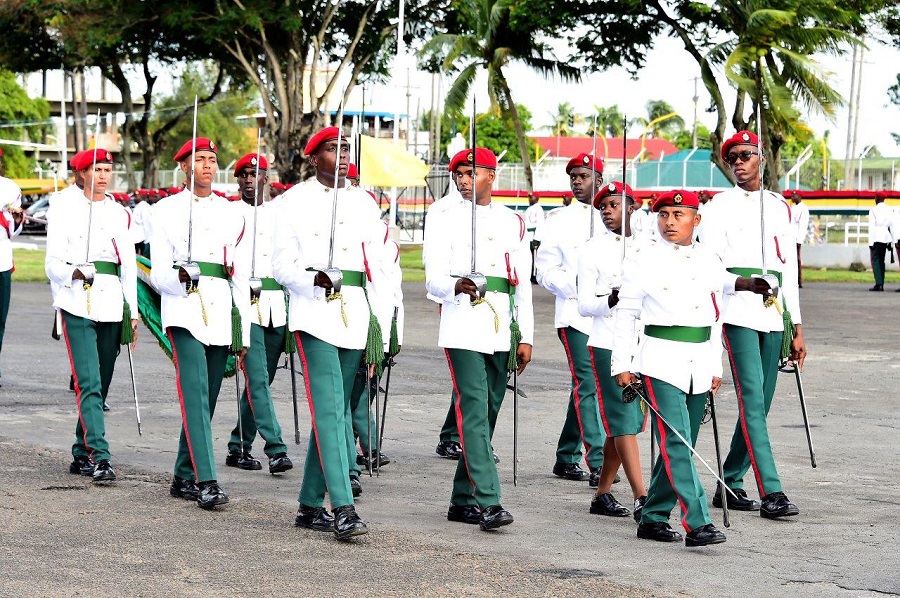 Georgetown, Guyana – (March 22, 2017) President David Granger told the newly commissioned officers of the Standard Officers Course (SOC) No. 49 that they have a duty to constantly upgrade their skills and strive for higher learning particularly in the areas of modern science, technology and engineering so that the Guyana Defence Force (GDF) can better serve the country. He made these remarks at the Commissioning Parade held this afternoon at Base Camp Ayanganna. The President said that the Force must do more; it must share the burden of building aerodromes, bridges, highways and stellings to improve transportation and contribute to bringing communities closer together.
This responsibility, he said, is in line with Guyana's national defence doctrine, which combines the gravity of defence with the necessity for development and which implies that all of the elements of national power; economic, military, political, social and technological, must be employed to reinforce defence and promote economic development. "This doctrine means that the nation must be able to depend on an affordable but effective Force while counting on the cooperation of citizens in the event of a challenge to its territorial integrity," he said.
Officers who successfully completed the Standard Officers Course No.49
Turning to the officers whom he referred to as the "face of the future", the Commander-in-Chief said that the five core values; duty, discipline, identity, integrity and loyalty, with which they have been indoctrinated, will guide their service throughout their careers. "The Officer Cadet School selects, trains and tests future officers. It graduates officers, who are expected to accumulate more field experience and to pursue higher education; who are expected to become exemplars of the defence doctrine, which forms the basis of Guyana's military administration, organisation and operations," he said.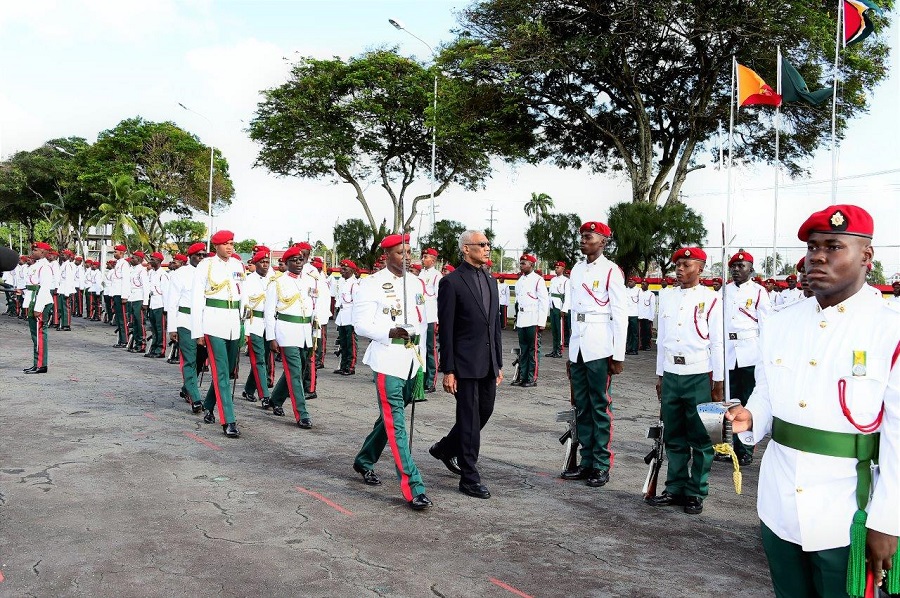 President David Granger inspecting the Guard of Honour during the Commissioning Parade at Drill Square, Base Camp Ayanganna
President Granger said that as a small state, Guyana faces daunting security defence challenges but affirmed that the country will continue to use diplomacy as its first line of defence and will continue to pursue collaboration and partnerships with other states. A good exemplification of such partnership is the fact that two officers from Belize and one from Antigua and Barbuda were trained with the current batch of SOC graduates. The course was developed to provide training for new GDF officers as well as new officers for other services. "The Standard Officers' Course is much more than smart apparel and sharp drill. It is about training generations of cadets to live among our people and to operate in our country's complex environment by day or night, in any weather or terrain; on the beaches, mudflats, grasslands, highlands, islands of the Essequibo, wetlands, rainforests, rivers and waterfalls," President Granger said.
Second Lieutenant Francisco Choc from Belize was judged the best student and was awarded the Sword of Honour. He said that throughout the year of training he has learnt much more than he thought possible and that while it was physically and mentally rigorous, it was a rewarding experience which will help him tremendously in his military career when he goes back to his country.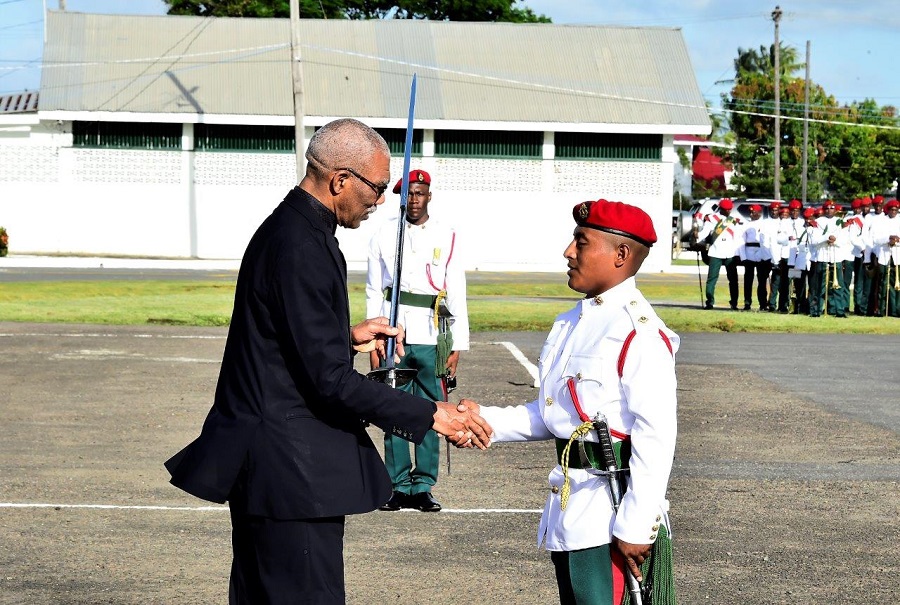 President David Granger presenting best graduating student, Second Lieutenant Francisco Choc with the Sword of Honour
The lone female in the batch, Second Lieutenant Brandi Johnson, who was also judged the runner up best student, said that even though she had a rough start, as the course progressed, she began to adapt to her environment and surmount her challenges. She pledged to stay focused, to push herself for higher academic training and to steadfastly follow command to get the job done.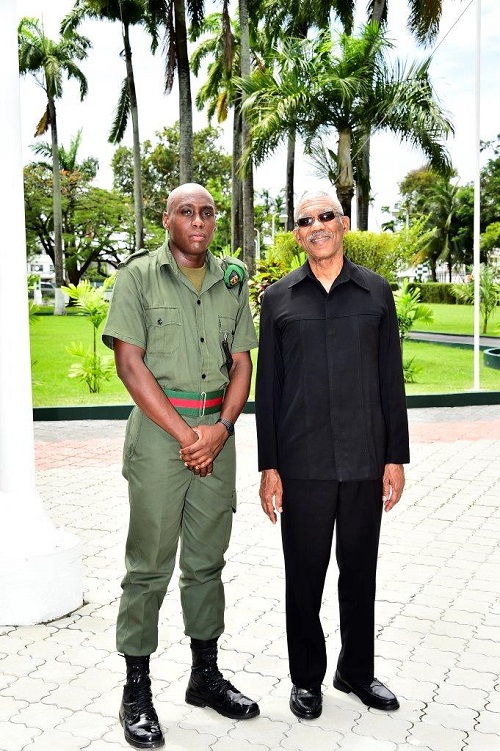 President David Granger and Second Lieutenant Austin Buntin from the Antigua and Barbuda Defence Force at State House
Second Lieutenant Caleb Rodriguez, another officer from the Belize Defence Force said that his experience over the past year has taught him that the human body is a lot stronger than people perceive it to be. "As long as you have the will-power and the mind power to push yourself to go beyond the limits that you've set for yourself, you can achieve great things," he said.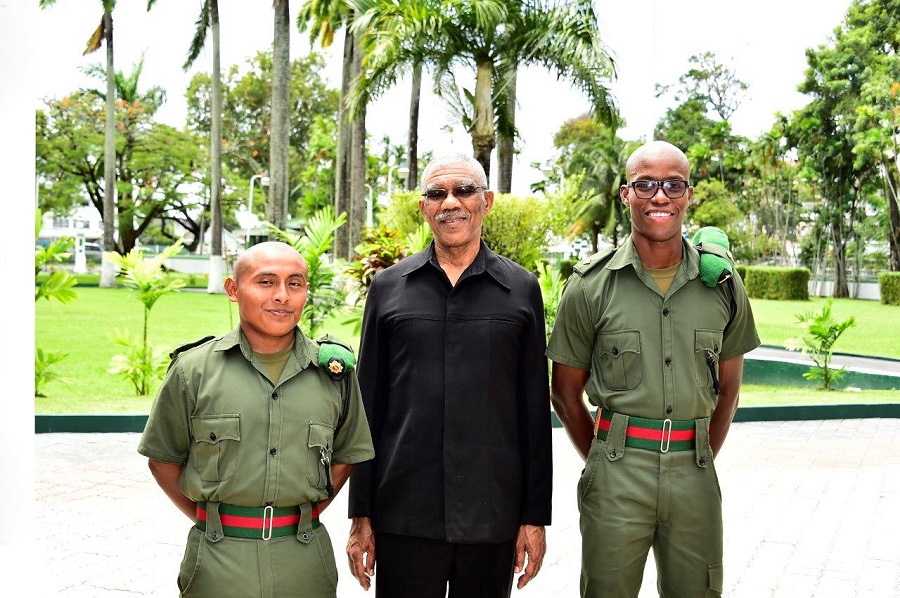 President David Granger flanked by Second Lieutenant Francisco Choc (left) and Second Lieutenant Caleb Rodriguez from the Belize Defence Force.
He added that the tactics that he was able to learn in Guyana are the same that are being employed in the Belize Defence Force and as such, he will definitely have an edge over the officers that were sent to train in other parts of the world.
Second Lieutenant Austin Buntin from the Antigua and Barbuda Defence Force said that SOC No. 49 showed him the importance of team work and has equipped with skills that will benefit him in and out of the army. Second Lieutenant Berachah Garrett from Guyana said that his personal pledge as a newly commissioned officer is to carry out his duties with integrity. He added that when the time comes for him to be in command of a platoon, he will ensure that he leads by example and demonstrates the true meaning of patriotism.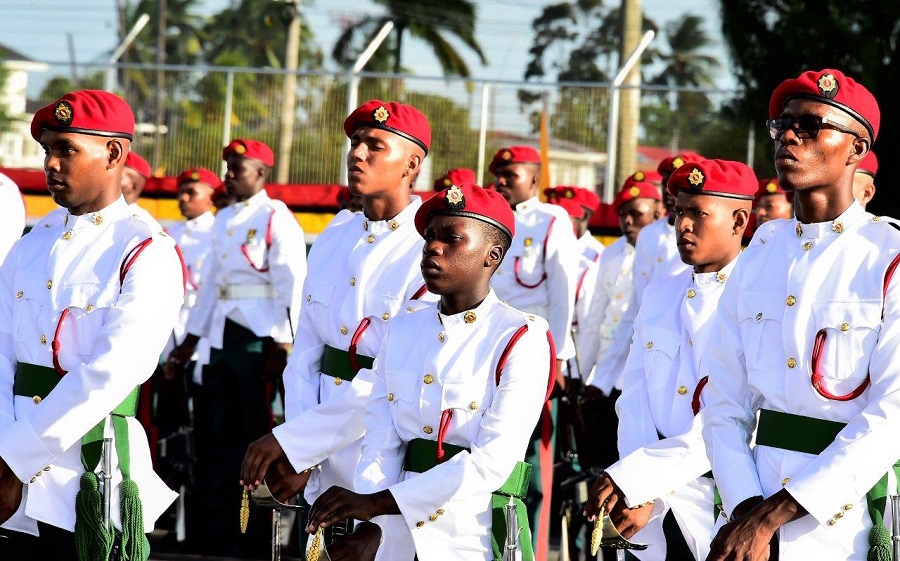 Second Lieutenant Brandi Johnson (centre) is the only female officer in this batch of SOC graduates surrounded by her 'squaddies' during the parade
The well-coordinated parade was attended by several Government Ministers, Parliamentarians, members of the Diplomatic Corps, military officers from Brazil and Antigua and Barbuda and relatives of the commissioned officers.