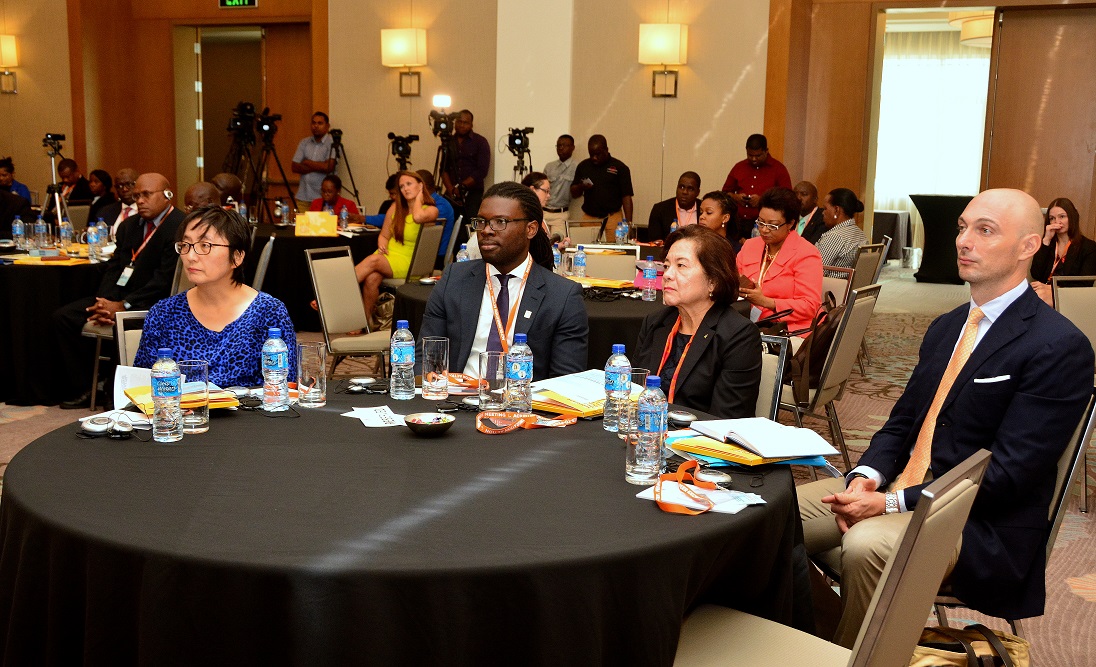 Georgetown, Guyana – (March 21, 2017) First Lady, Mrs. Sandra Granger, is today, participating in the Supporting the ACP-EU Dialogue on Migration and Development Peer to Peer Exchange Meeting on Trafficking in Human Beings (THB) and Smuggling of Migrants Workshop at the Marriott Hotel Guyana. The First Lady is attending today's session of the workshop with the aim of gathering information for her initiatives and programmes, which focus primarily on women and young girls.
The ACP EU Dialogue on Migration and Development provides, through the ACP-EU Migration Action, a framework to facilitate exchange on good practices and lessons learnt on key topics with the aim of developing a common understanding on the main challenges Governments face in addressing THB and migrant smuggling issues at different levels and to strengthen cooperation in these areas.
Mrs. Granger in an invited comment said that she believes that the workshop will provide critical information and resources, which she can use in future programmes and projects. "It [Trafficking in Persons] is something I really wanted to understand and see what I can learn from the other countries and the participants. There is an aspect on protecting the victims, which I am very interested in. It is a victim-centered approach, which I want to understand," First Lady, Mrs. Sandra Granger said.
First Lady, Mrs. Sandra Granger pays rapt attention as a presentation is being made at the Supporting the ACP-EU Dialogue on Migration and Development Peer to Peer Exchange Meeting on Trafficking in Human Beings and Smuggling of Migrants Workshop, which is being held at the Marriott Hotel Guyana.
Minister of Social Protection, Ms. Amna Ally who could not be present at the event due to the regular sitting of Cabinet, through her Advisor, Ms. Alicia Jerome-Reis, said that Guyana is particularly pleased to host this significant ACP EU Peer to Peer Meeting, which comes just months after the Government would have launched its National Plan of Action for the Prevention and Response to the Trafficking in Persons 2017-2018.
Delivering a speech on behalf of the Minister, Ms. Jerome Reis noted that Trafficking in Human Beings and Smuggling of Migrants is a global issue and efforts to combat these crimes, which violate one's basic human rights, must be strengthened. In addition, the Government of Guyana has over the years demonstrated its continuous commitment to counter Trafficking in Human Beings, as well as the smuggling of Migrants through the adoption and implementation of relevant legislation and signing onto the International Treaties and Conventions, which speaks against this heinous act.
"The Guyana Constitution explicitly prohibits trafficking in migrants and smuggling of Migrants. As a small developing country, we have experienced challenges but nevertheless Guyana remains committed to the process of combating the trafficking of persons and smuggling of migrants. We are prosecuting traffickers. We are strengthening the inter-ministerial coordination efforts and we are financing shelters and enhancing psycho services to victims. We know that more needs to be done and we are committed to the process of implementation of the 2015 recommendations of the ACP-EU Dialogue on Migration and Development," the representative quoted from the Minister's speech.
Meanwhile, Mr. Derek Lambe, Head of the Political, Press and Information Section of the European Union Delegation to Guyana and Suriname, in his remarks said that in an effort to combat this criminal act, it is necessary for agencies, Governments and organisations to work together.
"This is precisely the aim of the ACP-EU Dialogue on Migration and Development, which is considered a sound basis in the development and implementation of joint resolutions on migration policy specific areas including the most recently adopted recommendations on Trafficking and Smuggling as it reflects an agreed understanding and commitment to strengthen cooperation in those areas, with a specific focus on enhancing cross border cooperation, strengthening national coordination systems and deepen efforts in sharing and collecting data and information to efficiently fight against these widely spread criminal phenomena," he said.
Mr. Lambe noted that THB and migrant smuggling are very profitable, multi-million dollar businesses for the criminal networks and as such these are not only challenges for the EU and its Member States but also for partner countries. The challenge however, he said, is to translate the Dialogue's recommendations into concrete actions. "Only in this way the authorities can be supported to provide the most comprehensive response to trafficking and smuggling, the criminal networks dismantled and victims supported. Our objective is simple: to stop traffickers and smugglers networks taking advantage of people in distress, to disrupt their structures and business models and to deprive them of their profits. This peer to peer meeting is an excellent opportunity to work towards that objective," Mr. Lambe said.
Mr. Robert Natiello, Regional Coordinator for the Caribbean and Chief of Mission of Guyana for the Organisation for Immigration (IOM), in his remarks said that there are various 'push' factors including natural disasters, poverty, poor governance, conflict and instability, which contributes to human trafficking and migrant smuggling. The IOM is, however, working to combat the illicit trade and to provide all necessary support to victims who would have been rescued.
"IOM has implemented 182 projects in 110 countries to assist vulnerable migrants around the world. We train civil society organisations and government officials such as immigration officials, border officials, Police and Prosecutors. IOM promotes dialogues and cooperation on counter trafficking at the local, national, regional and international levels. We will work towards effective protection of trafficked women, men, girls and boys as well as the prevention of trafficking, exploitation and abuse and we will work towards prosecution and redress and formulate policies and partnerships on these issues," he said.
The workshop will run from March 21- 23, 2017 at the Marriott Hotel and will see participants from more than 20 countries including Swaziland, Haiti, Guinea, Dominican Republic, Trinidad and Tobago, Senegal, Solomon Islands, Angola, St. Lucia, Congo, New Zealand, United Kingdom and Vanuatu. It also includes representatives from the United Nations Children's Fund (UNICEF), United Nations Women (UN Women), Organisation for Immigration (IOM), European Network on Migrant Women (ENoMW) and the Guyana Women's Miners Organisation (GWMO) among others.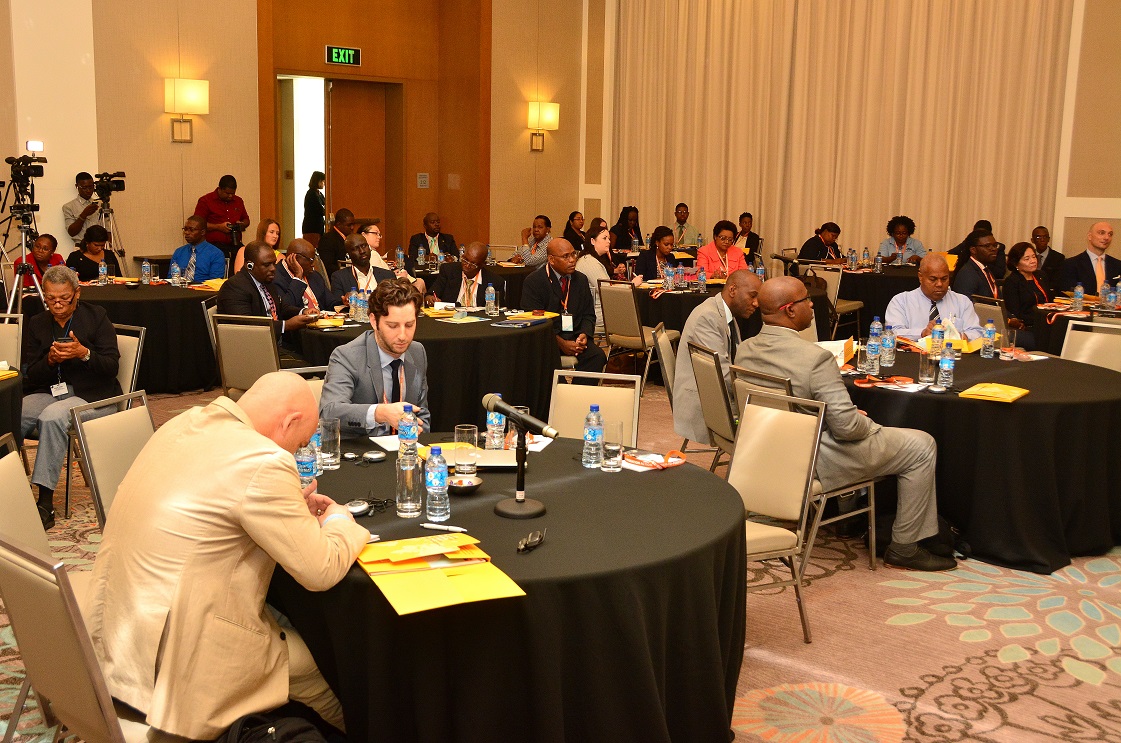 A section of the participants of the Supporting the ACP-EU Dialogue on Migration and Development Peer to Peer Exchange Meeting on Trafficking in Human Beings and Smuggling of Migrants Workshop