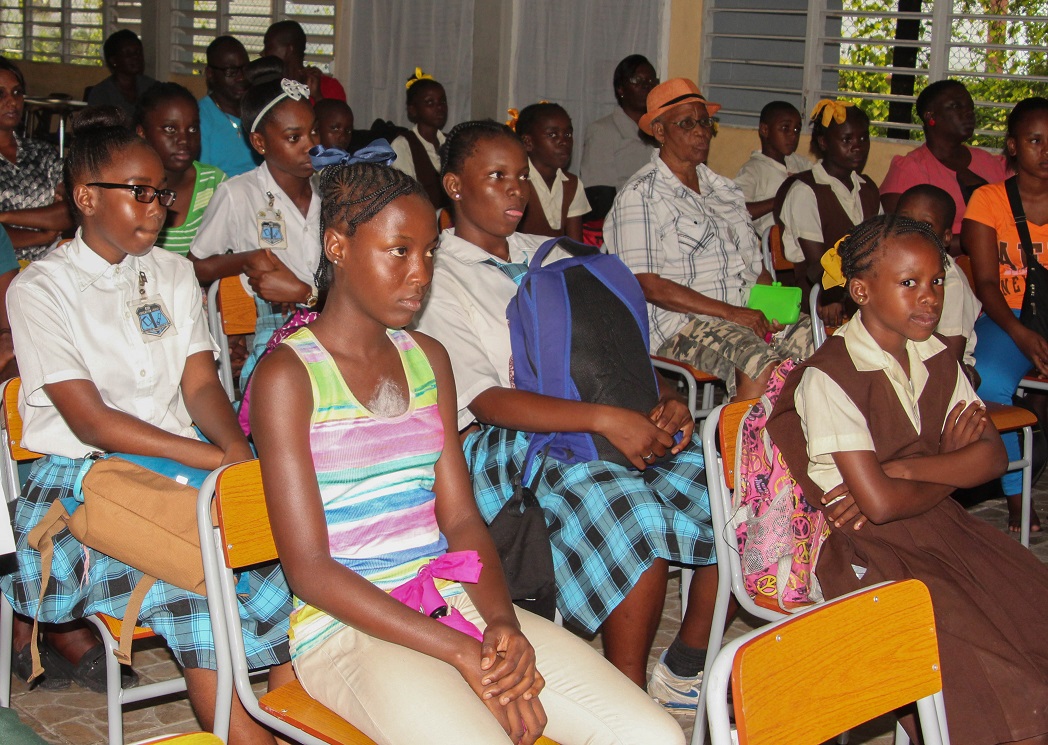 Georgetown, Guyana – (March 14, 2017) First Lady, Mrs. Sandra Granger, today, attended the opening of the Buxton Information and Communication Technology (ICT) training programme at the Friendship Primary School. This skills training initiative is the first such programme for 2017 under the auspices of the Office of the First Lady and the Ministry of Social Protection, but the third since it was first implemented on May 4, 2016. The programme will commence on March 15 and is expected to run for thirteen weeks.
A total of 25 young adults from Buxton, between the ages of 16–25 are expected to benefit from this initiative. The sessions will be held three days per week; Mondays, Wednesdays and Fridays from 16:30h to 20:30h and each participant will be awarded a certificate of successful completion, which is accredited by the Board of Industrial Training (BIT).
"The beauty of this project for me is that is doesn't only teach you ICT, it teaches you life skills. It prepares you for the world of work and best of all… it is a recognised certificate that you will be coming away with. Over the next 13 weeks… you're going to see your mind just explore with all the adventures you can take with technology," Mrs. Granger said.
Facilitator, Mr. Fitzroy Younge, who provided a brief overview of the programme said that it is expected to focus on basic office skills, an introduction to computer training, numeracy and literacy training, sexual and reproductive health and will also include training in Science, Technology, and Engineering and Mathematics (STEM) subjects.
"With this initiative and many more to come, Buxton will chart the course, which guides the destiny of our village in many years to come… We will work assiduously on this programme to inspire our young adults and then turn these ordinary people into extra ordinary individuals as the training will focus on imparting knowledge," Mr. Younge said
Some of the students expected to benefit from the programme.
Some of the programme beneficiaries said that they are looking forward to seeing how their skills and abilities will be enhanced. "I basically want to focus on the Computer Science and after this training I can share my skills with other people and try to build my community," Ms. Adele Wallace said.
Meanwhile Ms. Sopheia Campbell said, "I am excited for this programme because I want to know learn as much as I can."