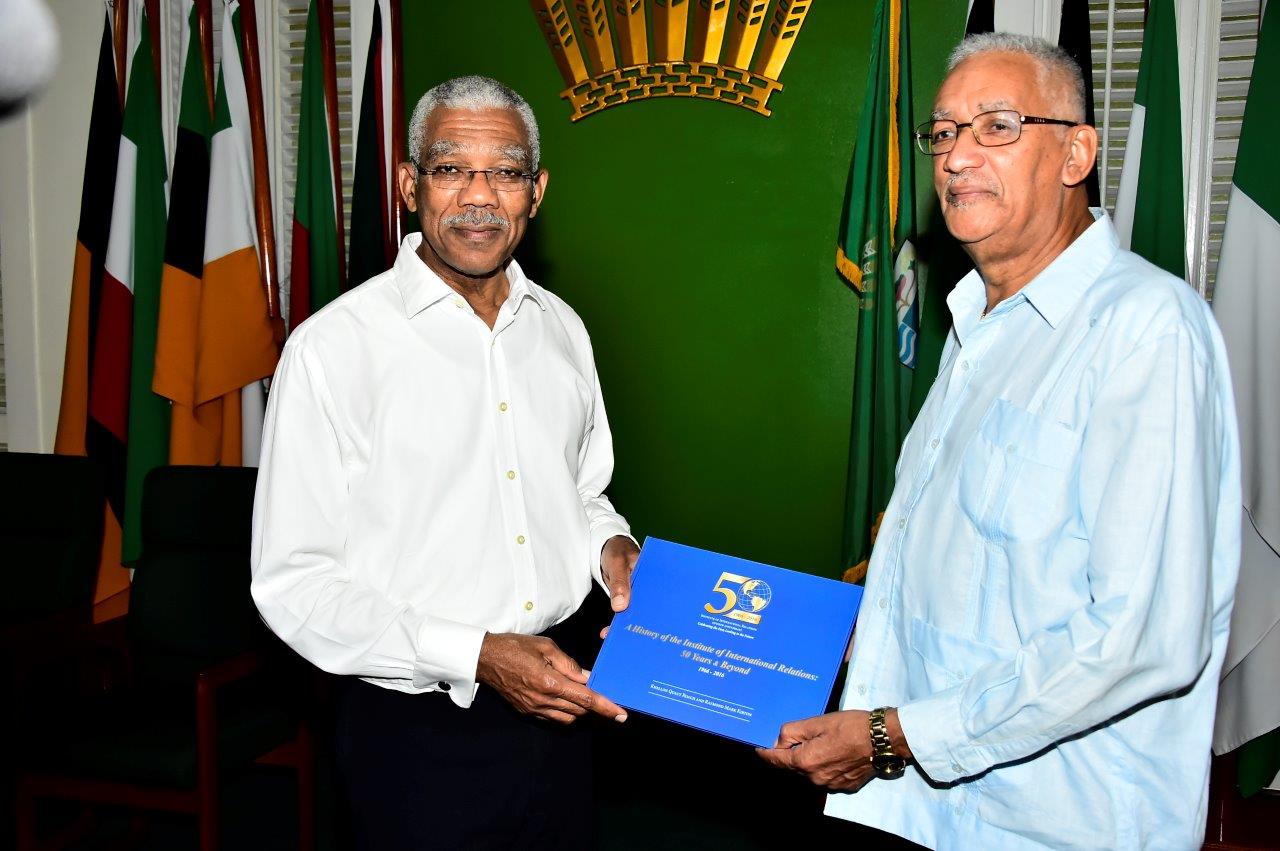 Georgetown, Guyana – (February 27, 2017) President David Granger, today, received a copy of book that was penned in commemoration of the 50th anniversary of the Institute of International Relations at the University of the West Indies of which he is an alumnus. The book entitled 'A History of the Institute of International Relations: 50 Years and Beyond' was co-authored by distinguished Guyanese scholar, Dr. Raymond Mark Kirton, a professor at the Institute.
In a brief comment, during the handing over ceremony at State House, Dr. Kirton explained that this book is a culmination of a research project, which was aimed at articulating the vision and mission of the Institute over the past 50 years. It was formally launched last week in Trinidad and Tobago.
"We chronicled and analysed the various stages of the Institute's development and it is not without significance that we highlighted its first elected Head of State in Government in the person of His Excellency Brigadier David Granger… We also presented a broad overview of the contributions the Institute has made and some of the persons, who have graduated. We have had over 1000 graduates of the Institute, who have contributed significantly, not only at the national and regional levels, but to international institutions and to international education as well," the Professor said.
Professor at the Institute of International Relations, Dr. Raymond Mark Kirton presenting a copy of the book to President David Granger at State House
Dr. Kirton co-authored the book with one of his colleagues, Dr. Khellon Roach. Copies will be donated to the National Library and the Caribbean Community (CARICOM) Secretariat and will subsequently be made available for sale. In April last year, when the Institute launched the year of activities for its 50th anniversary, President Granger delivered the feature address, during which he called for greater security cooperation among Caribbean States.
The Institute of International Relations, which was established in 1966 by agreement between the Government of Trinidad and Tobago and the Government of Switzerland, is an independent and autonomous academic institution affiliated with The University of the West Indies. It is located at the St. Augustine Campus and offers a programme of courses and supervises research leading to the Postgraduate Diploma in International Relations; M.Sc. in Global Studies; M.Phil; and Ph.D. in International Relations.