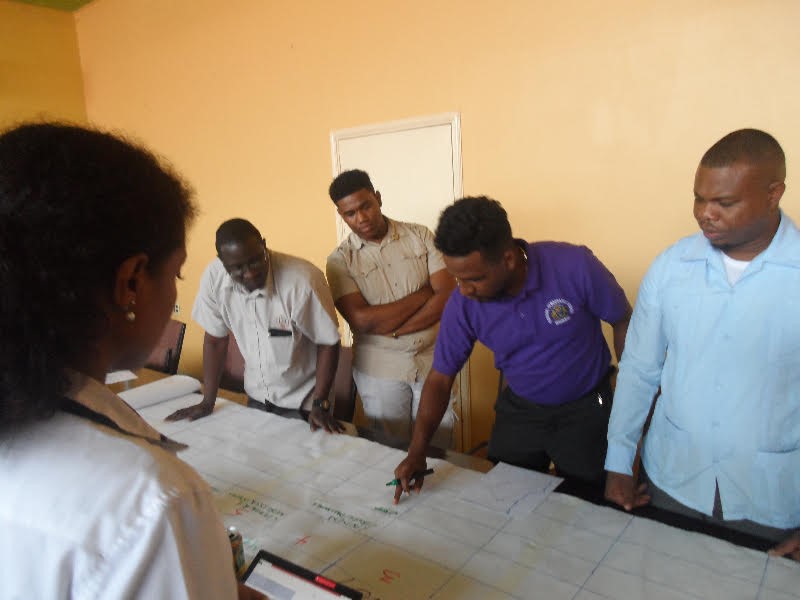 Georgetown, Guyana – (February 27, 2017) The Civil Defence Commission (CDC) in partnership with the Caribbean Disaster Emergency Agency (CDEMA), last week, concluded a round of consultations with stakeholders in Upper Takutu-Upper Essequibo (Region Nine) and Upper Demerara-Berbice (Region 10). The consultations, which are aimed at gathering data on hazards and vulnerabilities within the Regions, are a part of a project, which seeks to develop Regional Disaster Risk Management Systems for all 10 administrative regions.
The consultations were attended by 84 participants from stakeholder organisations such as the Regional Democratic Councils (RDC), the Municipalities, the Guyana Police Force (GPF), the Guyana Defence Force (GDF), the Guyana Water Incorporated (GWI), the National Agriculture Research and Extension Institute (NAREI) and other stakeholder organisations.
Director General of the CDC, Colonel Chabilall Ramsarup said that the Commission remains committed to building Guyana's disaster risk management capabilities through stakeholder engagement. During 2014, the CDC embarked on a process of developing the Regional Disaster Risk Management Systems. This was in an effort to build resilience at the regional level so as to reduce disaster risk through enhanced preparedness and response capabilities.
The development of Regional Disaster Risk Management Systems involves several rounds of consultations and focus on group discussions with key stakeholders within each Region. Three key components of the system are; risk assessments, the development of Regional Multi-Hazard Preparedness and Response Plans, and the setting-up of Regional Disaster Risk Management Committees.
The risk assessments utilise a scientific methodology for assesses hazards, vulnerabilities and coping capacities within each Region and incorporates Geograhic Information Systems (GIS) for the development of regional hazard maps. These maps provide visual representations of the combined and specific exposure of communities within Region, for hazards such as flooding, drought, crop and animal pest and diseases, among others.
To date, this process has been completed for Barima Waini (Region One), Pomeroon-Supenaam (Region Two), Essequibo Islands-West Demerara (Region Three), Mahaica-Berbice (Region Five), East Berbice-Corentyne (Region Six) and Cuyuni- Mazaruni (Region Seven). The Demerara- Mahaica (Region Four), Potaro-Siparuni (Region Eight), Region Nine and Ten are all scheduled to complete theirs by December 2018. To this end, the CDC has partnered with CDEMA.
Consultations and community focused mapping within Regions Nine and Ten will continue from February to September 2017, after which risk assessment reports, plans and hazard maps will be handed over to the RDCs, and other stakeholders.
It is envisaged that the development of these systems will enable regional authorities and stakeholder agencies to improve their preparedness and response capabilities through coordination and networking. Additionally, regional authorities will be empowered to make more informed decisions based on risk assessment information that is specific to their Regions.
Colonel (Retired) Chabilall Ramsarup said that "decentralised disaster risk management systems will enable regional authorities to capitalise on the golden hour; reduce the impact of hazards on critical sectors, for example, health and agriculture, among others."