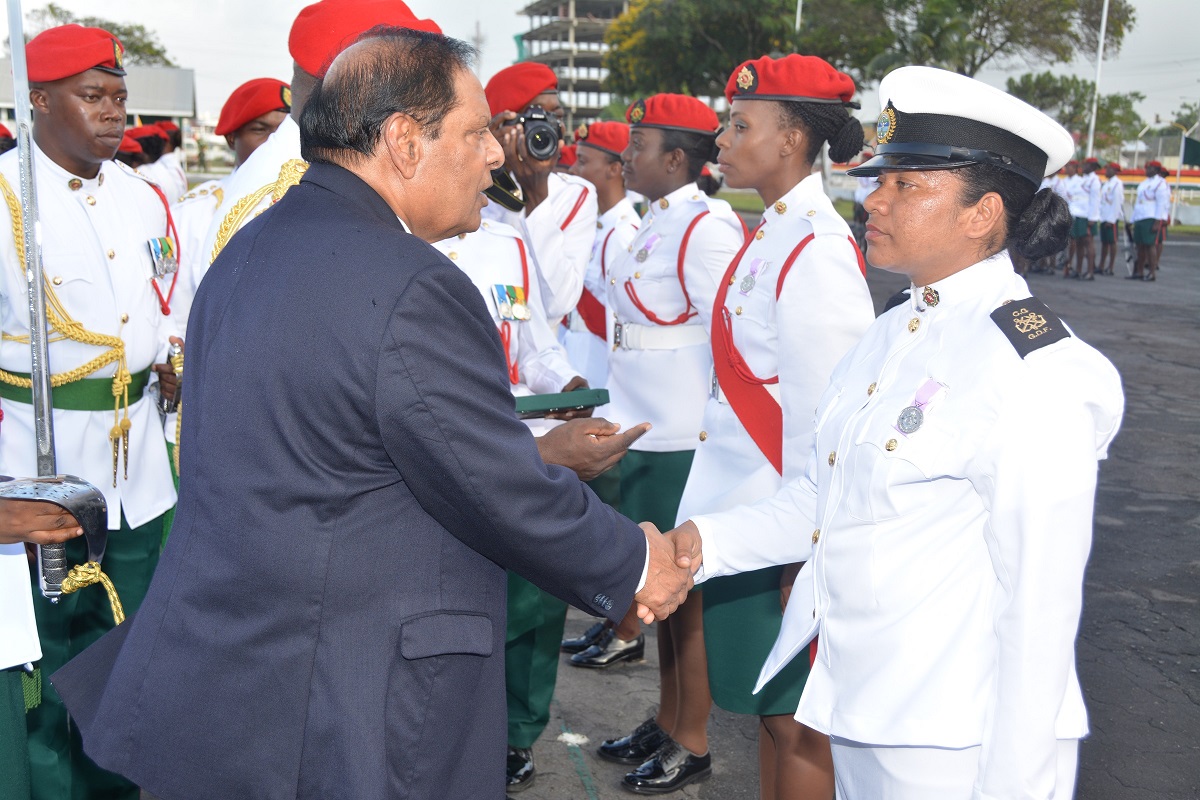 Georgetown, Guyana – (February 7, 2017) First Lady, Mrs. Sandra Granger and Mrs. Sita Nagamootoo, the wife of Prime Minister Moses Nagamootoo, were this evening honoured by the Guyana Defence Force (GDF) for their outstanding contributions to the promotion and development of women across Guyana.
Mrs. Granger and Mrs. Nagamootoo were both conferred with the Women's Army Corps Fiftieth Anniversary Commemoration Medal as Honorary Recipients by Prime Minister Nagamootoo, who is currently performing the functions of President, immediately after the Women's Army Corps Medal Presentation and Parade held at Camp Ayanganna earlier today.
In presenting the medals, Chief of Staff of the GDF, Brigadier Patrick West said that the work and efforts by both women have been recognised and the medal is a tangible acknowledgement of gratitude from the Force.
"So we wanted to say thank you and that we recognise your efforts," Brigadier West said.
Prime Minister Moses Nagamootoo offering congratulations to this recipient of the Medal.
Rear Admiral Martha Herb of the United States Navy, who is the Director of the Inter-American Defense College, also received the Commemoration Medal. Rear Admiral Herb is visiting Guyana for the weeklong Women's Army Corps anniversary celebrations.
Earlier, at the Parade, 31 women of the from the Women's Army Corps received theMedal. The Medal is granted to honour all Female Officers, Warrant Officers, Non-Commissioned Officers and Soldiers who are on active duty in the Guyana Defence Force as at February 6, 2017.
The Medal is made of nickel, is circular in shape and measures 35 millimeters in diameter. On the obverse of the Medal is the Insignia of the Guyana Defence Force, which is an eight-sided star with the Canje Pheasant at the centre and encircled by the inscription, "Guyana Defence Force Military Commemoration Medal."
On the revere is the Victoria Regia Lily supported by two crossed rifles at the centre with the words, "Fiftieth Anniversary Women's Army Corps."
Vice President and Minister of Public Security, Mr. Khemraj Ramjattan, Minister of State, Mr. Joseph Harmon, Minister of Social Protection, Ms. Amna Ally, Attorney General and Minister of Legal Affairs, Mr. Basil Williams S.C. and Minister within the Ministry of Public Infrastructure, Ms. Annette Ferguson also attended the function.