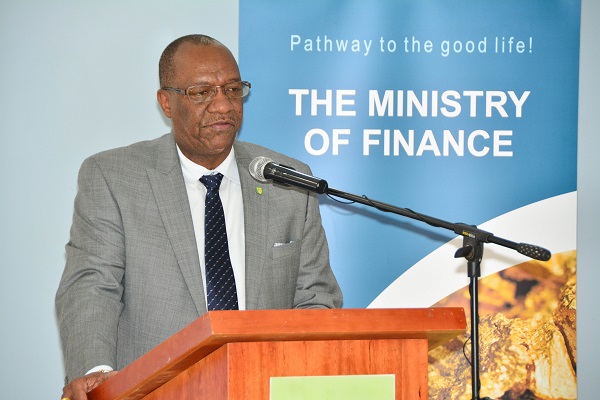 Georgetown, Guyana – (February 6, 2017) First Lady, Mrs. Sandra Granger, today met with Dr. Carissa Etienne, Director, Pan American Health Organisation/World Health Organisation (PAHO/WHO), who offered to provide technical expertise to assist the First Lady in advancing her health projects, within the overall framework of strengthening Guyana's national health development. Dr. Etienne was accompanied by Dr. Merle Lewis, PAHO Chief of Staff and Dr. William Adu-Krow, PAHO Resident Representative in Guyana to the meeting, which was held at State House.
The First Lady said that she is looking forward to continuing partnership with PAHO as the organisation has been very supportive of the initiatives she has spearheaded and those that she has supported, particularly issues that affect women and young girls.
"I certainly look forward to working with Dr. Adu-Krow and his team because… I am interested in several areas of health," she said.
Similar sentiments were expressed by Dr. Etienne, who said that she was pleased to meet the First Lady as she has worked in several areas of concern to the organisation, including reducing adolescent pregnancy and reducing the rate of cervical cancer and HIV/AIDS.
Dr. Carissa Etienne, Director, PAHO/WHO, presents First Lady, Mrs. Sandra Granger with a small token of appreciation after a meeting held, today, at State House.
The First Lady also revealed that plans are in train for the CARICOM First Ladies Forum to meet in the margins of the upcoming CARICOM Heads of Government Meeting to advance its 'Every Caribbean Girl, Every Caribbean Woman' (ECGECW) Initiative, which is spearheaded by CARICOM and the United Nations Population Fund (UNFPA).
"The cooperation that we can give is primarily technical expertise and so we would be willing, through Dr. Adu-Krow, to give you the technical expertise support … We think it's good, the involvement of the First Ladies so thanks also for this initiative," Dr. Etienne said.
Meanwhile, in an invited comment, Mrs. Granger said that she appreciated Dr. Etienne's offer as PAHO will provide the expertise that is necessary to inform her work programme. "I emphasise that we always need empirical data to guide our projects and our paths. I have always gotten very good assistance from the UN agencies in Guyana and they have always been very willing to share information with me and make comments or provide support when I ask for it. So I've very happy and I'm honoured that the new Director, Dr. Etienne … requested the courtesy call," she said.