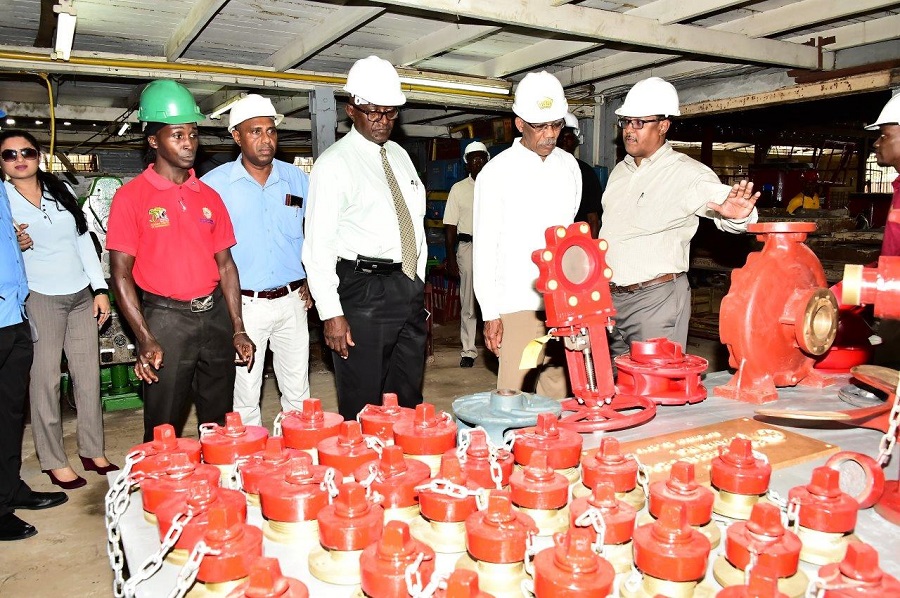 Georgetown, Guyana – (February 3, 2017) President David Granger has urged Directors and staff of the Brass, Aluminium and Cast Iron Foundry (BACIF) to adapt to the changing needs of the Guyanese economy. He made these remarks today when toured the company's operations at West Ruimveldt, Georgetown. The Head of State explained that this company, like many other, is in competition with companies in countries like China and the United States, which are producing similar products at a cheaper cost. "You have to innovate to stay ahead of the game and remain competitive otherwise more efficient producers will take you place in the market and each worker has a role to play in this regard," he said.
Speaking of the changes in the economy over the years, President Granger said that BACIF had its heyday in the years when the bauxite and sugar industries were performing well. However, those industries are not in the same position as they were 40 years ago as such, it is necessary for companies like BACIF to adapt to changes in the economy so that they can take advantage of opportunities presented by emerging sectors, such a petroleum.
General Manager of BACIF, Mr. Peter Pompey describing the process of producing fire hydrants to President David Granger during a tour of the West Ruimveldt facility
He explained that in today's world, old techniques have become obsolete and new methods are being applied and as such, companies have to follow suit. Equally important, is the issue of investment and President Granger said that unless the company invest in new equipment, technology and more skilled personnel it will be at a disadvantage. "I would encourage employment of young people. This has been more than a job; it has also been a school house for young people who came on a learnt a skill and obviously I would like to commit the Government of Guyana to continue to protect sources of employment for our young people," the President said.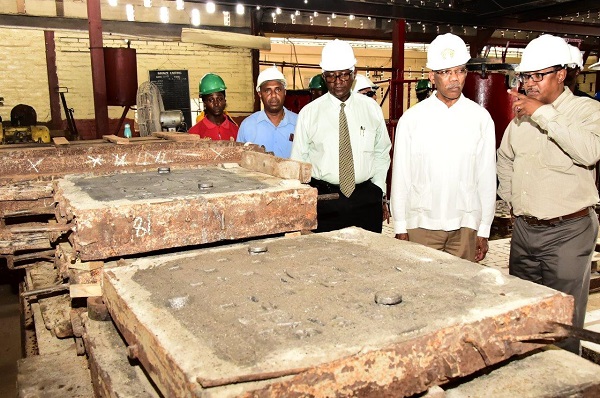 President David Granger looking at some of the molds that are used to make various metal products
With regard to the adoption of Information Technology (IT), President Granger said that speed and precision are vital in an industry such as this. He told employees that the company has to make sure of IT to produce the most innovative, attractive and intricately-designed products in order to compete in the market place.
He also spoke of the infrastructure; noting that the company has to look at expanding and this would require better and more modern physical infrastructure. "As an economic enterprise, you are a good corporate citizen to this community and you make a contribution to the economy. The Government wants businesses to thrive and this is a good business. We would like to commit ourselves to doing everything that is possible and legal to ensure that you have a prosperous industry," President Granger said.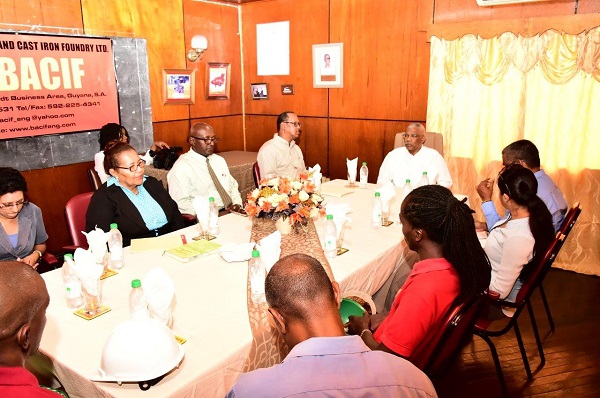 President David Granger meeting with BACIF's Board of Directors and other management staff
Meanwhile, Chairman of the Board of Directors and General Manager of BACIF, Mr. Peter Pompey informed that the company has already embarked on a programme to implement some of the measures the President spoke about, particularly as it relates to technological advancement. He said that they are currently in talks with a major manufacturing company in the United States. However, as a result of space constraints, they have to acquire land to expand their operations before they can bring in new technologies.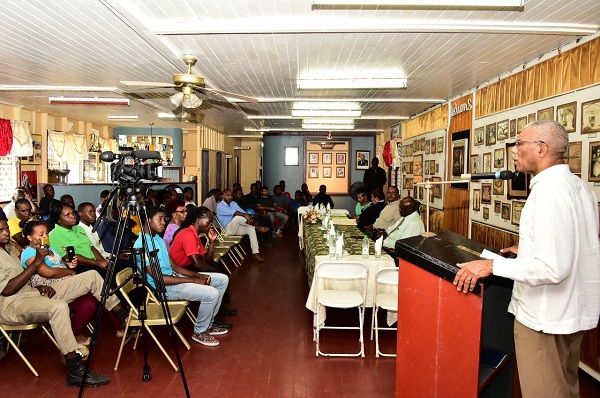 President David Granger addressing employees of BACIF after touring the facility
"We recognise the dynamics of industry; we believe that it is important that we evolve and we transform ourselves to suit the new environment. We would like to bring more updated technology but the question also has to do with reliable electricity and with the Government moving to adopt green sources of energy, we believe that can be a driver for manufacturing and much more economic development. So I think the direction of Government is well-focused and we want to support that direction, we want to continue to play our role," the General Manager said.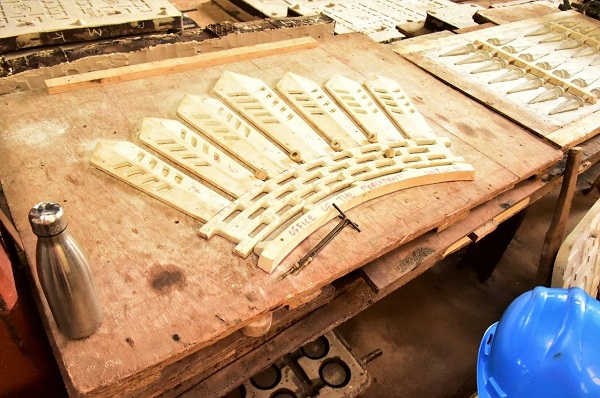 BACIF is currently producing a Presidential Crest
BACIF is an engineering manufacturing company, which was established in 1959 by the late Mr. Claude Geddes. The business was incorporated in 1982. It supplies local and regional markets with engineering castings in both ferrous and non-ferrous metals, producing products such as: fire hydrants, pumps, mill bearings, pulleys, manhole covers and frames, cast iron masses, diffuser plates, sheaves, gears, connecting rods, propellers, and other such products.
The company is also seen as an apprenticeship school; it has been affiliated with the Board of Industrial Training (BIT) for over 30 years.