Georgetown, Guyana – (January 25, 2017) One hundred and seventy stakeholders from three East Berbice-Corentyne (Region Six) communities participated in sensitisation sessions when Minister of Social Cohesion, Dr. George Norton, on Sunday and Monday last, visited Orealla, Siparuta and Barakara, in order to advance his ministry's mandate. In addition to the sensitisation sessions, the Minister also sought to address some needs within the communities.
The meetings were facilitated by Director of the Region Six Regional Health Services Department, Mr. Jevaughn Stephen, whose Department hosted a medical outreach and blood donation exercise in the three communities. Minister Norton told residents that while social cohesion is enshrined in the Guyana Constitution, the only way to truly foster solidarity is by erasing inequalities so that all sections of the population can benefit from the available services as all peoples have the right to self-determination.
"We cannot talk about equality; about one people, if we have some enjoying more than others; if some are getting more benefits than others. It is only right that everybody be given an equal opportunity that we have an even or level playing field as much as we could. For that reason, you find that because things were not as [they were] supposed to be sometimes we have to give more to certain sectors of our community so that we can play catch-up, so that we can reach the same level," he said.
Barakara residents during the sensitisation workshop
Dr. Norton also pointed out that social cohesion acknowledges and celebrates individual identities and cultural differences, even as it promotes co-operation. In this vein, he urged the youth across all the communities to focus on their education to ensure productive futures. "One of the surest ways of creating a society where persons have equal opportunities is becoming educated… I want to implore… the parents and elderly brothers and sisters to insist that we take seriously our education. [President David Granger] has said that he … [has adapted] a principle where they should be no drop-outs. Everybody should be able to go to school and… not because they are compelled to do so, but because they see the value of going to school. We as a Government are prepared to do all we could to… make certain that you attend school," he said.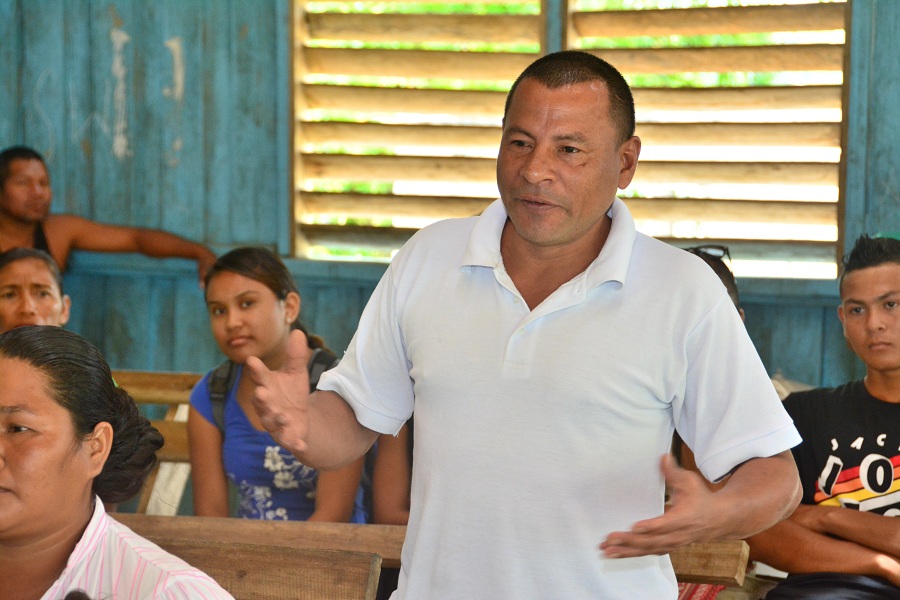 Mr. Percy Peneux said he was pleased that Minister of Social Cohesion, Dr. George Norton visited the Orealla.
Apart from that, the Minister urged them to engage in meaningful extra-curricular activities, such as sport, which could accrue long-term benefits and possibly allow them the opportunity to obtain scholarships. At Barakara, he said that he was pleased that the youths had taken the initiative to start developing a section of land for community recreation, as these steps bode well for productive engagement and for reducing the incidence of anti-social behaviours.
Enterprise and community development
Dr. Norton also expounded on the importance of enterprise and entrepreneurship in creating employment and augmenting village economies. He commended the youths at Orealla, who have pooled their skills and talents to maintain the village's roads and are paid by the Government, and he called on others to emulate their example. At the same time, the Minister said that he was disappointed that the community had allowed a factory to become defunct, when it was once known for its production of guava cheese. He expressed similar sentiments at Barakara, a farming and logging community located along the Canje River, which had stopped cultivating its lands.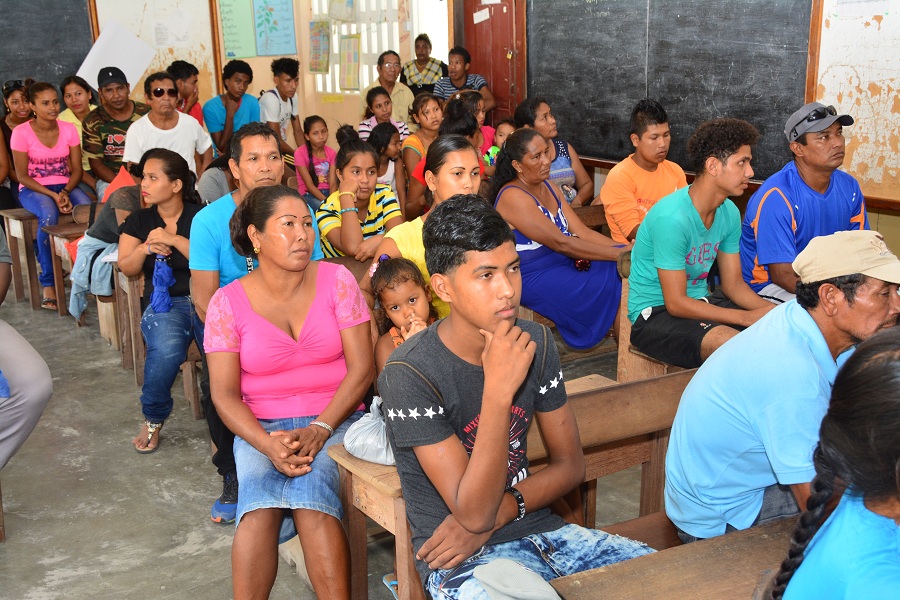 A section of the audience at the Siparuta Primary School
While residents from all the villages expressed concerns about a number of social and other problems that have plagued them, Barakara residents said that they had been marginalised under the previous administration and were pleased with the interventions that the current administration has made since their assumption to office in 2015. Minister Norton encouraged them to cultivate their lands and pointed out that the President had committed to providing assistance to persons who have sound business plans, particularly those who are interested in agricultural production and enterprises. "We are asking you to…get in to business… much more production, and one of the surest ways of doing so is taking a serious look at your farming skills. The fact that you have land available to you, the fact that it is not so difficult to actually …cultivate …root crop farming, cash crop farming, vegetables, fruits and so on, we've got to start looking in that direction," he said.
Residents were pleased that the Minister had travelled to their far-flung communities to meet with them. At Orealla, Mr. Percy Peneux said, "I'm happy to know that the Ministry of Social Cohesion is in Orealla to enlighten us, to bring us closer in all areas of development". Similar sentiments were expressed by Mr. Carl Peneux, who said that the Minister's visit "is like a blessing to me". At Siparuta, Ms. Glenda Morris and Ms. Eugenie Coppin Ally both said that they were thankful that the Government had responded to their previous calls for a reliable electricity supply and for more teachers to be dispatched to the school.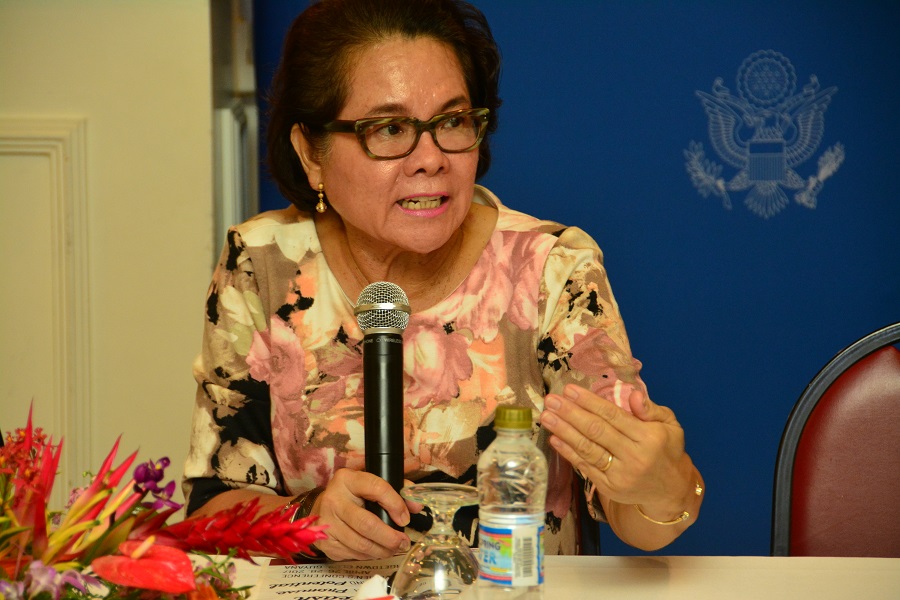 Minister of Social Cohesion, Dr. George Norton interacts with two Barakara residents in the compound of the medical centre, after the workshop.
Minister Norton encouraged the residents to co-operate with each other, to support their village councils and to provide continued guidance to the youth. "We have a lot of work to do. We have to also give [the youth] the opportunity to become somebody so please get together. We can't blame the youths…it's the parents… and the grandparents too…. We can't leave them alone, we've got to provide guidance," he said.
Meanwhile, Ms. Natasha Singh-Lewis, Technical Officer, Ministry of Social Cohesion, said that the Ministry plans to continue its Diversity Education and Inclusion workshops this year, with the view of providing awareness about behaviours that contribute to building cohesive societies.