Georgetown, Guyana – (January 20, 2017) Thirty seven women from 19 villages, from the West Coast and West Bank of Demerara, East Bank of Essequibo and Riverine areas of Essequibo Islands-West Demerara (Region Three) have completed training under the First Lady's Self-Reliance and Success in Business Workshop, which was held in Region three's Regional office boardroom, in Vreed-en-Hoop during the past week.
This brings to 400 women country wide, who have graduated from this programme and First Lady, Mrs. Sandra Granger said she is elated to have reached this milestone. "You will recongnise the value of this workshop and I hope that it will encourage you to reach as high as you want to go as business women and to also understand that sister hood has its process, that you can rely on good friends to advise you and support you," Mrs. Granger said.
A section of the participants at the recently concluded Self-Reliance and Success in Business Workshop.
The First Lady praised the former Minister of Social Protection, and now Minister of Health, Mrs. Volda Lawrence for supporting the programme through the Ministry of Social Protection. Mrs. Granger also said that she is pleased with the commitment made by the Regional Executive Officer set up linkages for the women with the Small Business Association and the Guyana Marketing Corporation (GMC).
Facilitator of Interweave Solutions Incorporated, Mr. Yohann Sanjay Pooran said that the women of Region three have proven that they are ready to be successful entrepreneurs, since they had mastered the six P's of business. "I firmly believe that these women will take the skills and talent that they possess, talents which [they] were endowed with, a concept, which our First Lady emphasises quite frequently, and move forward with great perseverance and fortitude and make change," Mr. Pooran said.
Mr. Pooran further expressed the hope that the woman will grow businesses across the Region and contribute to the development of the community. "One of the benefits of this program that is often times over looked is the fact that women who have been trained and participants in general make a contribution to the national economy… They are gainfully employed, they are paying their taxes, they are making their National Insurance Scheme (NIS) contributions, and as their business enterprises grow, they employ others who in turn pay their taxes and make contributions to Society," Mr. Pooran said.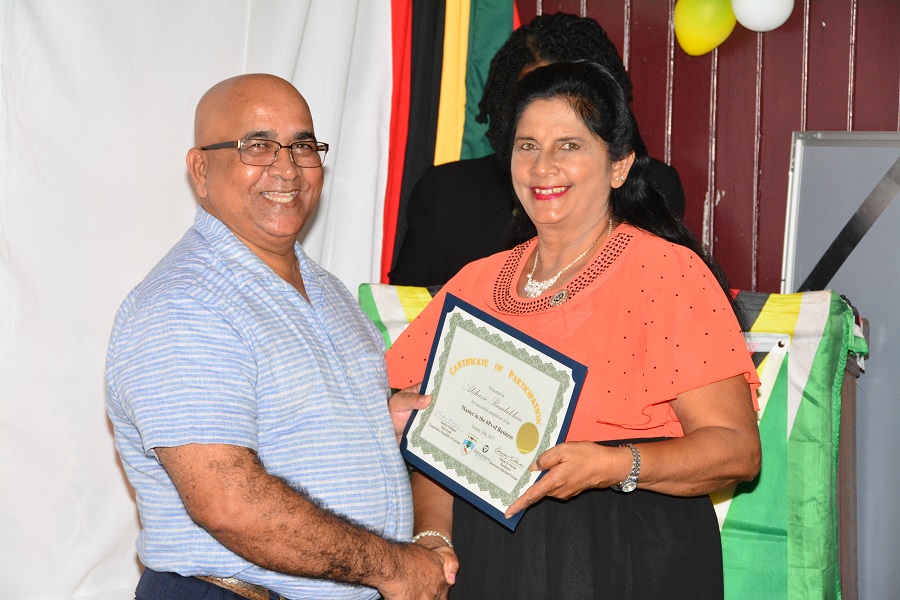 Ms. Alshazie Ramlakhan receiving her certificate from Regional Executive Officer, Mr. Denis Jaikaran.
Also emanating out of the workshop is three women's groups aimed at community development and tackling social issues that are rampant in communities of Region three. These groups according to Mr. Pooran are expected to lay the foundation of change within their communities.
Guest Speaker and trained teacher of the Carnegie School of Home Economics, Ms. Bridget George told the participants to apply what they have learned into daily routine. "Take what has been taught to you wholeheartedly…you must have confidence in yourself [and] you must be self-reliant… there are so many things that you can do that can make you successful business women," Ms. George told the women
The women proudly displayed their certificates and spoke highly of the First Lady's initiative, which they deemed, an initiative worth taking into communities. "The First Lady really represents our women in Guyana and I would like to see our women become progressive by earning their own business," said Ms. Alshazie Ramlakhan of Parika.
According to retired head teacher, Ms. Bernadette Campbell, "I would like to see more women getting into groups and helping their communities… Through this initiative presented by the First Lady… I want to join with my friend and open [a home for the elderly]."
"I am elated that the First Lady has brought this initiative to us, and I do hope that we get more programs like this to better empower women," Ms. Kinisani Adams said.
The closing ceremony was also attended by, Regional Executive Officer, Mr. Denis Jaikaran and Member of Parliament and Regional Chairman, Mr. John Adams.