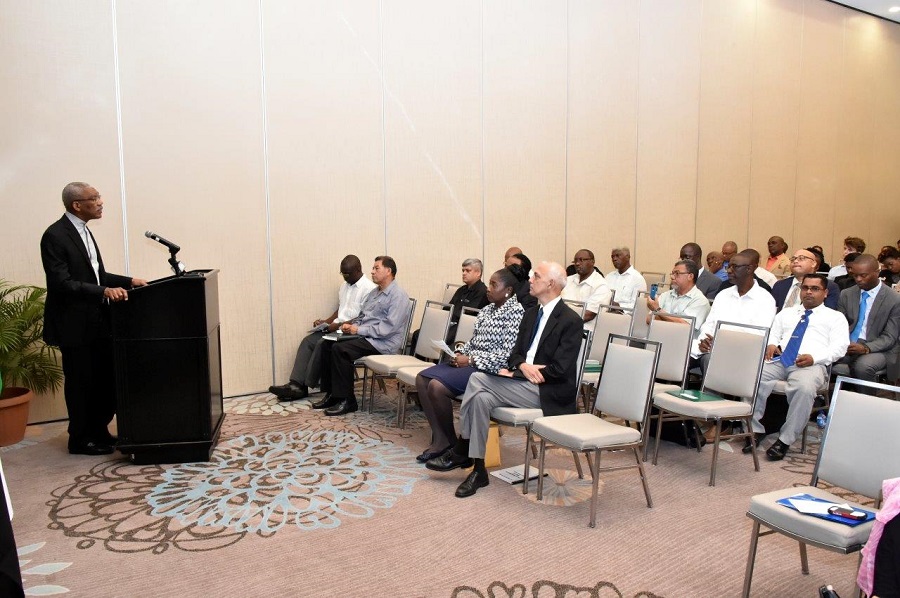 Georgetown, Guyana – (January 20, 2017) President David Granger said that Regional Democratic Councils (RDCs) possess powers that could transform Guyana's 10 administrative regions, but they must be willing to overcome their pettiness and prejudices. The Head of State made these remarks after regional officials from the Opposition-controlled RDCs and municipalities boycotted the inaugural meeting of the National Regional Development Consultative Committee (NRDCC), held today at the Marriott Hotel.
Minister of Communities, Mr. Ronald Bulkan informed that last evening he received letters from a number of Regional Chairpersons indicating that they will not be participating in today's activities as they are concerned that this committee poses the danger of impinging on the Constitutional authority of the RDCs and municipalities. "They were fearful that their participation could be seen as endorsing this initiative, which is a consultative committee designed to bring together all of our regions with a view of strengthening regional administrations and strengthening the role of RDCs in both the management as well as development of their respective regions," he said.
President David Granger delivering the feature address at the inaugural meeting of the National Regional Development Consultative Committee at the Marriott Hotel.
The Minister said that the arguments that were advanced are specious and provocative. He noted too, that given that these officials are public officers, their actions have shown a certain degree of insubordination. However, he said that notwithstanding this setback, Central Government will continue to extend the hand of cooperation to all of the democratic institutions.
Meanwhile, President Granger reminded that the Constitution proclaims Guyana as an "indivisible, secular, sovereign and democratic state", within which, the local government system is indispensable to the democratic governance of the country and to its economic, cultural, political and social development. He explained that local democratic organs are by no means ornamental and are not Central Government appendages, but rather, they are an integral part of the national government, which has three tiers. The first tier is Central Government, the second consisting of Regional Government and the third is Local Government organs which include: RDCs, municipalities, and Neighbourhood Democratic Councils (NDCs).
"Guyana's rich resources will remain under-exploited and the country will remain under-developed unless all three tiers are able to work together. Guyana will not fulfil its promise of providing 'a good life' for all of its citizens unless it becomes a country of economically robust and resilient regions, prosperous municipalities and productive neighbourhoods. Local democratic organs can fulfil their mandate to help the country to achieve its fullest potential. First, however, their capacity must be enlarged and their competence must be enhanced by fostering 'consultation' within communities, 'cooperation' with other regions, 'coordination' with state agencies, authorities and commissions and 'collaboration' with the Central Government," President Granger said.
Speaking of the size, asymmetries in economic development and infrastructural assets and diversity of natural resources of the 10 Regions, present severe challenges for governance, as such, the three tiers of Government must work together and it is that inter-governmental synergy that the NRDCC aims to foster.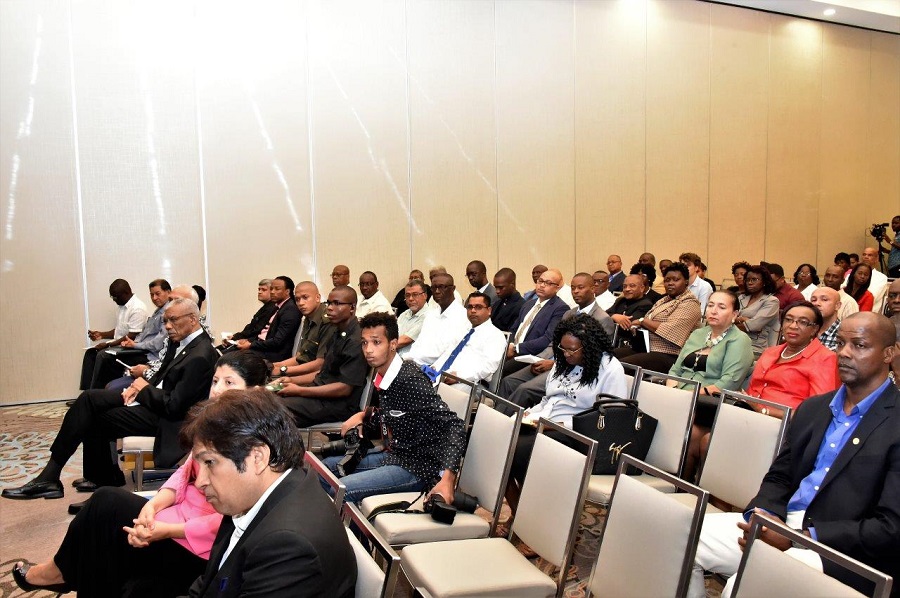 A section of the audience at the meeting
The President also spoke of the country's 'green state' agenda, which emphasises protection of the environment, preservation of biodiversity, provision of eco-tourism and eco-educational services and the promotion of practical measures to ensure climate adaptation and said that every region should be proud of its portion of this patrimony. He also called on the Regional Administrations recognise their role in furthering this green agenda.
The President said that the Regions must be stimulated by the capital towns and reiterated his vision for every Region to have its own aerodrome, high court, police divisional headquarters, radio and television stations, referral hospital, stadium and other important infrastructure. "Capital towns must encourage employment, establish industrial estates, enable economic diversification and deliver economic services – banking, commerce, communications, insurance, law courts and other business services… Every region must have thriving commercial districts and industrial estates," he said.
The RDCC was established to ensure that the RDCs, the NDCs, municipalities, village councils and other regional stakeholders meet to discuss and plan for regional development. It is a consultative mechanism and cannot usurp the functions of any of the local democratic organs. The President believes that this committee will empower elected officials and encourage residents to enrich the economies of their regions.