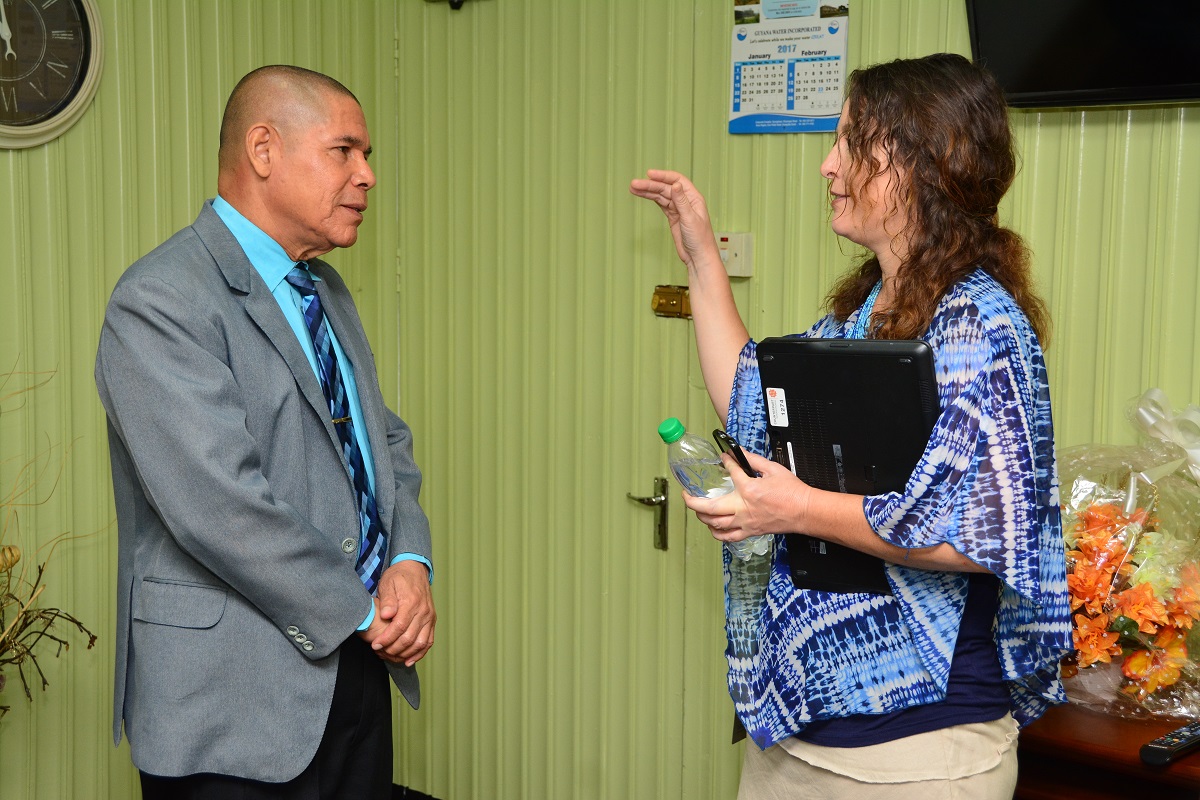 Georgetown, Guyana – (January 18, 2017) Minister of Social Cohesion, Dr. George Norton, today, met with representatives from the United States Agency for International Development (USAID) Counterpart International to exchange ideas on different approaches to building cohesive communities, as he endeavours to continue with the work started by his predecessor.
The meeting is among several engagements that Dr. Norton has been participating in as he aims to advance the social cohesion programme, within the context of implementing the National Strategic Plan on Social Cohesion 2017-2021. The Minister met with Ms. Maria Witz, Gender Specialist, Counterpart International and Mr. Rawle Small, Project Director, Youth and Citizens' Participation (YCP) Programme. Dr. Norton told the meeting that Article 13 of the Guyana Constitution is basis on which the Ministry was created and that it is within that framework that he intends to advance the programme.
"Article 13 speaks of… inclusionary democracy and that is where it all begins; whether it's national unity, whether its social cohesion… It's to get persons involved in the decision-making process of the nation, particularly in the areas that affect them directly and to work against …isolation, marginalisation [and] discrimination. We must understand that we're dealing with six peoples of entirely different cultural background, social background, religious [background], geographically as well," he said.
Ms. Maria Witz gestures as she makes a point to Minister of Social Cohesion, Dr. George Norton, after the meeting.
Ms. Witz, who has worked in the Middle East and in several other countries promoting social inclusion and social cohesion, said that Guyana is the first country that she has travelled to that has a ministry dedicated to fostering cohesion. "It's great to see what is going on in social cohesion… It's fantastic to see the work that's being done," she said.
Dr. Norton said that the Ministry plans to continue to meet with stakeholders across the country, including members of civil society and other like-minded groups to advance the programme. The Ministry's social cohesion officers will soon be mobilised within the Ten Administrative Regions to implement cohesion initiatives and the Ministry is poised to embark upon its Validation Workshop, which is yet another step that it is taking to solicit stakeholder buy-in in the social cohesion process.
Mr. Small said he had undertaken a similar exercise while implementing the YCP and despite the challenges, he had found this approach to be useful. "One of the lessons learned coming out of the YCP is that the message can be distorted, even rejected, likewise the participation of some crucial persons in the community… We came to appreciate that every body has its own role and mandate but you can use a number of different activities to connect them and that is driven by your overall goal and outcome," he said.
Following the meeting, the Minister said that it is clear that Counterpart International and the Ministry are on a similar mission and as such he would be pleased to collaborate with them.