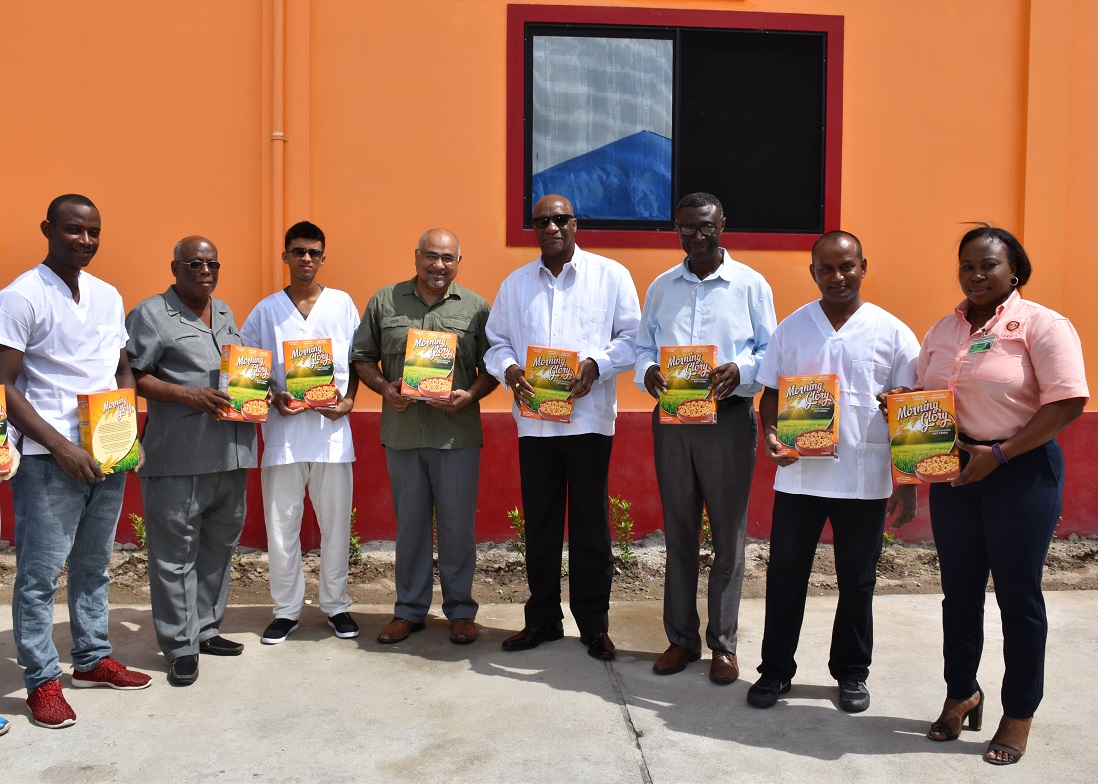 Georgetown, Guyana – (January 16, 2017) New Minister of Social Cohesion, Dr. George Norton, today, held introductory meetings with representatives of various religious and social groups to ensure continuity and increased areas of collaboration as part of advancing the social cohesion agenda even as he focuses on building on the work of Minister Amna Ally, who now leads the Social Protection Ministry.
"One must give lots of credit to Minister Ally for all the work she has done and I hope to carry it forward… Even our Constitution speaks of inclusionary democracy and that is one area that leads into social cohesion and hence national unity… but more and more, one is seeing the need for social cohesion and our work can only make Guyana the reality of 'One people, One nation, One destiny'," Minister Norton said.
The meetings were held with representatives of the Central Islamic Organisation of Guyana (CIOG), the African Cultural and Development Association (ACDA), the Viraat Sabha Organisation, the Guyana Rastafarian Association and the Guyana Islamic Trust (GIT).
Minister of Social Cohesion, Dr. George Norton with members of the Guyana Islamic Trust Administrative Council (from left) Mr. Safdaar Hussein, Mr. Naeem Muhammad, Mr. Wazir Baksh and Mr. Muhamed Mujay
During each meeting the Minister said that he is a strong believer in an "open door" policy and added that the Ministry will continue to work with such agencies to not only address their own considers but to collaborate effectively in order to bring Guyanese, regardless of ethnicity, social class, religion, geographic location and political affiliation, closer together.
Director of Education within the CIOG, Mr Shaikh Moeen-ul-Hakh said that the organisation is happy with the Minister's appointment and committed the same cooperation that was given to Minister Ally for the advancement of the Ministry's social cohesion agenda. "Social cohesion is one of the objectives of Islam and the CIOG; it is part of our religion… Our scriptures speak about unity, not only among members of the faith, but those outside of the faith… So we are either brothers and sisters in faith or in humanity… Our religion is very strict when it comes to the rights of non-Muslim brothers and sisters," he said.
Representatives of the Guyana Islamic Trust iterated similar sentiments, but member of the GIT's Administrative Council, Mr. Wazir Baksh said that the organisation is also looking forward to working with the Minister to establish a core group of representatives that will represent all the Muslims across Guyana from various organisations and Mosques.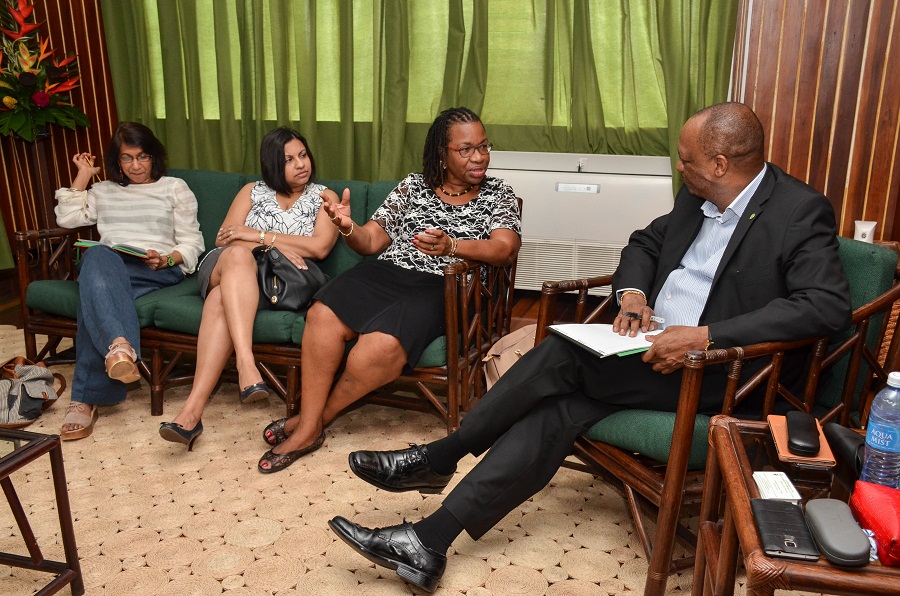 Minister of Social Cohesion, Dr. George Norton met with members of the Guyana Rastafarian Association, from left, General Secretary, Ras Khafra, Ms. Yolanda Jackson, Mr. Lambert Joseph, President, Ras Simeon and Ras David.
Meanwhile, Executive Member of ACDA, Mr. Eric Phillips highlighted the need to focus on the economic rights of various peoples with regard to encouraging cohesion. He also suggested to the Minister that key individuals within various groups must be identified and engaged to help to influence smaller factions of society. Pandit Ravi Persaud, representative of the Viraat Sabha Organisation, told the Minister that it is important to look at the unity among the Hindu community, which will then auger well for social cohesion as a whole.
Members of the Guyana Rastafarian Association said that their community could also help to spread the word of social cohesion through their use of music and art and expressed their willingness to work with the Minister in this and other areas in order to help promote national unity.
Following the meeting, Minister Norton said that he is impressed by the readiness of the organisations to work with the Ministry to foster a strong relationship going forward and added that he looks forward to charting a fruitful course of action within the Ministry.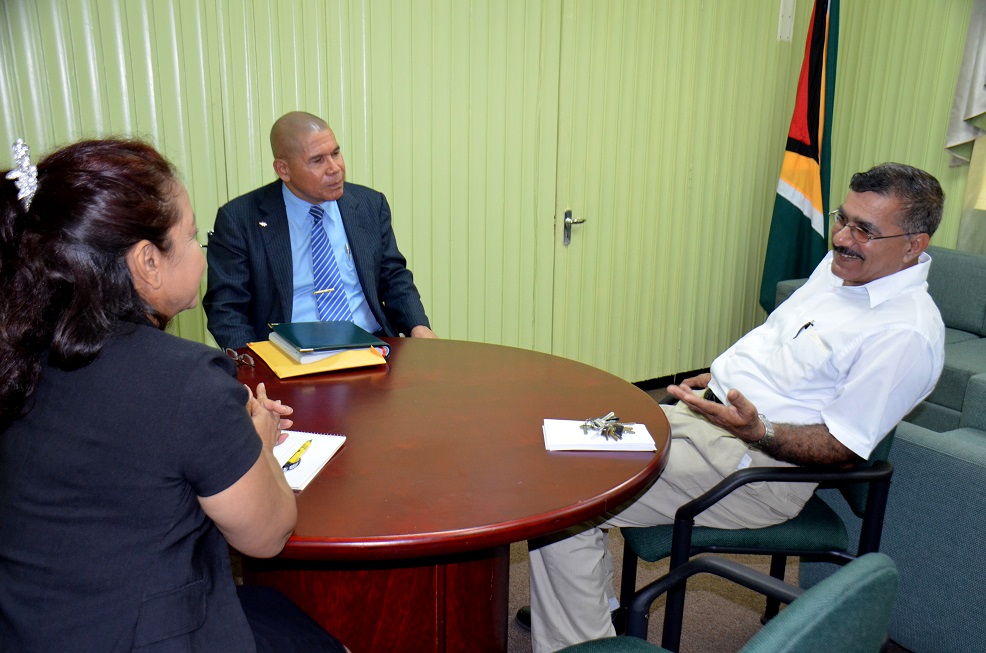 Minister of Social Cohesion, Dr. George Norton and Technical Officer within his Ministry, Mrs. Pamela Nauth discuss concerns within the Hindu community with Pandit Ravi Persaud, representative of the Viraat Sabha Organisation.