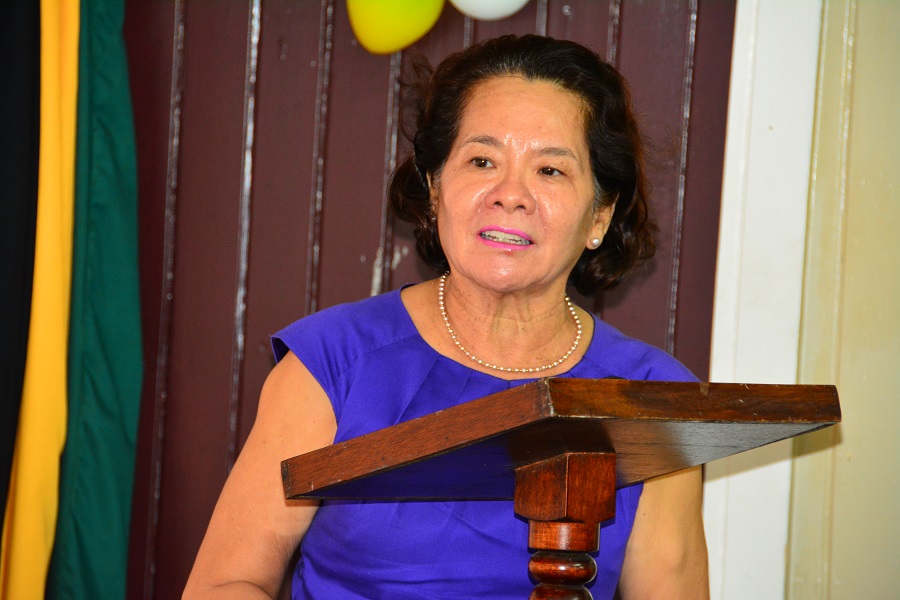 Georgetown, Guyana – (January 16, 2017) Another batch of women, this time from several villages across Region three, Essequibo Islands-West Demerara, now have the opportunity to become successful business entrepreneurs, through First Lady, Mrs. Sandra Granger's initiative, the Self-Reliance and Success in Business Workshop, which was held at the Regional Office boardroom, in Vreed-en-Hoop.
Speaking at that ceremony, Mrs. Granger said that women are often put themselves down by internalising the belief that they have no knowledge of business or that they are not gainfully employed, when in fact their daily routines can often be comparative to the skills required to run a business. "Start to look at yourselves as queens, because you are managing… your homes and businesses…devoting your time, and energies and at the same time, love yourself," Mrs. Granger told the participants.
As she shared a quote from Martin Luther King's most celebrated speech 'I have a dream', Mrs. Granger told the participants that, "your dream today is that you can manage and successfully run a business. So I urge you, dream big but dream realistically," Mrs Granger said.
First Lady, Mrs. Sandra Granger delivers remarks to the participants.
The First Lady, also mentioned the planned introduction of a Training of Trainers workshop, where women from Regions across Guyana can benefit from entrepreneurial training and also be equipped to train members of their communities. This initiative, Mrs. Granger said, is something her office is considering and hopes to implement by the end of 2017.
In his address to the women, Regional Executive Officer, Mr. Denis Jaikaran told the participants, that he was looking forward to a successful end of the workshop. "At this level, I want to commit myself to say that out of this program, whatever you plan in your little communities the help is going to be there so that we can master what we would have learned here and to multiply it in the different communities across this Region," Mr. Jaikaran said.
Mr. Jaikaran urged the participants to look at themselves from another angle and not to label themselves as just 'housewives'. "In Region Three I want as of today that our women should not be referred to as housewives but household executives… I say this to indicate to you that your role would have been changed, your role would continue to change, your place in society must be taken forcefully so that the leadership that would come from you will enhance families, societies, regions and this country as a whole," Mr. Jaikaran said.
Meanwhile, Facilitator at Interweave Solutions Incorporated, Mr. Yohann Sanjay Pooran noted that with the completion of this batch of participants, will bring to 400, the number of women who have been trained as entrepreneurs since the commencement of the partnership between the agency and the Office of the First Lady.
"You are people of worth. From the inception, our intent is to make you successful, not just from the standpoint to financial gains or means but also to help you establish balanced lives. We want to ensure you have stability in your homes, we want to ensure that you are contributing to the community even as you experience success in your business that you're giving back in a meaningful and purposeful way," Mr. Pooran said.
Over the next four days, the women will be trained in the principles of successful business starts ups and the development of business plans. On completion of the training programme, they will be presented with certificates, recognised by the Small Business Bureau.
The opening ceremony was also attended by several representatives from Region three, which included Member of Parliament, Mr. John Adams.