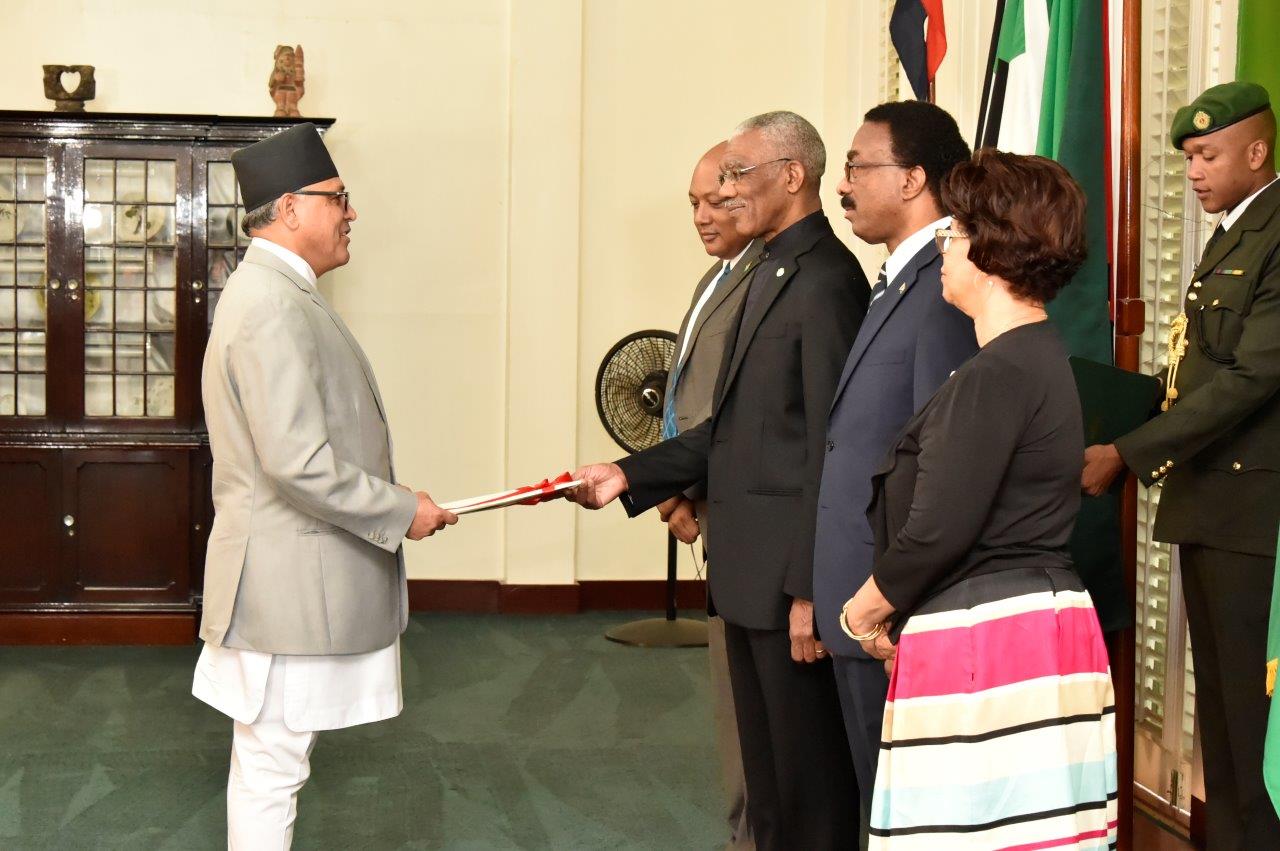 Georgetown, Guyana – (January 11, 2017) President David Granger, today, said that as Guyana continues to push the development of a 'green' agenda, it has much to learn from the Federal Democratic Republic of Nepal in the area of forest and natural assets conservation.
The President, who was at the time speaking at the Accreditation ceremony of the new Ambassador of Nepal to Guyana, Dr. Arjun Kumar Karki said that Guyana and Nepal share common vulnerabilities to the adverse effects of climate change and as such, his Government has taken note of Nepal's promotion of community forest management.
"Guyana, a low-lying coastal state is susceptible to the effects of rising sea levels, floods, drought and environmental hazards. Nepal, a land locked state, also faces increased climate induced threats. We are both rich in hydroelectric potential. Our two countries can learn from each other's experience in developing climate change adaptation plans and in promoting renewable energy development… We feel that there is much for Guyana to learn from your country in forest conservation and from the challenges in conserving our natural assets," he said.
Newly accredited Ambassador of the Federal Democratic Republic of Nepal, Dr. Arjun Kumar Karki presenting the Letters of Credence to President David Granger, at the simple ceremony held at State House, earlier today.
From left: Director General of the Ministry of Foreign Affairs, Mrs. Audrey Waddell, acting Minister of Foreign Affairs, Mr. Basil Williams, President David Granger, newly accredited Nepalese Ambassador, Dr. Arjun Kumar Karki, Mrs. Karki, Acting Minister of State, Mr. Raphael Trotman and an official from the Nepalese Government at the State House.
The President added that since establishing diplomatic ties in 1994, the two countries have enjoyed cordial relations and it is expected that this appointment will serve to reignite the opportunities for deeper cooperation between the countries.
"Our two Republics are united by common values of mutual respect for each other's territorial integrity and sovereignty, mutual non-interference in each other's internal affairs, cooperation for mutual benefit, respect for treaties and international law and the maintenance of international peace and security," the President said.
The Head of State also extended words of support on behalf of the people of Guyana to the people of Nepal as they continue reconstruction efforts following the devastating earthquake of April 25, 2015. "We stand in solidarity with your country as it recovers from this terrible tragedy," President Granger said.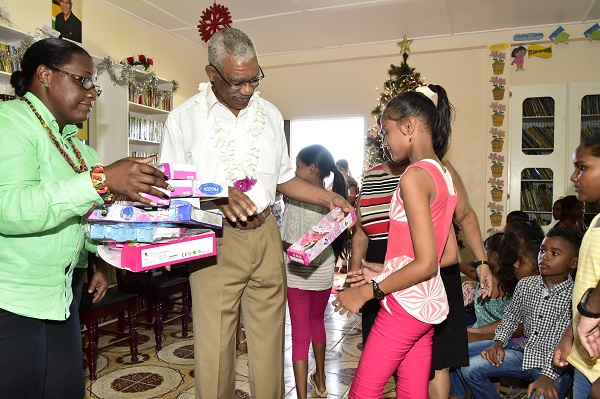 Newly accredited Ambassador of the Federal Democratic Republic of Nepal, Dr. Arjun Kumar Karki
Meanwhile, the newly accredited Nepalese Ambassador to Guyana, in his remarks, said that Nepal places great importance on the relationship it shares with Guyana since ties were established on good will, understanding and strong bonds of friendships 23 years ago.
"These values are multi-faceted and they encompass a broad spectrum of political, socio- economic, cultural and many more dimensions. We are optimistic that Nepal and Guyana will be table to take our relationship to a new height. The bonds that we build will be based on trust and mutual benefit that are consistent with our potentials and the aspirations of our people," he said.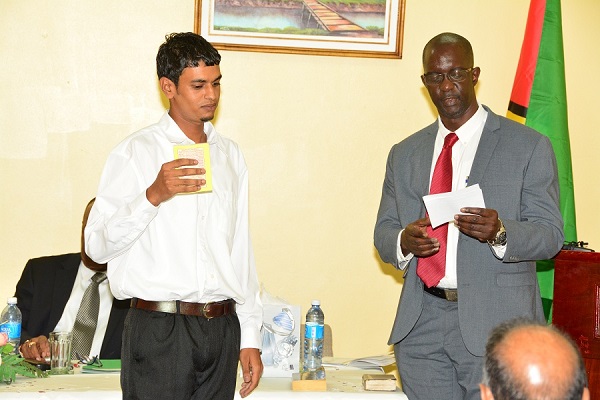 Ambassador Arjun Karki pays his respects to the country by the laying of this wreath at the Independence Arch, Brickdam.