Georgetown, Guyana – (December 19, 2016) President David Granger, earlier today, said that the 'Boats, Buses, Bicycles, Breakfast and Books' or 'Five B's' programme will ensure that Guyana becomes an educated, skilful and prosperous country during a handing over ceremony of another 30-seater bus to the Upper Demerara-Berbice Region (Region Ten) to serve the community of Kwakwani and its surrounding environs and further emphasised the importance of education at a visit to the Kalcuni Primary School to spread Christmas cheer. The bus, which was commissioned at the Kwakwani Independence Square, is the fourteenth one donated under the Five 'Bs' programme and will serve approximately 100 school children and three schools.
President Granger told those gathered at the ceremony that education is the best investment Governments can make for the development of any nation. The President said that the initiative will pay dividends the region and Guyana as it will ensure the development of enterprise and access to the job market for the nation's young people.
The 'David G School Bus No.14'
President Granger hands over a Christmas present to this toddler in Kalcuni today.
"We would go into every river and creek, every highway and byway to provide bicycles and buses and boats for every child to go to school… This bus is about equality, to ensure that every Guyanese child has an equal opportunity to get to school. I am opening a window of opportunity for you to become better than your parents and your grandparents were. You could go to school and after you leave school and not only develop your country and community but yourself. This bus is a vehicle to take you from poverty to prosperity; from ignorance to education. [It is] a means of self-emancipation to ensure that you can have long and productive lives right here in this region," the President told the residents at Kwakwani to loud applause.
Minister of Social Cohesion, Ms. Amna Ally, who was present at both events, told the residents that education is a key focus of the administration and that the Government will continue to incrementally work on raising educational standards, while ensuring access. "In November we distributed bicycles to this community and I did tell you that very soon we would have been commissioning the bus. The day has come. Our President believes in a good education. He believes that every child must be in school and so everything possible is being done to ensure that all of our children go to school and are comfortable. We cannot do everything at once, but we are taking care of you and we believe in you," she said.
Regional Chairman Mr. Renis Morian, said that every action taken by the President to eradicate the barriers to education is appreciated by the region and will go a long way towards improving the lives of parents as well as children. "This is a tremendous blessing to the people of this region and most pointedly to Kwakwani. What I like most is that the President came here. So today we are happy to see that he not only makes promises but he makes it a reality. This is a positive step for the children of Kwakwani," Mr. Morian said.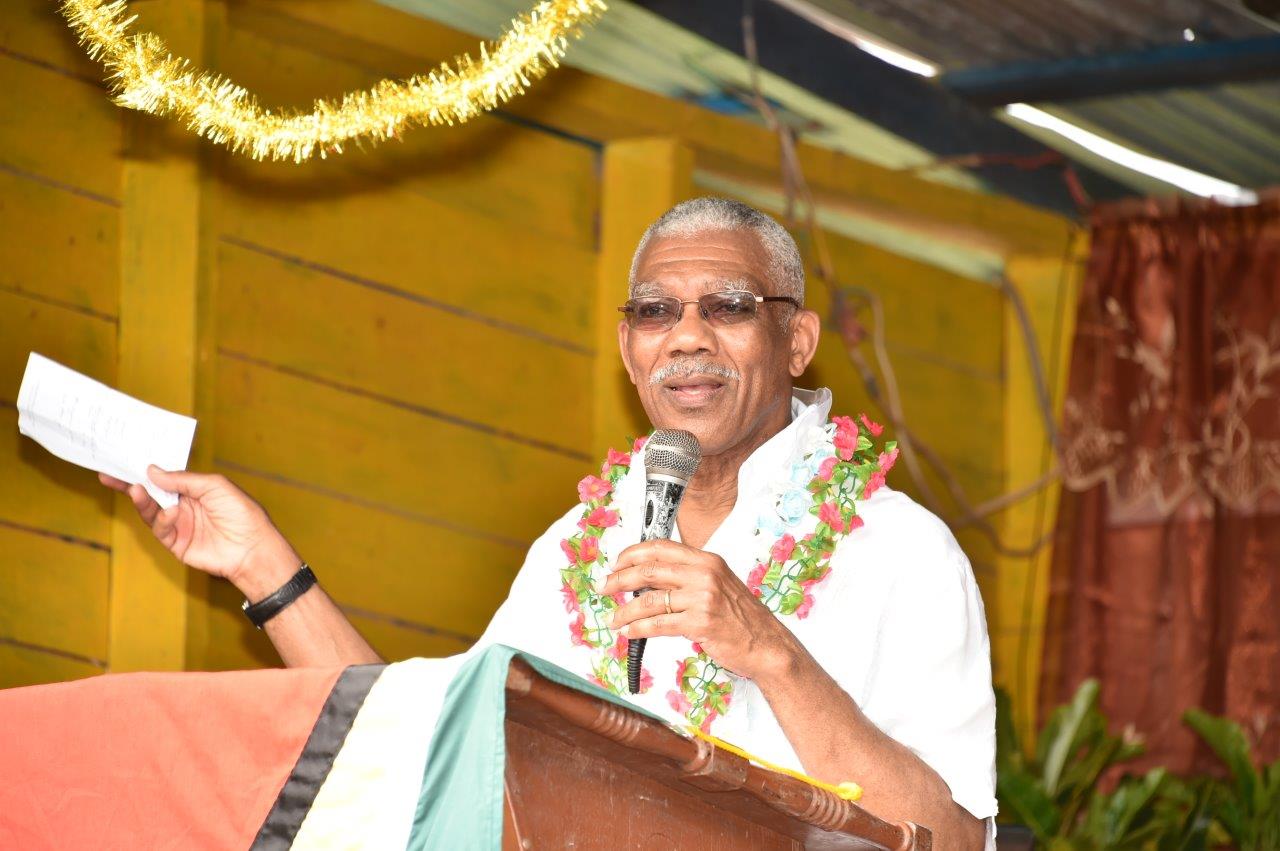 His Excellency, President David Granger addressing the residents at the Kwakwani Independence Square earlier today minutes before he commissioned the school bus.
Speaking just hours before at a Christmas party the Kalcuni Primary School for almost 400 children, the President vowed to ensure that every child in every village across the country can one day enjoy easy access to education, which will in turn pilot them towards positive growth in their communities and ultimately their countries.
"I am going to work for you. Every child has to have an opportunity of equality and equality is the basis of my philosophy. I believe that people must be equal but you cannot be equal if some people are educated and some are not; if some people are rich and some are poor or if some can get jobs and some [cannot].," he said.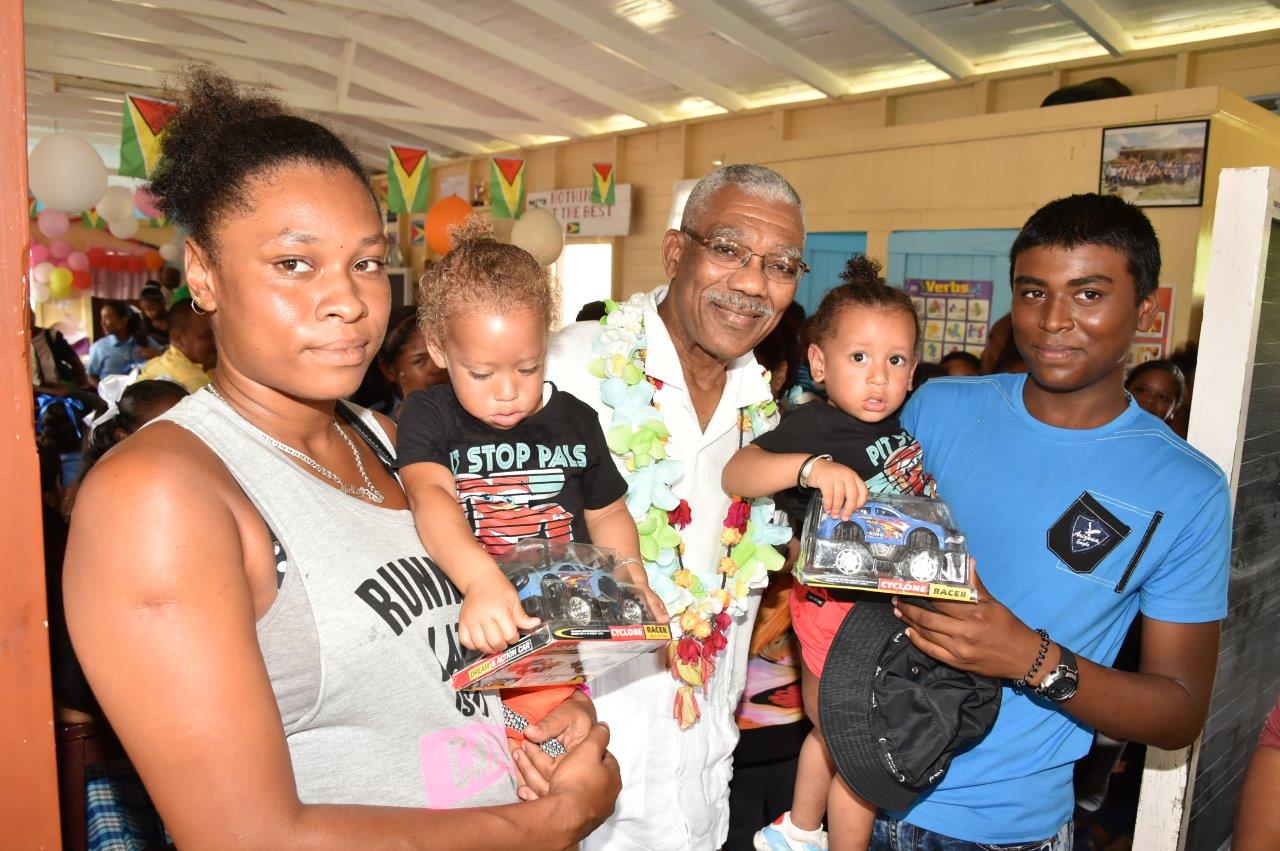 Smile! It was a picture moment for these adorable twins and their parents with His Excellency, President David Granger.
One resident, who addressed the gathering at the Kalcuni Primary School, said that the President has shown that he is a man of the people and his efforts must be appreciated. "We thank you for teaching us how to love. Through the years we lost our way but you set us right and now the time has come for us to sing thank you in a special way because from every experience we have learnt that everybody needs somebody needs to care for them and every nation needs someone to show them that when you're down, you will always be there," she said.
Ms. Jackie, a teacher from the area, expressed thanks to the President for his One Laptop Per Teacher Programme, which she said, has already begun to lend great assistance to teachers in those areas, in the delivery of education in the classroom. Last month, the President had also pledged $1M to the Parent Teachers' Association (PTA) of the Kwakwani Primary School to help improve the conditions under which students and teachers are currently forced to work.
Region Ten has now benefited under the Five 'Bs' programme from two buses, along with two boats and over 100 bicycles.