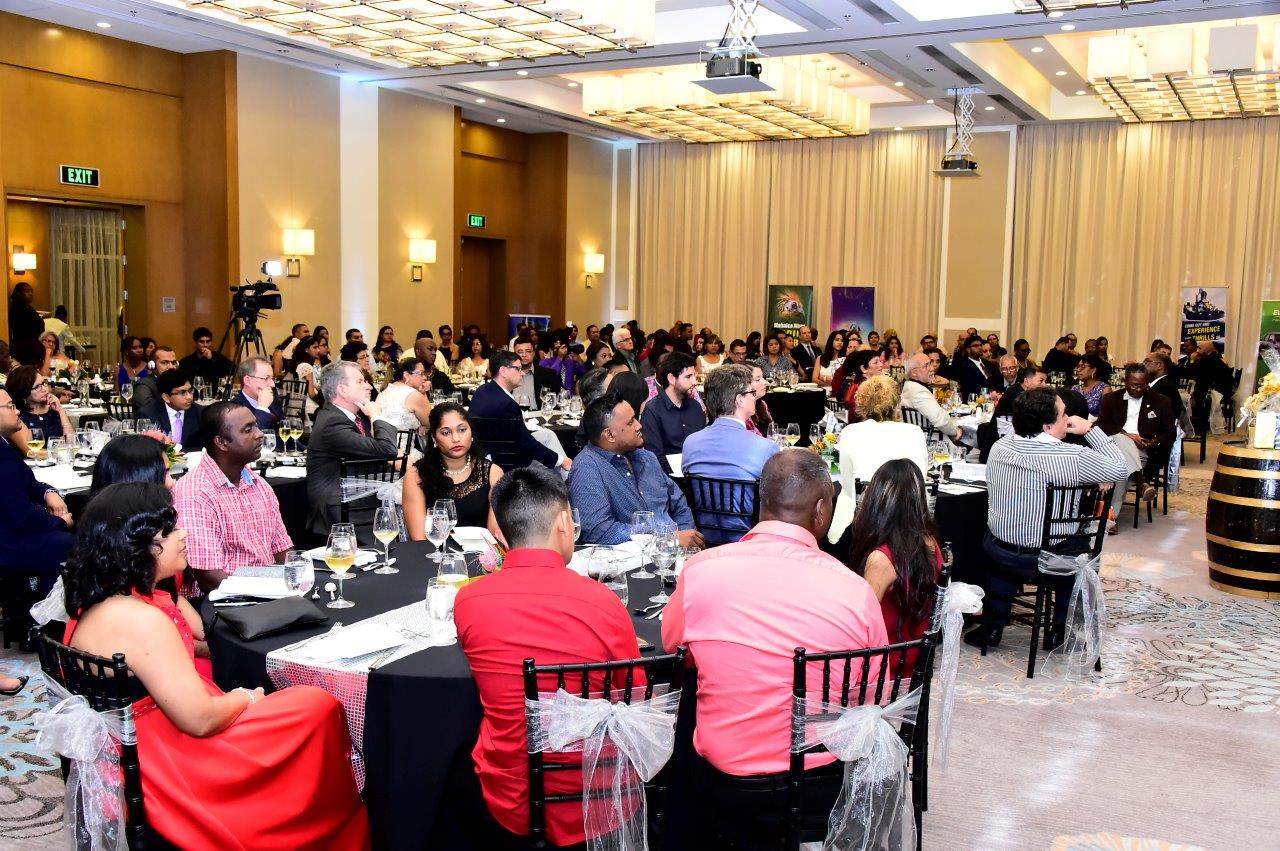 Georgetown, Guyana – (December 16, 2016) President David Granger and President Desiré Delano Bouterse of Suriname have announced the resuscitation of the Guyana-Suriname Cooperation Council with the aim to further strengthening cooperation between the neighbouring states. This announcement was made at a joint press conference today, at the Marriott Hotel in Georgetown, where the two Heads of State met for a one-day working meeting. This official state visit by President Bouterse was a follow-up to President Granger's visit to Nieuw Nickerie on July 1 earlier this year, in an effort to expedite implementation of various decisions that had been taken.
The two countries have agreed to work to expedite the re-establishment of the Guyana-Suriname Cooperation Council, along with the appointment of a special envoy, whose main responsibility will be to advance the implementation of agreements reached by the two States. President Granger explained that this individual will be of ambassadorial rank, who will engage in 'shuttle diplomacy' between the two capitals. "Any time there is a bottleneck, we are confident that it will be cleared up much more quickly…given the cordiality that exists between President Bouterse and myself. I am confident that he will have easy access to the highest officials of state," he said.
Additionally, a joint communique issued by the two parties stated that technical officials from Guyana and Suriname will meet to discuss issues in relation to the protection of the environment, agricultural trade, tourism, investment and cross border activities, through their respective committees.
"Both leaders agreed that full advantage should be taken of the opportunities for combining human and capital resources to further the economic and social development of the peoples of Guyana and Suriname," the Communique stated.
President Désiré Delano Bouterse of Suriname inspecting the Guard of Honour mounted by ranks of the Guyana Defence Force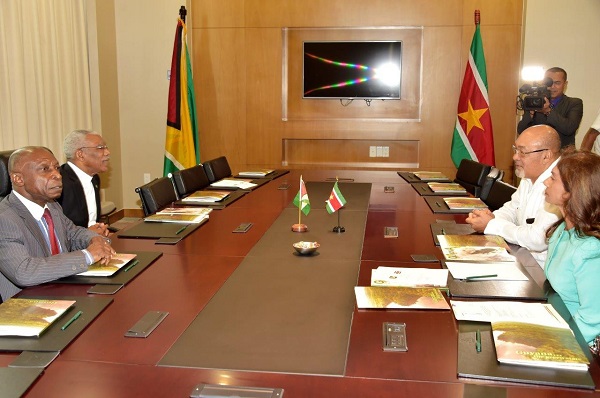 President David Granger and Minister of Foreign Affairs, Mr. Carl Greenidge in a meeting with President Désiré Delano Bouterse and his Foreign Minister, Ambassador Niermala Badrising at the Marriott Hotel
Speaking at a Press Conference, following the meeting, President Granger explained that Guyana and Suriname are the two largest states in CARICOM with a combined population of over 1.3 million people and, therefore, it is important that they use every possible opportunity to deepen the integration process. "We have embarked on a series of engagements and today we took decisions that will not only expedite matters that were taken in previous years, but more importantly planned for the future. We are particularly concerned with the economic integration of our two states and the removal of any obstacles to that process of integration," the Guyanese Head of State said.
In addition, he informed that discussions were held on the functioning of the Canawaima Ferry and the livelihood of persons who cross the Corentyne River on a regular basis, particularly mini-bus operators. They also discussed means of ensuring that access to Surinamese airports by Guyanese airlines is unimpeded.
Similar sentiments were expressed by President Bouterse, who informed that the two sides agreed on a structure that would allow for decisions to be implemented in a manner that is results-based and with a timeframe attached.
"We are very happy to say that today we have recommendations to create a structural mechanism that would allow us to implement what we have agreed upon in a more efficient manner. We also discussed a number of small issues that created some problems with the people of Guyana in Suriname and our delegation has promised to go back and find solutions to those small problems," he said.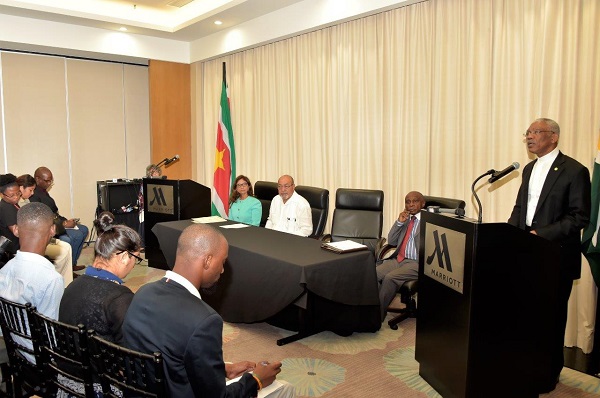 President David Granger addressing media operatives during the joint press conference after the meetings. Seated at the head table are, from left: Suriname's Foreign Minister, Ambassador Niermala Badrising, President Désiré Delano Bouterse and Guyana's Minister of Foreign Affairs, Mr. Carl Greenidge
When asked about discussions regarding the Guyana-Suriname border controversy, President Bouterse said that it is a sensitive issue for both parties and informed that both countries have their respective instruments to address this matter. "We know that we have this issue between us, but in spite of that we both have the responsibility to collaborate and cooperate with one another in areas which we have identified and which we will identify, in order to bring about sustainable development in both of our countries," the Surinamese President said.
President Bouterse arrived at around 8:30hrs this morning at the Eugene F. Correia International Airport with his delegation, which included his Minister of Foreign Affairs, Ambassador Niermala Badrising and several other high-level officials. He was accorded the ceremonial Guard of Honour mounted by the Guyana Defence Force upon his arrival.
The Guyanese delegation led by President Granger included Minister of Foreign Affairs, Mr. Carl Greenidge, Minister of State, Joseph Harmon, Minister of Legal Affairs, Mr. Basil Williams, Minister of Public Security, Mr. Khemraj Ramjattan and Minister of Public Telecommunications, Mrs. Catherine Hughes and Director General in the Ministry of Foreign Affairs, Ambassador Audrey Waddell all of whom were part of a plenary session with the visiting party.