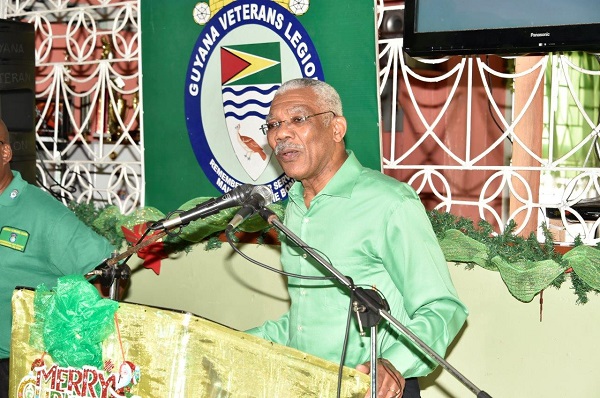 Georgetown, Guyana – (December 15, 2016) President David Granger, today, assured army veterans that once he receives the recommendations of the Commission of Inquiry (CoI), which was launched to examine the conditions and circumstances facing veterans of the Guyana Defence Force (GDF), the Guyana People's Militia and the Guyana National Service (GNS), his Government will work to ensure that they are implemented. He was at the time speaking to retired soldiers, including World War II veterans, at a Christmas lunch organised by the Guyana Veterans' Legion.
The President spoke of the motion he had piloted in the National Assembly when he was Opposition Leader to look into the welfare of veterans. However, that motion was never assented to until he took Office last year, and as promised, in August earlier this year, Col. (Ret'd) Desmond Roberts was appointed as the Commissioner to lead this Inquiry.
"As patron of the Legion, I have committed to supporting the Legion in all of its work… The whole idea is to improve the quality of life for persons, who have spent the greater part of their youth and sometimes their adult life serving this country. We are very proud of your service," the Head of State said.
He said that events like the Christmas lunch are army traditions and thanked the Guyana Veterans' Legion for ensuring that it is maintained so that retired servicemen and women can feel celebrated and honoured at this time of year. The President also wished the veterans well for the season and urged them to make healthier lifestyle choices so that they will be able to enjoy their golden years.
President David Granger addressing retired soldiers at the Guyana Veterans' Legion's Christmas lunch
Similar sentiments were expressed by President of the Guyana Legion, Colonel George Gomes, who said that this is the eighth annual Christmas lunch that has been hosted for retired soldiers since the Ex-GDF Association was formed in 2008.
In 2014, the Guyana Veterans Foundation, the EX-GDF Association and the Guyana Legion merged to form the Guyana Veterans' Legion.