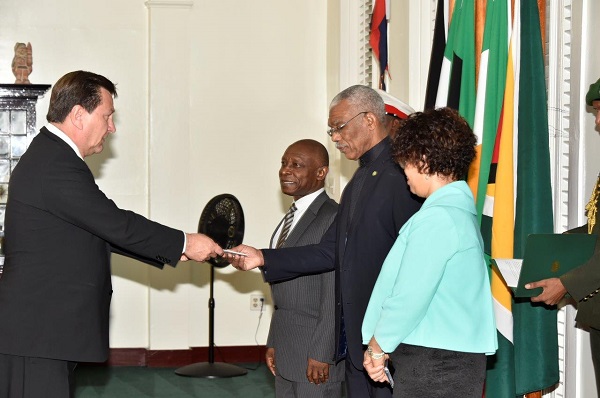 Georgetown, Guyana – (December 14, 2016) President David Granger, today, accredited His Excellency Jukka Pietikäinen as non-resident Ambassador of Finland to Guyana and expressed the hope that his appointment will be a catalyst to enhancing relations between the two countries. The accreditation ceremony was held at State House in the presence of Minister of Foreign Affairs, Mr. Carl Greenidge and Director General in the Ministry of Foreign Affairs, Ambassador Audrey Waddell.
The Head of State told the Ambassador that Guyana is confident that his appointment will also add impetus to exploring avenues for collaboration, particularly in the area of climate adaptation and mitigation and sustainable energy development.
"We are committed to a low-carbon, low-emission trajectory of development. We look forward to working with you to strengthen cooperation in the areas of environmental protection and climate change mitigation and adaptation, during your tenure… Guyana, a small state, continues to make a big contribution to the global efforts to mitigate the adverse effects of climate change. We applaud Finland's commitment to reduce its emissions substantially and to implement measures to arrest global temperature rises and its support for developing countries in their quest to build greater climate resilience," President Granger said.
Finnish Ambassador Jukka Pietikäinen presenting his Letters of Credence to President David Granger in the presence of Foreign Affairs Minister, Mr. Carl Greenidge and Director General in the Ministry of Foreign Affairs, Ms. Audrey Waddell
He also spoke of Guyana's ongoing efforts to establish a 'green' state, which emphasises protection of the environment, preservation of the country's biodiversity, provision of eco-tourism and eco-educational services and the promotion of practical measures to ensure climate adaptation.
President Granger assured the Ambassador of his Government's commitment to working closely with him in the discharge of his duties, noting that Guyana and Finland share common values such as mutual respect for territorial integrity and sovereignty, mutual non-interference in each other's internal affairs, cooperation for mutual benefit, respect for treaties and international law and maintenance of peace of security.
Meanwhile, Ambassador Pietikäinen said that even though he will be based in Helsinki, he is determined to visit Guyana regularly to work on building a stronger, mutually beneficial relationship between the two countries. He noted too, that while Guyana and Finland are geographically distant from each other, the two countries have cooperated through CARICOM and through the Association of Caribbean States (ACS). "On the bilateral level, Finland has been one of the key players in building up power generation capacity in your country and we hope we will see other industrial companies from Finland entering the Guyanese market," the Ambassador said.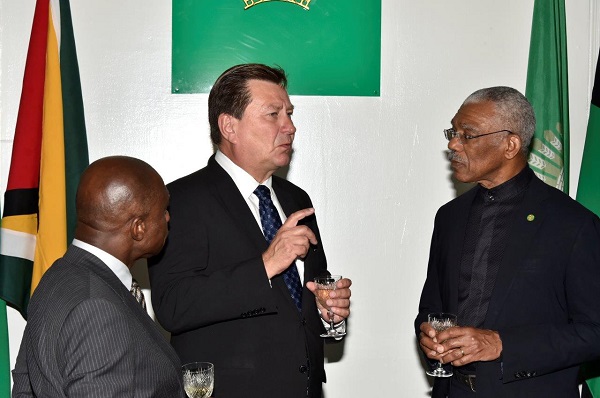 From left: Foreign Affairs Minister, Mr. Carl Greenidge, Ambassador Jukka Pietikäinen and President David Granger conversing after the accreditation ceremony at State House
With regard to the country's prospects in the oil and gas sector, the Ambassador also expressed Finland's readiness to assist Guyana in translating its future economic wealth into sustainable growth and prosperity.
Guyana and Finland established formal diplomatic ties on April 2, 1979 and the two countries have since enjoyed cordial relations.