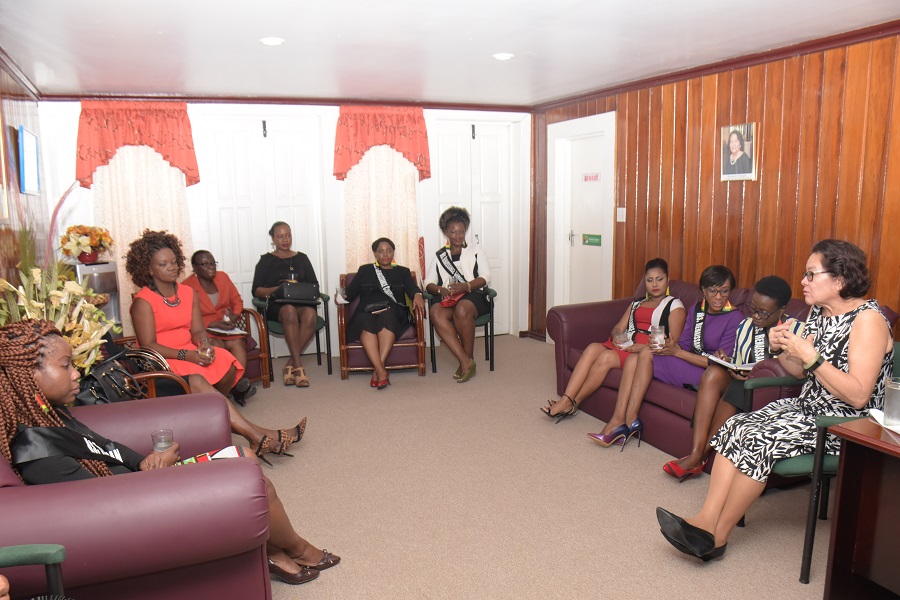 Georgetown, Guyana – (December 9, 2016) President David Granger, today, met with students of the Bina Hill Institute at State House, who are currently in Georgetown on a tour as part of a project with the Food and Agriculture Organisation (FAO). The Head of State told the students that his Government believes in education and equality and pledged his support to the Institute to ensure that they are given the opportunity to excel.
"What we are aiming at, is to ensure that the differences between the coast and the hinterland, the differences between your lifestyle and your quality of life, your standard of living and the cost of living between the areas where you live and the rest of the country, are removed," the President said.
He explained that if everyone is given equal access to education, then they will be able to acquire the skills, knowledge and attitudes to become not only employable, but self-sufficient as well. President Granger also expressed the hope that similar institutes will be established in other regions across the country. "Everything that we want to, or could produce in Guyana, we can sell to other countries but you will have to learn the skills and attitudes so that you could make use of the resources in your communities in order to make a living," the President said.
The Bina Hill Institute was established in 2007 to particularly cater to the needs of school dropouts. Principal of the Institute, Mr. Victor Ferreira explained that the mission of this facility is to offer tangible and practicable programmes that would offer youths a second chance at an education so that they can be able to give back to their communities in a meaningful way.
A student introducing herself to President David Granger
At present, the programmes being offered are focused heavily on management of Guyana's natural resources such as forestry, wildlife, tourism and agriculture. Additionally, students are given lessons in Mathematics and English.
"We look for students, who have the potential to write CSEC [Caribbean Secondary Education Certificate]. Wherever we see potential, we push them to higher institutions," Mr. Ferreira said.
He said that majority of students, who have graduated were employed at organisations like The Iwokrama International Centre for Rain Forest Conservation and Development and World Wildlife Fund (WWF). The Institute is open to young people from across the country but currently has students from Regions One, Eight and Nine and provides living accommodations on campus.