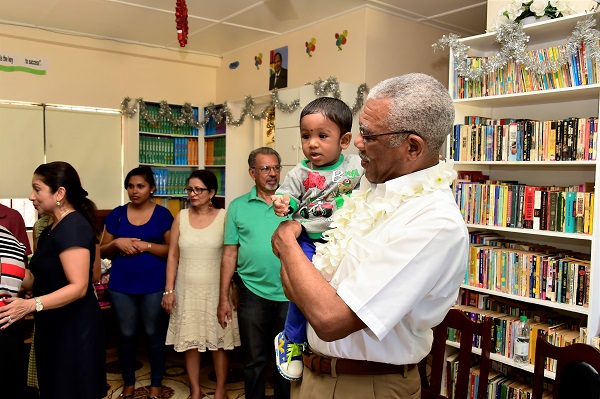 Georgetown, Guyana – (December 3, 2016) As the festive season gets underway, hundreds of children on the East Coast Demerara, today, received gifts and goodies from President David Granger. This toys distribution exercise has become a tradition, which the President looks forward to at time of year. He was accompanied by Minister of Social Cohesion, Ms. Amna Ally, Minister within the Ministry of Natural Resources, Ms. Simona Broomes and Minister within the Ministry of Infrastructure, Ms. Annette Ferguson.
This little guy received some special attention from President David Granger at Good Hope-Lusignan Learning Centre where he distributed Christmas gifts to children.
The President's first stop was at the Good Hope-Lusignan Learning Centre, where over 300 excited children from surrounding communities turned out. He said that Christmas is one of the most anticipated holidays of the year and is celebrated by all Guyanese regardless of their religious beliefs. The Head of State told the children that apart from the gifts and festivities, Christmas is a special time when Christians celebrate the birth of Jesus Christ.
"Whether or not you believe that Christ was born on Christmas day, what we do know is that children are important… We believe that you are the future of Guyana and day by day, year by year we expect that things will be better and you all will be able to inherit a better country than we were born into," he said.
The President also expressed his Administration's appreciation to the founder of the Good Hope-Lusignan Learning Centre, Ms. Sandra Shivdat, who has been working with the Diaspora, particularly in the United States of America to cater to the needs of children in that community. Last year, the Government donated $2M to the Centre to support its work.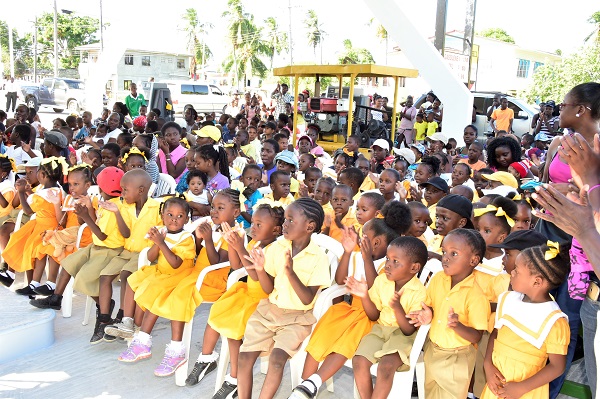 Dressed in their uniforms- At Buxton, schools were invited to send their students and this group showed up dressed in their bright yellow school colours.
Over at the Wilson Gas Station tarmac in Buxton, there was a similar atmosphere as hundreds of children from the Buxton-Friendship area showed up to meet the President and received their early Christmas gifts. "Coming here is a very important part of our duty… Our Government is concerned about children, what is good for the children of Guyana is good for everyone in Guyana and if you can be happy, if you can be educated, if you can be well-fed and if you can be well-entertained, Guyana is going to be a better place," the President said.
President Granger thanked Mr. Morris Wilson and his wife and Mrs. Jocelyn Wilson, who plan and organise the event, which he has personally attended for the past six years, at Christmas. The Wilson's also organise another activity at Easter as a way of giving back to the community.