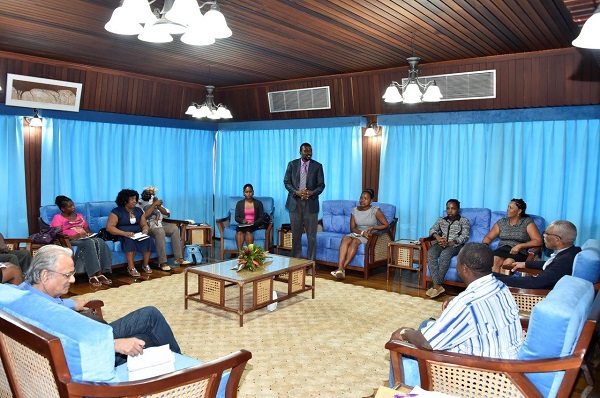 Georgetown, Guyana – (November 24, 2016) President David Granger has pledged $1M to the Parent Teachers' Association (PTA) of the Kwakwani Primary School to help improve the conditions under which students and teachers are currently forced to work. The President made this announcement earlier today when he met with a group of concerned residents of the community at the Ministry of the Presidency. Education Minister, Dr. Rupert Roopnaraine was also present at the meeting.
Pastor Andre Musa from Kwakwani stands to address President David Granger
Among the issues that require urgent attention at the school there is shortage of trained teachers, the deplorable condition of the teachers' hostel and the unsanitary condition of the school, including lack of running water, shortage of furniture, overcrowding, and exorbitant transportation cost for students to get to school.
One of the residents, Mr. Lindon McAlmont, informed the President that the people of Kwakwani are willing to provide the labour if the Government can make available the material needed to carry out some of the required infrastructural works. He also added that residents of the community are capable of supplying quality furniture at a cheaper cost to the school. This, he said, will also create employment for young people and generate business for saw mills in the area.
President Granger told the group that, "You are all citizens of Guyana and we want to ensure that important public service of education is equally distributed…schools must be clean and safe."
He explained that since the 2017 National Budget has already been finalised, the Government will have to take the approach of addressing these problems with immediate interventions to resolve emergency issues in the short-term, while more permanent, long-term remedies is worked out. The funds that will be made available by the Government will be deposited into the PTA's Republic Bank account, so that its executive can ensure that conditions at the school are improved in time for the beginning of the new school term in January 2017.
With regard to the issue of high transportation cost, the President assured the group that he will be working closely with Minister of Social Cohesion, Ms. Amna Ally, whose office coordinates the Buses, Boats, Bicycles + Breakfast and Books 'Five Bs' programme to see if a vehicle can be made available to the children in that community. In the meantime, he will try to ensure that more bicycles are distributed to students, who reside in the waterfront area and have to travel some two miles get to school.
Minister Roopnaraine took note of the matter regarding the shortage of trained teachers and said that he will convene a meeting with the District Education Officer of Region 10. He also promised the residents that he will be visiting the area to get a first-hand look at on the situation.