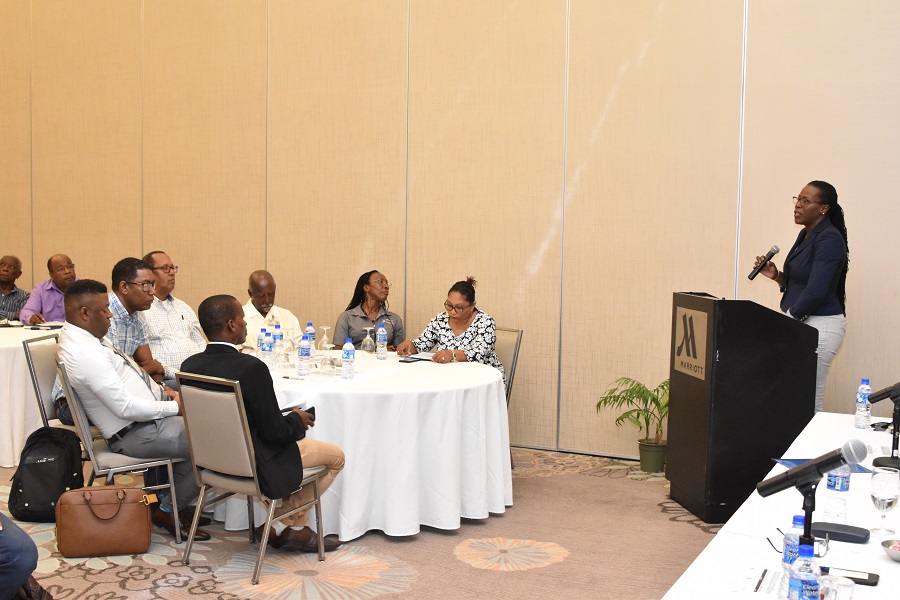 Georgetown, Guyana – (November 20, 2016) Thirty-six young people from various communities countrywide, today, graduated from the first ever Literacy and Numeracy Training Programme hosted by the Office of the Presidential Advisor on Youth Empowerment. These young people are now tasked with the responsibility of providing literacy and numeracy training to youth within their own communities.
One of the graduates, Mr. Riaz Rupnarain, receives an award for Leadership Best Exemplified at the graduation ceremony
Presidential Advisor on Youth Empowerment, Mr. Aubrey Norton, at the graduation ceremony, held at the Madewini Youth Camp, Madewini, Upper Demerara – Berbice (Region Ten), said that the idea for the six-week training programme arose after discovering from travels throughout the country, that there was a large number of "unattached" youth who were illiterate and innumerate. Moreover, he added that while many young people within these communities possessed passes in at least four subjects at the Caribbean Secondary Education Certificate (CSEC) examination, very few of those passes included Mathematics and English. The Literacy and Numeracy Training Programme was soon after established, following consultations with various stakeholders within the education sector, including the National Centre for Educational Resource Development (NCERD). "This programme was developed in order to train the trainers; to train young people who can go out and teach others how to deal with the problem of illiteracy and innumeracy. To me, therefore, you are a special group. You are special because you are first…we see you as the first step for us to learn and understand this issue, come back and address this issue and move on," Mr. Norton said.
He encouraged the young people to have a positive attitude, but warned them that the harder stage in the process is yet to come. "That is where you have to go out there to motivate young people to learn to read and write, and from this programme it is evident that we can motivate young people … so among yourself you see the potential of what we can do," he said. Mr. Norton also said that because of the responsibility entrusted upon the graduates, the programme therefore taught skills in leadership . He said that five of the graduates will further be invited to participate in the Leadership programme that is also hosted by his Office. He urged the graduates to continue on as a team and to learn from each other so as to build a network. "We intend to continue training young people until we have people in every community who are training others…Guyana cannot afford a large population that can't read and write. I urge you to recognise it is a serious task. It is harder than teaching in the school system because you are dealing with people out of the school system who society has developed perceptions of and they have developed perceptions of society. You are going to have to break those barriers …I respect you. If put your best foot forward will succeed together," Mr. Norton said.
Meanwhile, Chief Education Officer (Ag), Mr. Marcel Hutson, during his charge to the graduates, encouraged them that as they embark on their training within their communities, that they should be afraid to fail, as those who succeed are those who overcome failures and keep moving forward. Additionally, he charged them to continue to look forward and to keep striving to achieve their goals. "We must never underestimate the power of education and knowledge… It is important to recognise that education is a vital ingredient, which provides a way of escape from the vagaries of life. It has the ability to propel a nation out of a state of social, economic and moral decadence since it gives you the power to realise your dreams by helping you to recognise and take advantage of opportunities," he said.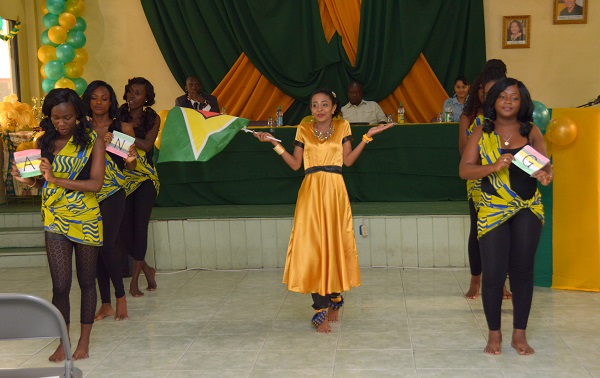 Some of the students doing a cultural display at the graduation ceremony
Many of the young people said that they were glad to be given the opportunity to make a difference in their communities. Several of the graduates hailed from youth groups within their communities and stated that their participation in this programme now enhances their ability to give back in a more significant way.
Mr. Riaz Rupnarain, who is from the Pomeroon, Pomeroon-Supenaam Region Two , said that the programme provided them with self-development, team building and leadership skills that will aid in their task of teaching persons in their community. "It will be difficult to get people to admit they don't know to read and write so we were taught strategies of getting them to do so without affecting their self-esteem… Where I am from, a lot of people are deprived of certain things in comparison to places on the coast and they want to get a good job, but can't do so if they can't read and write. So if we can help to mould and build them we can help to be more impactful in society," he said.
Ms. Kaveita Mohabir, who lives in Black Bush Polder, East Berbice-Corentyne Region Six said that the skills that she has learned will help to provide a sense of purpose to people in her community. "Where I live there is a very high suicide rate…. If we can teach people these skills they will realise they have other things going for them, and it will get them occupied and help them to get jobs," she said.
Ms. Sherry Ann Bishop, from Vreed-enHoop, West Coast Demerara said that as an aspiring teacher, the training programme serves as a stepping stone for her career. "Teaching is my passion so I found it very useful. I learned a lot of things, and the lecturers taught us different methods of how to break down the information in order to teach people to learn these skills in a simpler way. It is important for people to be educated for the country to develop," she said.
Ms. Karen Boyer, who is also from Vreed-en-Hoop, West Coast Demerara said that teaching youth to read and write is important for their self-development as well as the development of society. "I feel great and I am anxious to go back and help the people in my community. I came here and learned a lot and I am glad about that," she said.