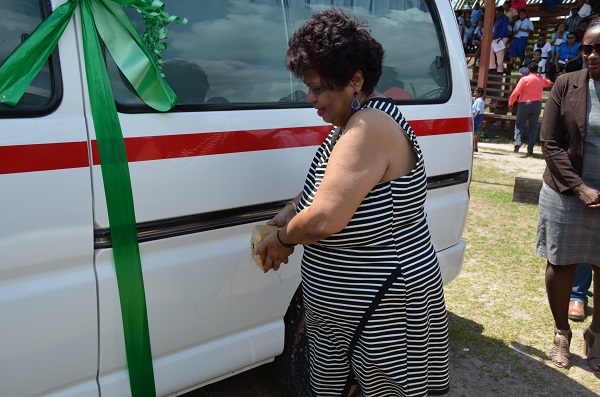 Georgetown, Guyana – (November 17, 2016) Minister of Social Cohesion, Ms. Amna Ally, today, said history has been created in Ituni, when she presented a brand new ambulance to the Upper Demerara-Berbice (Region Ten) Regional Democratic Council for the community, at a simple ceremony hosted at the Ituni Recreational Ground.
Minister of Social Cohesion, Ms. Amna Ally christens the new ambulance.
"Today is a defining day for this region and particularly for residents of Ituni. Ituni, you have not been forgotten…. This is the first ambulance acquired through the Ministry's public-private partnership initiative that is being donated to a community. This administration considers you important enough to be the recipients of this vehicle," Minister Ally said.
Residents who had assembled at the Ground to welcome the Minister were loud in their praise of the Ministry and the Government for the ambulance.
Several of them lamented that the community often had to make do with a second-hand ambulance, which was no match for the bumpy road and often malfunctioned, forcing them to spend large sums to transport the sick or victims of accident to the Ituni Health Centre or to the Linden Hospital Complex.
Students from the Howell Wilson Primary rushed to take a peek inside the new ambulance.
Minister Ally said that after hearing about these challenges, a decision was taken to obtain an ambulance for the community. This was achieved following donations from corporate sponsors Trans Pacific Motor Spares and Auto Sales. The vehicle is fully equipped, including with 110 volts of power to respond to emergencies.
However, she cautioned residents against viewing this exercise as a hand out and instead, encouraged them to take responsibility for the use and maintenance of the vehicle. "It is the property of the people of the region. You have to care it and treat it as valuable, as this is adding value to the lives of the people here in Ituni," Minister Ally said.
The Minister added that the work of her Ministry spans all sectors and she remains committed to supporting actions and strengthening key partnerships that contribute to economic and other forms of development in keeping with President David Granger's mission to provide the good life for all Guyanese.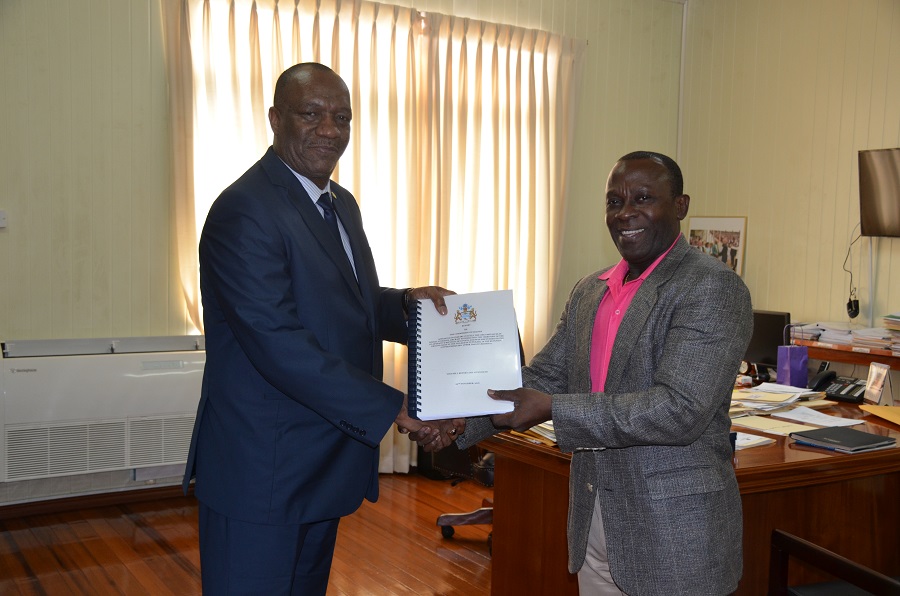 The brand new ambulance that Minister of Social Cohesion, Ms. Amna Ally donated to Ituni today.
"We want to ensure that equity is promoted and decision making processes result in equal opportunities and benefits for all… Ituni, I want us to work together. I want to see you fully on board in the development process. Work with us and let us build this nation," she said.
Regional Chairman, Mr. Renis Morian noted that today's exercise is an indication that Ituni is moving forward. In an invited comment, he said that during the previous administration, the community "had always been gifted with an old ambulance that would have worked somewhere else so in a very short time, that ambulance would go. So today, seeing an APNU-AFC Government bring in a brand new ambulance to the region, this would augur well to the support of health care in this region".
Ms. Sandra Adams, Assistant National Director of the Community Development Council, shared similar sentiments, adding that the region and the community are grateful for the vehicle. "I know that it will mean a great lot…and I know it is going to serve which it is meant for in this community….the health centre needs an ambulance to take people out. It is very costly when something happens and the people here spend a lot of money to get out to Linden via private transportation if they have an emergency so an ambulance will serve them very well," she said.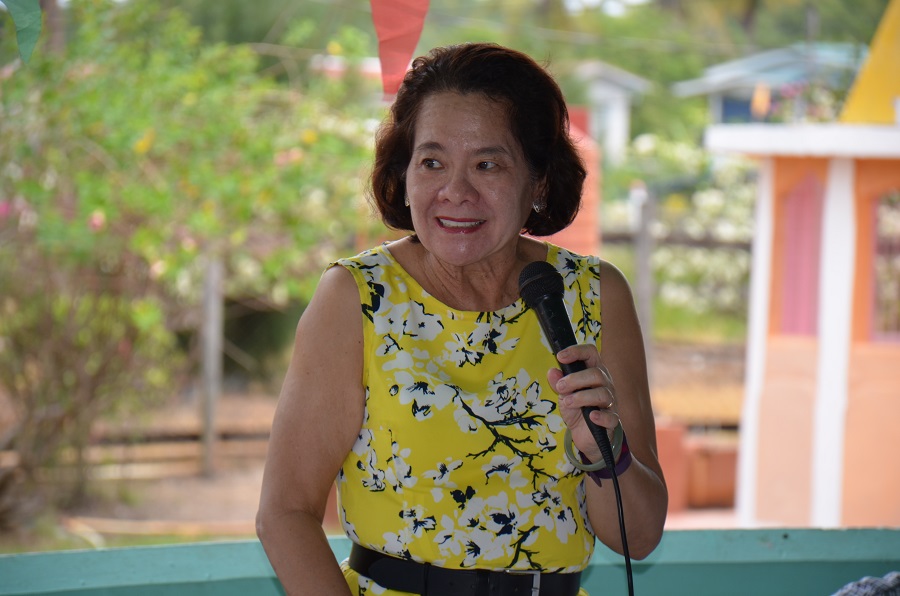 These students paid keen attention to Minister of Social Cohesion, Ms. Amna Ally, as she made her address.
Ms. Yetunde Pluck-Abel, the Librarian at the community library said she too is pleased about the donation. "It is something we've been looking forward [to] for a long, long time. I must say thanks to the Minister," she said.
The programme was chaired by Ms. Keisha Griffith-McKane. Dr. Kay Shako, Director of Regional Health Services, represented Minister of Public Health, Dr. George Norton at the ceremony. She was accompanied by a group of 18 nurses; 15 from Georgetown and three from Linden, while Medic attached to the health centre, Ms. Lorna London participated in the event. A group of students from the Howell Wilson Primary School recited a poem titled "Thank you" that was specially written for the occasion. Students from the Ituni Nursery school, who were accompanied by their Head Teacher, Ms. Admal Fox, also attended the ceremony.