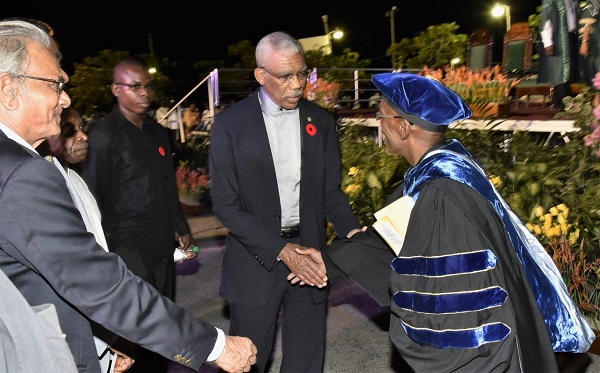 Georgetown, Guyana – (November 12, 2016) President David Granger, this evening, attended the University of Guyana's 50th Convocation exercise at the Turkeyen Campus, Greater Georgetown, where he presented the 2016 Valedictorian, Mr. Kibwey Peterkin, who graduated with a near perfect Grade Point Average, with the President's Medal.
Mr. Peterkin, who graduated with a Bachelor of Medicine/Bachelor of Surgery Degree (MBBS), after completing 37 courses at the University, 36 of which he gained 'As' and one course a 'B', also received the Prime Minister's Medal for the Best Graduating Student in the School of Medicine. This is the first time that a student from the Health Sciences Faculty has been able to claim the title of Valedictorian.
President Granger exchanges a handshake and pleasantries with Registrar of the University of Guyana, Dr. Nigel Gravesande
In delivering his address, the Valedictorian dared the graduands to aim for greater heights as he noted that they must endeavour to make Guyana a greater country. He encouraged them to never give up despite the circumstances, but to put perseverance and their goals above everything else.
"As an institution, the University of Guyana, at this convocation ceremony celebrates another class of educated and mentored students eager to do great things for our country in our respective fields. Commit to your crafts and your professions. In the face of inevitable oppression or hardships remember to persevere. We have to write new chapters of innovation, compassion and respect. We, as graduates, have been given all the ink and paper we need to write these stories; stories of how we will chase our ambitions and use our gifts to become agents of change," he said.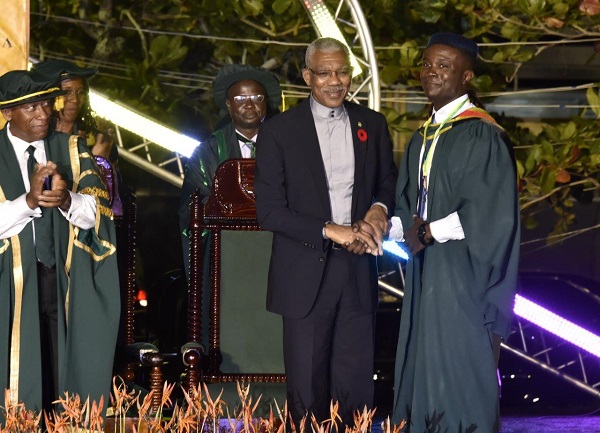 President Granger congratulating the Best Graduating Student, Valedictorian Kibwey Peterkin, minutes after presenting him with the President's Medal.
At this year's convocation, a total of 1,628 students graduated with Degrees, Diplomas and Certificates. The event was also attended by acting Prime Minister and Minister of Foreign Affairs, Mr. Carl Greenidge, Minister of Education, Dr. Rupert Roopnaraine, Attorney General and Minister of Legal Affairs, Mr. Basil Williams, members of the diplomatic corps and other government officials.