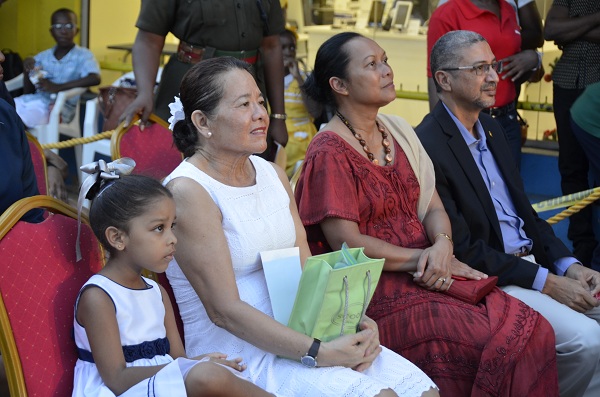 Georgetown, Guyana – (November 12, 2016) First Lady, Mrs. Sandra Granger, yesterday afternoon, joined Courts Guyana Incorporated, 'Santa' and his helpers to usher in the "season of love and joy" at the Courts Guyana Christmas 'Light up' hosted on Main Street, Georgetown.
First Lady, Mrs. Sandra Granger (second, left), accompanied by her granddaughter (first left), Ms. Riane deHaas and her husband Mr. Clyde deHaas, Managing Director of Courts Guyana Incorporated, pay keen attention to a dance troupe from the National School of Dance as they performed.
The First Lady, who was accompanied by one of her grand daughters, said she was pleased to join in the excitement, where hundreds of families had gathered in the Main Street Avenue, along the roadway and in front of the store to await the official start of the proceedings.
"It is …the time of year when we celebrate family and friendship, and enjoy watching the wonder on the faces of the children – young and old – enraptured by the lights, the trees , the gifts, the decorations and, of course, the food," Mrs. Granger said.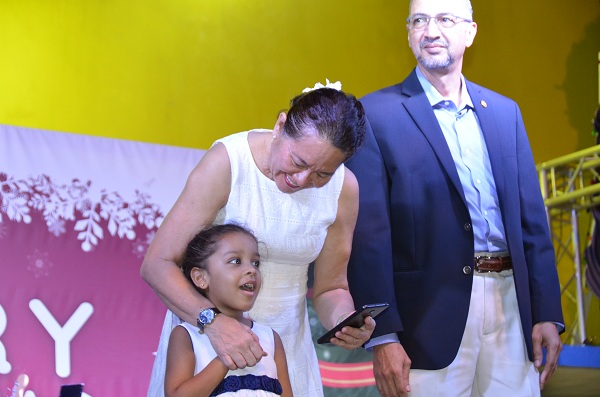 First Lady, Mrs. Sandra Granger's grand daughter is enthralled by the lights in the trees after helping to switch them on at the Courts Christmas 'Light up'. Mr. Clyde deHass, Managing Director of Courts Guyana Incorporated is also pictured, first right.
The First Lady added that although it is an important season in the Christian calendar globally, Guyanese have added their own eclectic mix of sights, sounds and rhythms to make it uniquely their own. "For us, Guyanese, Christmas is not Christmas unless we have our pepperpot, our garlic pork, our ham, our sorrel, our ginger beer and our black cake – at least!" she said.
The First Lady also appealed to the nation that as they go about planning their Christmas celebrations, to "remember those who may be less fortunate, who may not be as blessed as you are, and share with them joyfully".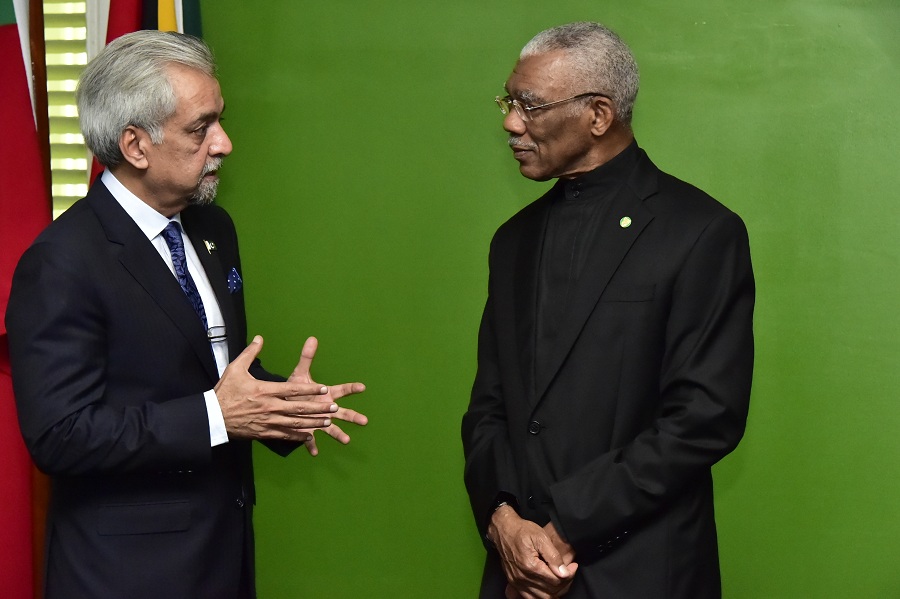 The Happy Feet dance troupe wowed the crowd with their performance
Hundreds of children played games, bounced on trampolines and bouncy castles as hyped-up versions of Christmas carols blared through the speakers placed in front of the store. The packed programme featured colourful performances by dance troupes from the National School of Dance, Happy Feet and the Euphoria Dance troupe; a medley of medley of Christmas carols sung by local artists, including the Courts Road Show Champion, Melissa Vandeyarand, Ms. Charmain Blackman, who received a jubilant reception from the crowd. Gospel singer, Mr. Eddie Neblett, fired up the crowd, while DJ Akeelo and "Tinkerbell" kept the children's excitement at peak level as they awaited the arrival of Santa and his helpers, including Snow White, Minions, Dora and the Courts elves.