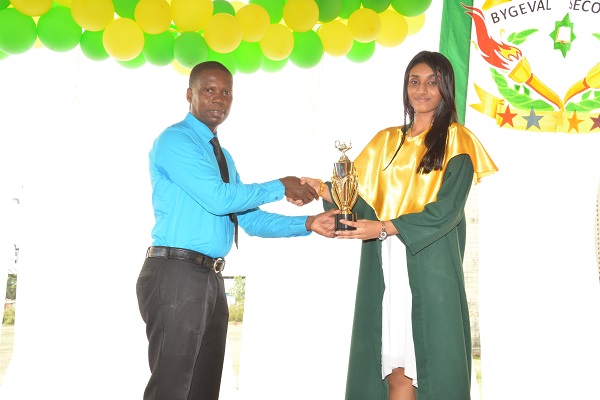 Georgetown, Guyana – (November 11, 2016) First Lady, Mrs. Sandra Granger, today, said, "While we become more dependent on information and communication technology… we must always be mindful of the human element, the human capacity to dream, create, achieve [and] to build tomorrow's greener, greater nation," while delivering an address to the 2016 graduating class of Bygeval Secondary School, which was held at the school's auditorium in, Mahaica-Berbice (Region Five).
The First Lady's message fell in line with the theme of the ceremony, "Today's Graduation for tomorrow's, greener, greater nation" and she urged those students, who excelled in the sciences to take pride in developing in their country. "Above all, our children must know what it is to live in a clean, green environment. They must recognise and take pride in maintaining clean surroundings," Mrs. Granger said.
She also advised the students, to choose a career, which they will love and to nurture relationships. "Strive to be the best that you can be, in all areas of your life. You become better persons when you forge lasting bonds of friendships based on respect for yourselves and each other," Mrs. Granger said.
In a charge read to the graduates by past student Mr. Sherwin Fraser, he said "I charge you today to do [well], to keep up the standards of Bygeval Secondary School and to do better than those, who have gone before you…to maintain your integrity, and to be ambassadors of your school, community and country."
Valedictorian, Ms. Melissa Narine, who also copped the Best Graduating student award in several subjects' areas, pressed her colleagues to be leaders of tomorrow. "The future is our hands. We must work towards making our communities, our country and the world at large a better place. We may not have the power to inspire the entire world to strive for success but we do have the power to try to achieve it for ourselves. Do all that you can do to reach your full potential," Ms. Narine said.
Valedictorian, Ms. Melissa Narine receiving one of her many prizes from Past Student, Mr. Sherwin Fraser at Bygeval Secondary School Graduation, 2016.
Acting headmistress of the School, Ms. Sharron Solomon, said the Bygeval has over the years developed academically and has made its name among top ranking high schools. "We have toiled; our year has been good. We have had our fair share of challenges… It is my sincere hope, that this faith and hard work propel us to our destiny to achieve excellence," Ms. Solomon said.
Bygeval Secondary School is also the recipient of the National Science, Mathematics and Technology Fair award, at the final leg of the Sagicor Visionaries Challenge 2016, which saw them receiving a mobile science lab and US$1,000. On April 01, President David Granger hailed the Science fair as an important step towards innovative education. "Your enthusiastic participation is a signal of your seriousness, not only about success in your personal careers but about solving problems in your communities and in this great country. It is the start of an innovation education," the President had said.