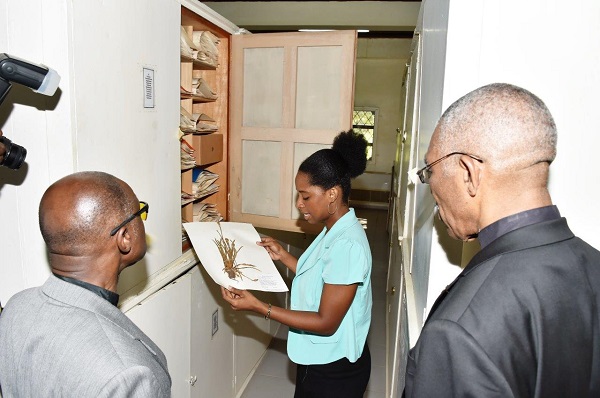 Georgetown, Guyana – (October 6, 2016) President David Granger, earlier today, toured the University of Guyana's Centre for the Study of Biological Diversity (CSBD), with the aim of getting a first-hand look at the conditions of the centre and what what needs to be done to bring it up to par to international standards.
The Head of State said, following the tour, that the centre is a critical component in the administration's 'green agenda.' "There is a lot of educational elements here and we will be looking into this. Ms. Ndibi Schwiers, who now heads the Department of Environment will be looking into this and she will provide us with a detailed report," the President said.
Scientific Officer attached to the CSBD, Ms. Kaslyn Holder-Collins explains how one type of specimen in the care of the Centre is stored.
The Centre, at present, boasts largest collection of samples and specimen of the country's flora and fauna. Scientific Officer attached to the CSBD, Ms. Kaslyn Holder-Collins, who conducted the tour, said that there are existing partnerships and connections between the centre and the Smithsonian Institution's Biological Diversity of the Guiana Shield Program, The United States Aid Agency (USAID), Conservation International, the Iwokrama International Centre for Rainforest Conservation and Development, the Royal Bank of Canada, World Wildlife Fund – Canada, the Smithsonian Man and the Biosphere Programs, the Smithson Society, the Treaty of Amazonian Cooperation (UNDP), and the World Bank Global Environmental Facility.
President David Granger, since his assumption to office in May 2015, has been pushing Guyana to become a leader in the fight against climate change and in the pursuit of 'green' and sustainable development.