Georgetown, Guyana – (October 1, 2016) Residents from Demerara –Mahaica (Region Four) today, participated in a consultation session hosted by the Ministry of Social Cohesion and facilitated and supported by the United Nations Development Programme (UNDP) at the Kuru Kururu Primary School to contribute to the ongoing discourse on social cohesion in Guyana.
This meeting is the 15th of 30 planned consultations, which are being held as part of the Ministry's goal to meet with key stakeholders from communities all across the country to address issues hindering social cohesion among various groups. The sessions began in June of this year, and feedback drawn for the wide range of participants will contribute to the development of a 2017-2021 Strategic Plan on Social Cohesion in Guyana, which will be completed by the end of 2016.
Today's session saw the participation of residents from various communities within the Region, including Yarrowkabra, Wiakabra, Circuit City, Timehri, Kuru Kururu, Kuru Kuru and St. Cuthbert's Mission. Chairperson of the Soesdyke Neighbourhood Democratic Council (NDC), Mr. Dave Singh, encouraged the residents to openly participate in the discussions, adding that it is only with a collective vision that citizens will be able to adequately develop the country. "This is our country. You decide if you want to build this country or have it stagnated. We are all responsible for developing this country and if we don't work together we won't achieve what we want in building it," he said.
Residents conducted group discussions on expected outcomes of five thematic focus areas identified by the Ministry; economic equity and opportunities, citizens' safety and security, social inclusion and tolerance, inclusive and participatory governance and harmonious ethnic and racial relations. Each group focused on one of the areas and coming out of these discussions, the residents gave insight on issues that hinder social cohesion within their communities.
Mrs. Corinne Miller-Wilson from Yarrowcabra, on the Soesdyke/Linden Highway said that increased access to the internet and electricity would help residents in the area to be better informed so as to be able to equally participate in the national discussion on matters related to the country's development. "We also need to see more government officials coming out on the highway to speak with us and get our views, which is why I think it is good that the Ministry of Social Cohesion doing this event. Many people here feel like they are forgotten, with the government intervention we can help to carry out this vision that the Ministry has outlined for the next four years," she said.
Coordinator of the Ministry of Social Coheson, Ms. Sharon Patterson explained the five focus areas that were to be discussed during the Consultations 
Mr. Deceius Mundo, also from Yarrowcabra, on the Soesdyke/Linden Highway, suggested that one way in which economic equity can be encouraged is if construction and other skilled workers in the area are given equal access to contracts and other projects.
Mrs. Elfreda Sinclair from Kuru Kururu suggested that the religious groups should be more involved in their communities to promote harmonious ethnic and racial relations. "We are all God's children and Guyana is a very diverse place but we cannot afford to live in segregation, we have to live in love and the religious groups can help to promote love," she said.
Ms. Anne Mohanlall from Wiakabra and Chairman of the Community Policing Group in the area called for increased patrols in the community and a more permanent presence in the community via a police outpost. She also suggested that the CPGs should also receive more training to increase their ability to help monitor crime and for the donation of a motorcycle to assist in these endeavours as well. "If people feel more secure they are more likely to live in harmony," she said.
Mr. Eze Bascom recommended that more sensitisation programmes be implemented so that residents can be educated on the need for tolerance and understanding of persons of different backgrounds, abilities, sexual orientation and other social differences. "We need to know how to treat people in society. So it is good that the Ministry is on the ground here listening to our recommendations so that when they draft the plan, it will include these important views from the people," he said.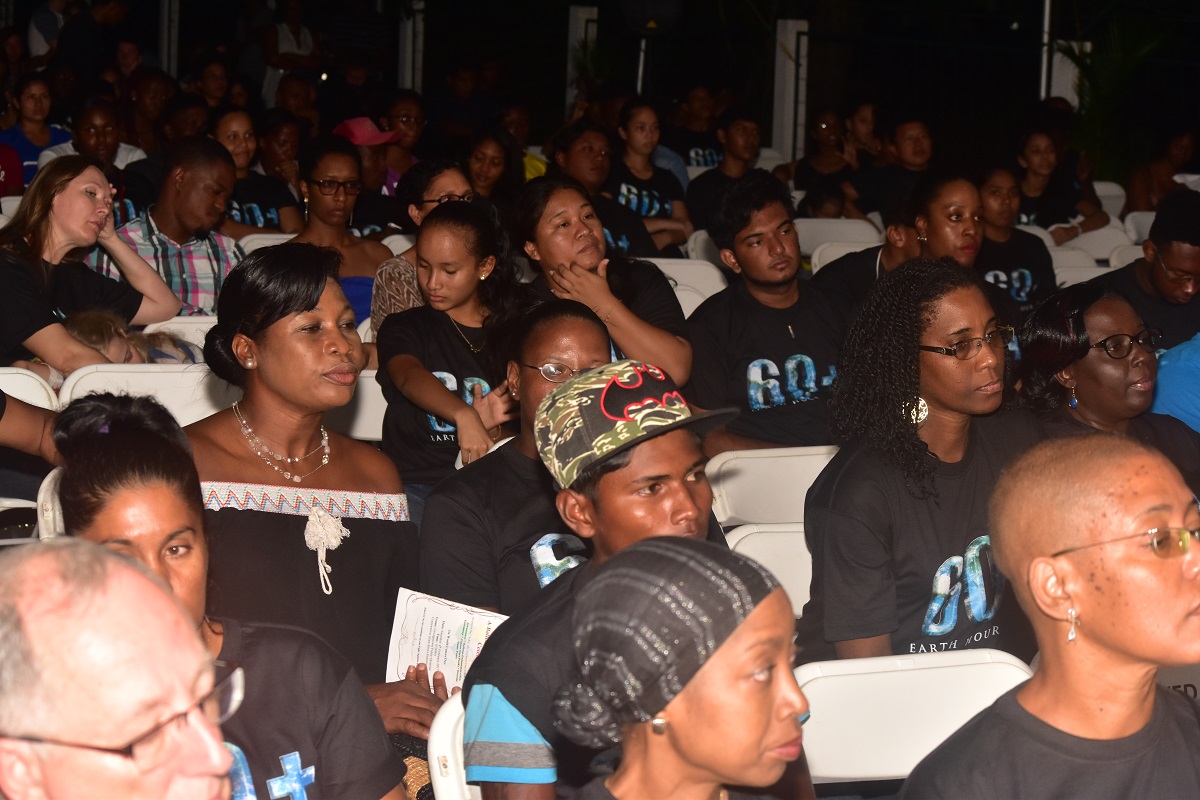 Some of the residents participating in an ice breaker during  the Consultations
Coordinator of the Ministry of Social Cohesion, Ms. Sharon Patterson was pleased with the outcome of today's meeting and said that there was a diverse representation of persons with different racial, ethnic, geographic and other backgrounds. "Persons came together and contributed in an amicable and cordial way. We will continue with these consultations so as to have a broad representation from the citizens," she said.
Speaking on the response received during the previous consultations, Ms. Patterson said that people have been responding well so far, having realised that this process allows them to play a role in the decision making process. "It is validating. It gives a sense of inclusion, and people get to exercise their trust in the Ministry in that we are working and talking with them and they are open and indicating their beliefs of what is important. They are identifying key issues and how they believe they could be addressed in responding to the issue of social cohesion and what they see as bringing Guyana together to unify a nation," she said.
The consultations have thus far also provided insight into immediate steps that must be taken to help the process along, Ms. Patterson said, which includes the implementation of a regional training programme to train representatives within the Regions in diversity education and inclusivity. "It is important for persons to have an understanding of what social cohesion is, what we bring to the process, what is inhibiting cohesion, so we will be rolling out these training programmes to do that. It is also important to work at level of community to help people to deal with biases and prejudices and things causing division in communities and this is what these training programmes will aid to do," she said.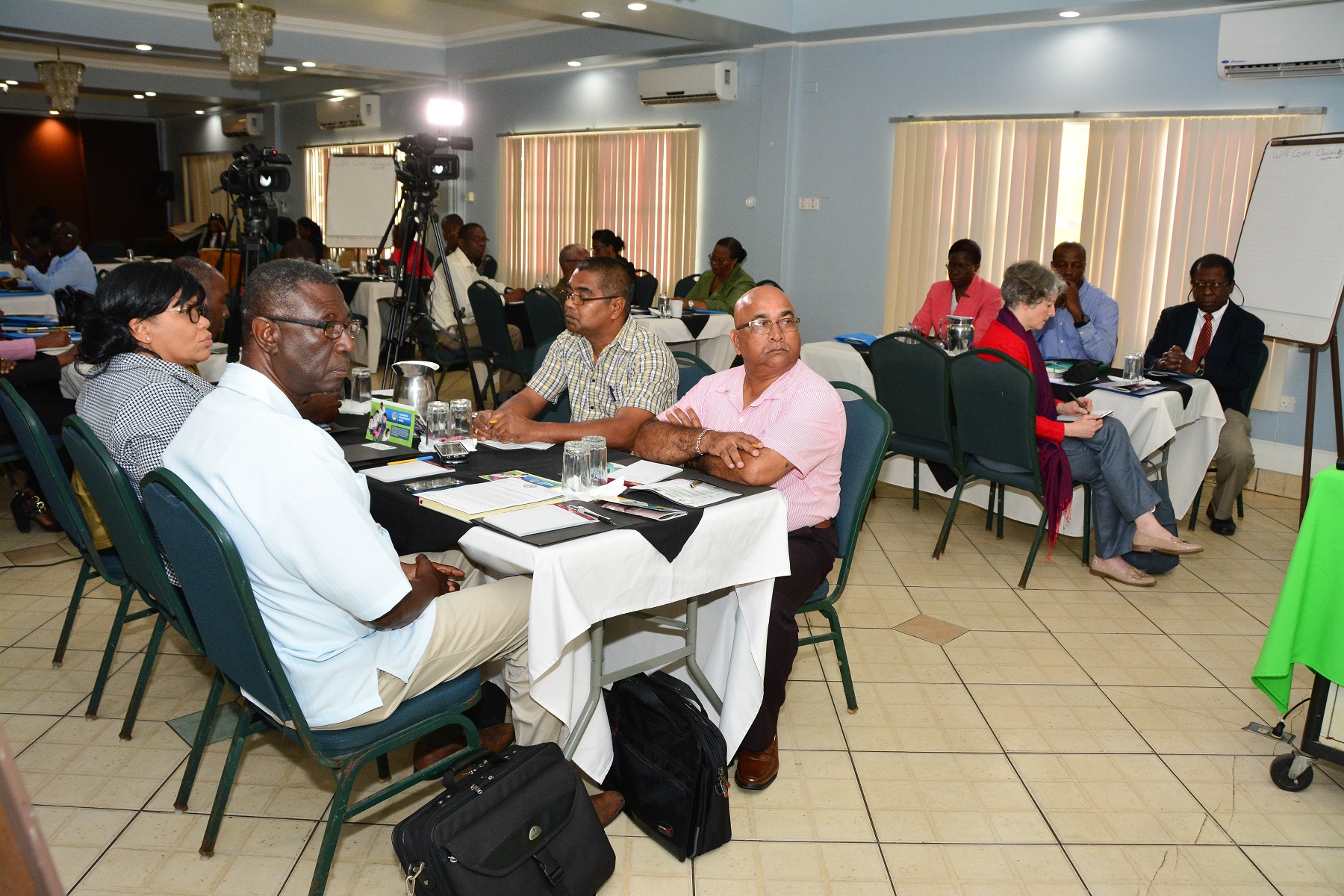 A section of the gathering at the day's proceedings 
Ms. Patterson added that there are still some misconceptions in Guyana on what Social Cohesion is as many believe that it only involves race and ethnicity. "Social Cohesion includes all those things that make us different; religion, social differences, cultural differences, age, geographic location, race, ethnicity, social status, abilities, and many other factors. Social cohesion is a process of nurturing individual and community relationships to have a unified Guyana," she said. As such, the Ministry's mandate focuses on the development of a country, where all diversities are embraced, conflicts are resolved, where equity is promoted and all decision making processes lead to equal opportunities and benefits for all of Guyana.  It is for this reason that the Ministry is ardently pursuing the input from a wide cross section of Guyanese, so as to aid in this process.
The idea for the consultations emerged from the Social Cohesion Round Table held in September, last year, where recommendations were made for the development of a Strategic Plan. They target members of the Regional and Neighbourhood Democratic Councils, civil society, special needs groups, religious organisations and other community groups. The 15 consultations have been held in communities within Regions Two, Three, Four, Five, Seven and Ten, reaching more than 700 Guyanese to date