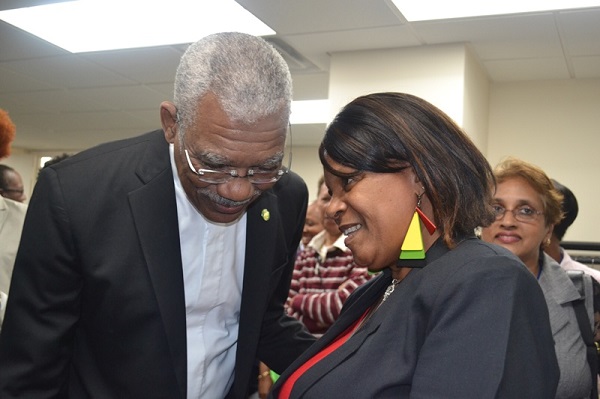 Georgetown, Guyana – (September 23, 2016) President David Granger, earlier today, met with members of the Guyanese diaspora at the Guyana Mission in New York, where he engaged them on the Government's push for a 'green' economy. The President also used the occasion to promote investment opportunities in the 'green' sector, which he says will bloom as the country continues to make headway globally in creating a 'green' footprint.
The President was accompanied by Minister of Foreign Affairs, Mr. Carl Greenidge, retired international diplomat, Sir Shridath Ramphal and Guyana's Permanent Representative to the United Nations, Ambassador Rudolph Michael Ten-Pow, among others.
Addressing those who had gathered for the meeting, President Granger said that Guyana's pursuit of a 'green' agenda and economy is simply not for 'show' neither is it mere 'talk', rather it is plan of action that is necessary if the country and the wider world are to combat the climate change and global warming phenomena.
Guyana, he said, is not only one of the most beautiful and bountiful Caribbean countries, it has valuable resources, particularly its pristine, virtually untouched rainforests which forms part of the lungs of the earth. Guyana is an integral part of the global 'green' movement, he said.
President David Granger listens closely to a member of the Guyanese diaspora in New York, who attended the meeting at the Guyana Mission.
"We come from a very big country. Our land space is bigger than Germany and we have some of the most blessed, the most unique flora and fauna in the whole world and I don't exaggerate. I call the Guiana Shield the second 'Garden of Eden' because we are a part of the lungs of the earth. We contain substantial freshwater reserves, our forests help the earth to breathe and we have at least 20 of the most unique animals in the world…but really our product, even if you regard it as a tourist product, regard it as a habitat which protects these animals, you would see that we have something which other people are prepared to pay for, to come to Guyana to see. When I look at my country, on the West we have Venezuela, to the East we have Suriname and to the South we have Brazil and French Guiana, but in the heart of the Guiana Shield – and the Guiana Shield is bigger than Greenland, is a place called Guyana and the heart of Guyana is Iwokrama….We have a product that is going to be viewed by your children and grandchildren and they will be proud of what we have and people are paying good money for us to keep our trees," President Granger said.
The Head of State also told the gathering that the evidence of Guyana's role as an important partner in the global environmental movement can be seen in the agreements which have been brokered with the Kingdom of Norway, the Kingdom of the Netherlands, the Federal Republic of Germany, the State of Japan and other states and international organisations for the protection of its forests. He noted too that these funding and partnerships will create opportunities for investments in the country, areas, he said, in which the diaspora can become involved.
"You cut down the trees, it's gone forever, but when you keep that tree, people who are polluting their atmosphere are prepared to pay to keep those trees standing. So we are prepared to pursue a 'green' path, we are pursuing a 'green' agenda. It is not a side show, it is not a tourist attraction, this is real money. This is real development. This is the future of not only our country, it is the future of our continent and the world that is why we are so proud to be able to stand before the earth, stand before the entire international community and say that Guyana is taking care of its environment. This is what we are doing, not for ourselves, but for posterity and I am very, very confident that this 'green' agenda that we have adapted will be an important step towards ensuring that our economy is transformed because there would be more economic enterprises, more employment for young people in these industries, our energy needs will be different. We are making sure that our environment is protected; our wetlands and protected areas, so that our swamps are protected and we are going to have a real earthly paradise and we will still have a vibrant economy so I have no doubt at all that the course that we are embarking on will be beneficial to our entire nation," President Granger said.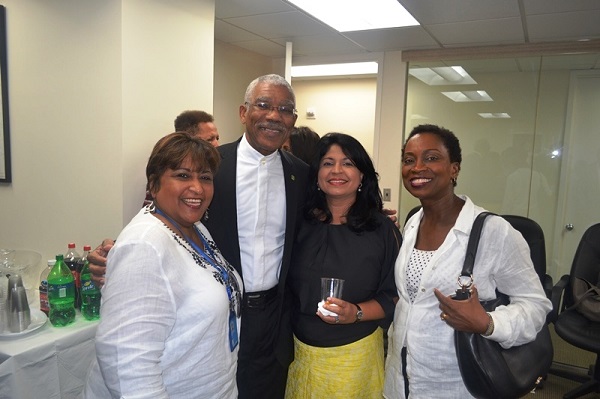 President David Granger strikes a pose with these smiling ladies, who attended the meeting for members of the Guyanese diaspora, held at the Guyana Mission in New York.
He also noted that while Guyana will soon become an oil producing State and many believe that there is a conflict of interest in pursuing a 'green' agenda, the petroleum is simply a 'bonus' which can assist in financing projects and programmes, which will benefit the citizens, particularly the youth population.
"A lot of what will come from petroleum will go into the Sovereign Wealth Fund so that your children wouldn't have to drop out of school, wouldn't have to worry about employment because the money is not going to be squandered…so from every point of view, economic, environmental, employment of our young people, we feel that we are on the right course. So Guyana is the place to retire, this is the place to come and invest in these new industries. You have legitimate concerns, but internally we are engaging with the United Kingdom to implement the security reform plan, we are having more mounted police, we are acquiring additional assets so that our policemen and army can patrol our territory better… Guyana is going to be a much safer place than it [now] is," the President assured.