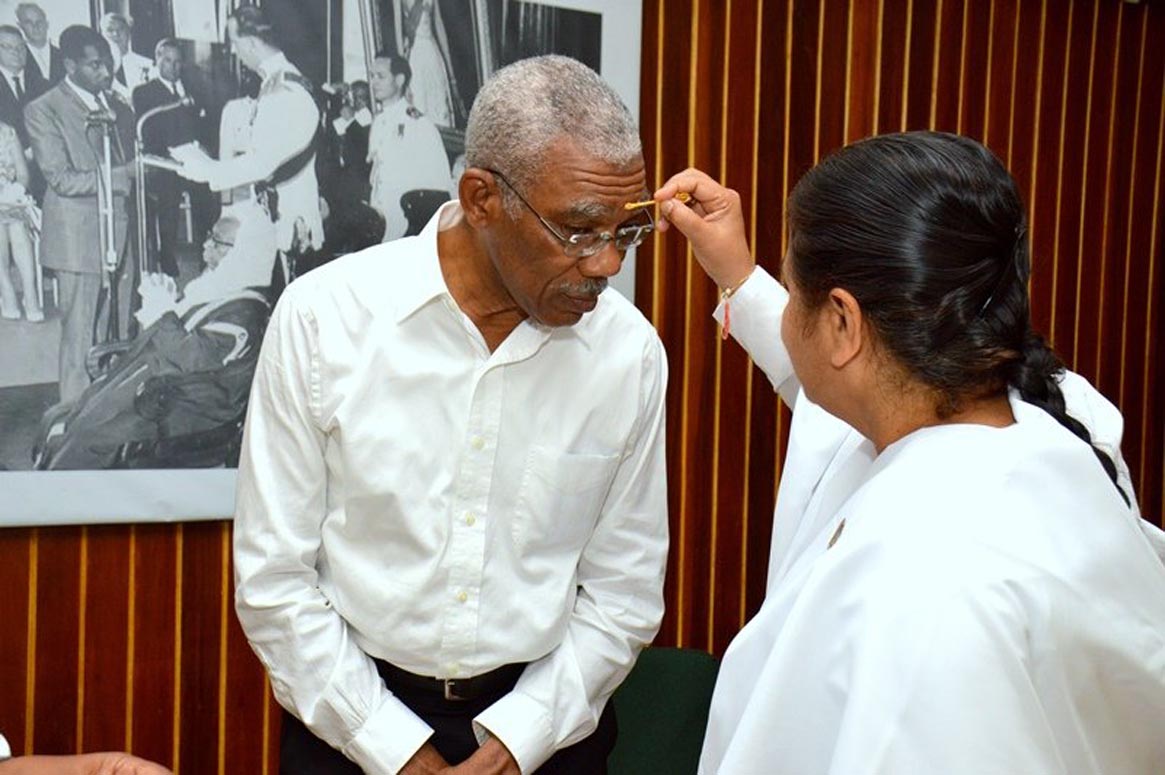 Georgetown, Guyana – (August 22, 2016) Two representatives from the Brahma Kumaris, today, visited and celebrated Raksha Bandhan with President David Granger and his staff at the Ministry of the Presidency, an event which, the President said, has the potential to bridge gaps and promote social cohesion in Guyana.
"I would like to thank you very much for thinking about us… Thank you for your thoughtfulness and bringing these blessings for us. Although it is a Hindu ceremony mainly, it is one that has universal relevance," President Granger said.  
The two women, Sister Jean Ramnauth from the Guyana Chapter and Sister Bharti Khetwani, who is on a three-day visit to Guyana, tied 'Rakhis' or a sacred thread on the President's hand, while offering prayers on his behalf, as is the custom of the observance.
"All of us here are, of course, government servants but we believe that we have an obligation, not just to ourselves but a whole country and this ceremony helps us to understand how people of different ethnic and religious groups could come together. I think ceremonies like this would help to promote understanding and also brotherhood and sisterhood among us and of course, reverence to God. This is a good place to start in helping to spread the message of the festival," the President said.
Sister Bharti Khetwani applies the chandan tika to the forehead of President Granger before she ties the Rakhi thread.
In tying the sacred thread on President Granger's right hand, Sister Bharti explained the relevance of the occasion. She noted that while the popular belief is that a sister should tie the thread on an individual she considers a brother; there is deeper meaning, one, which involves every person.
"Raksha Bandhan is when a sister ties the sacred thread on her brother's hands and prays to God that he will be protected and the brother takes the Oath for the sister, that he will protect her through her life. However, it has a more spiritual meaning. It is not the brother or sister, who requires protection only. It is all the human beings in the world. Whatever may be the relationship now requires a protection. It is the festival of the bond of love," she explained.
This occasion she said, must therefore serve to promote peace, unity and love and in so doing, a better world will be achieved.
Several Ministers of Government including Minister of Social Protection, Ms. Volda Lawrence, Minister within the Ministry of Natural Resources, Ms. Simona Broomes, Minister within the Ministry of Education, Ms. Nicolette Henry, Minister within the Ministry of Indigenous Peoples' Affairs, Ms. Valerie Garrido-Lowe and Minister within the Ministry of Public Infrastructure, Ms. Annette Ferguson, also participated in the ceremony.