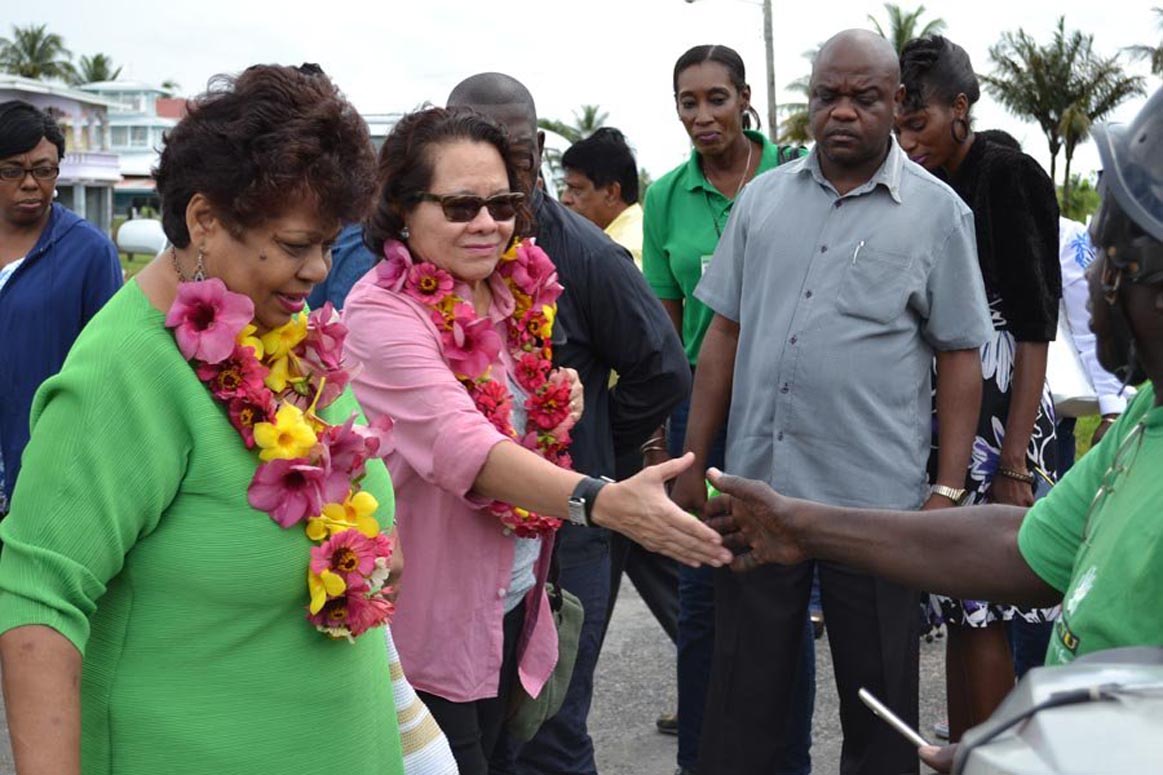 Georgetown, Guyana – (August 10, 2016) Minister of Social Cohesion, Ms. Amna Ally was, today, accompanied by First Lady, Mrs. Sandra Granger, as they distributed 20 bicycles to the students of Success Primary School in Leguan, Essequibo Islands-West Demerara (Region 3).
Minister of Social Cohesion, Ms. Amna Ally and First Lady, Mrs. Sandra Granger greet residents of Leguan on their arrival.
The bicycles were donated to the President's Buses, Boats, Bicycles, Books and Breakfast Programme (Five B's) by the Guyana Bahamas Association, last month.
Minister Ally said, "President Granger and his Government want to ensure that every child is in school, every child gets access to a proper education and that everyone enjoys a good life. This coalition Government is keen on giving all a level playing field, whereby we would have reduced inequalities that exist among our people, to reduce poverty [and] to provide opportunities for all our people."
The Minister added that though there have been some elements of division in Guyana, we must appreciate that despite [the fact that] we are of different ethnicities, we are all Guyanese and we must be treated as Guyanese.  "The Ministry of Social Cohesion's responsibility is to bridge the gap between race and religion by respecting each other," she said.
The Five Bs Programme, which started off as the Three Bs; Buses, Boats and Bicycles, has been expanded over the past year with donations pouring in from businesses across Guyana and Guyanese in the diaspora.  Since the programme began a total of nine boats, 11 buses and a number of bicycles have been distributed to regions across the country.   Minister Ally expressed her satisfaction with the type of support, the programme has received.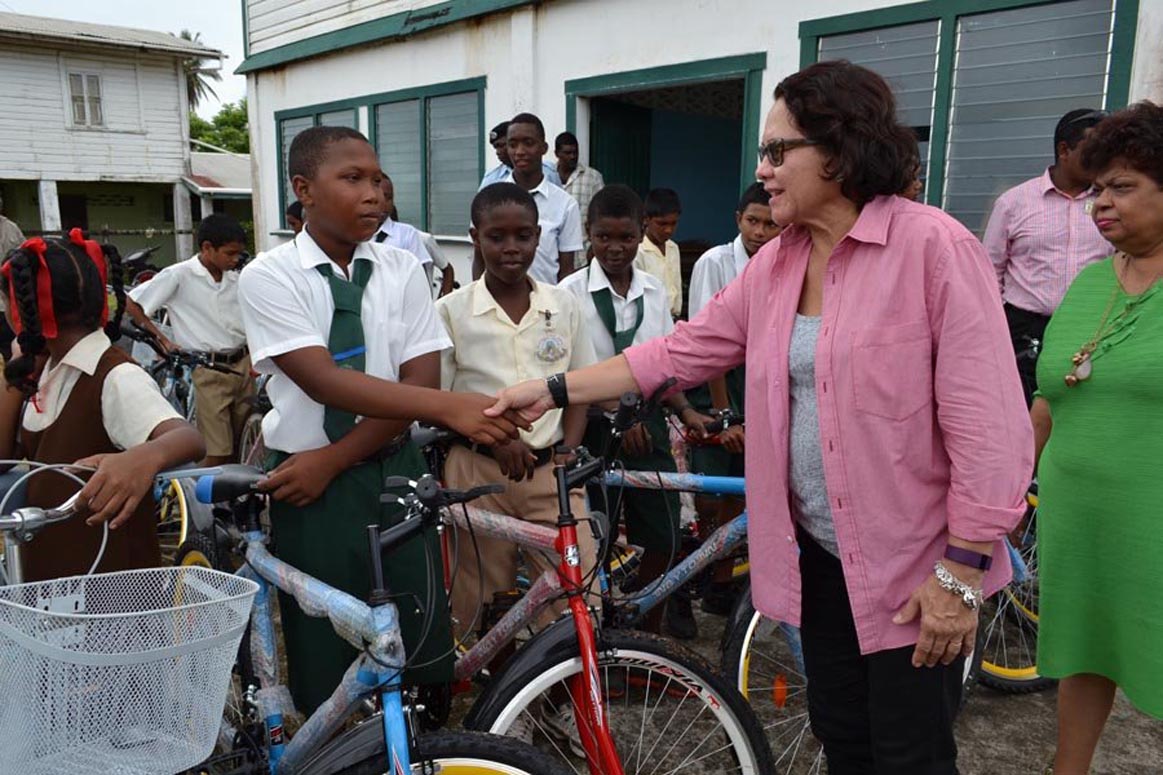 First Lady, Mrs. Sandra Granger congratulates this lad as he receives his bicycle.
"They like the President's vision. They like the B's programme and they have been contributing towards the programme," she said, furthering expressing gratitude on behalf of President Granger and his administration to the Guyana Bahamas Association and its President Mr. Deavindra Jagroo for their contribution of 60 bicycles towards the initiative.  Mr. Jagroo had said, while handing over the bicycles last month at the Ministry of the Presidency that the contribution made by the association is intended to support the initiative for the good of the nation's children.
Minister Ally challenged the residents, parents and children of Leguan to ensure that Education plays a key role in their lives. "I want you to help us [the Government] to reinforce into the minds of the people of Leguan that they must ensure that their children go to school and to you children, who are here; you are not too young to understand that your education must be first and foremost.  You must want to educate yourself. You must want to emulate others, who are role models," she said.
First Lady, Mrs. Sandra Granger further emphasised, Minister Ally's statements saying, "You are the future. My generation is going to close its eyes soon, but you will be the ones, who will be able to use the resources of our country and once you have education you will use it wisely to benefit yourself and your children and your communities."
She also noted that, "what has been remarkable throughout the Five B's program is that citizens have come forward to donate to the initiative, so that all young people can be on an equal footage in their access to education and to their own growth and development."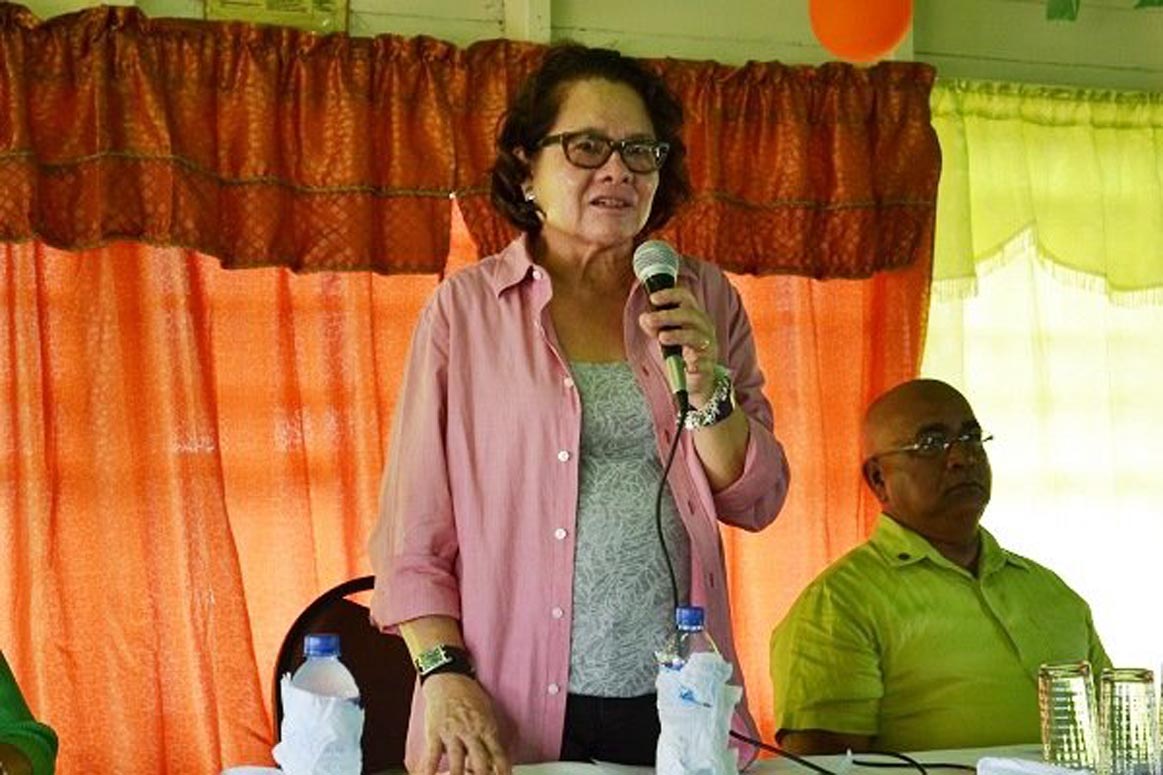 First Lady, Mrs. Sandra Granger delivers her remarks at the event.
In closing remarks, the Regional Executive Officer the Region, Mr. Dennis Jaikarran that the donation is one that is appreciated by all the residents of the Region.
"We have to, in a very honest and sincere way, acknowledge that this time the contribution under the 5B's program that His Excellency would have made through his Ministers and First Lady and we in this region should applaud and accept those gifts most sincerely," he said.
Many of the residents of Leguan expressed gratitude for the bicycles and said that it will be of great use for those students, who are travelling great distance to get to and from school.
Wakenaam is the next stop for the Five B's programme, where 20 more bicycles are expected to be distributed on Friday, August 12, 2016.