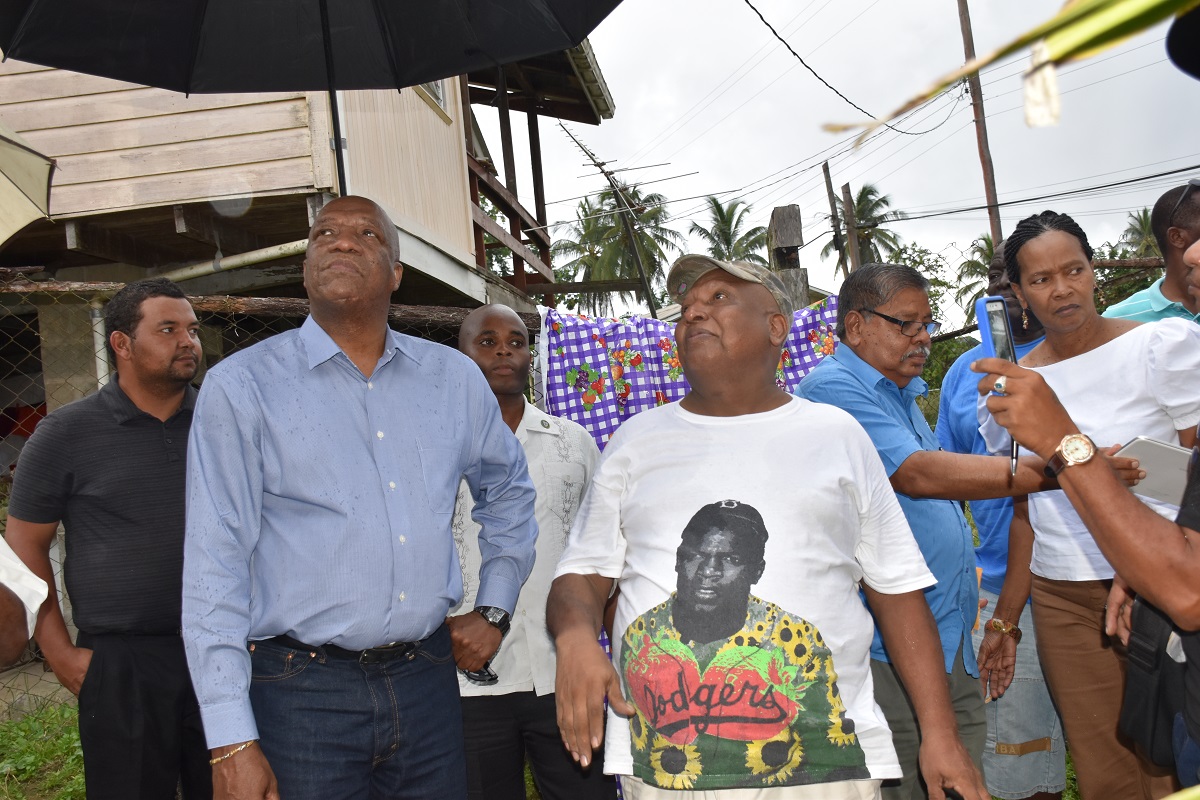 Georgetown, Guyana – (July 22, 2016) Agriculture represents a significant portion of Guyana's Gross Domestic Product. Moreover, Guyana's vast land space provides this country with great potential for economic growth through agriculture. With a sizeable portion of the country's total exports consisting of agricultural products, Guyana is seen as possessing the potential for becoming a self-sufficient, agricultural stronghold, with the ability to address and ultimately solve the food insecurity of the Caribbean Community.
To ensure that Guyana's agricultural productivity is enhanced, and that farmers are given adequate support in crop diversification and other key areas of crop production, the National Agricultural Research and Extension Institute (NAREI), which is an expansion of the National Agricultural Research Institute (NARI) has, since its establishment in 1984 and its expansion in 2011, implemented research designed to produce technologies and systems required to maintain national self-sufficiency.
Chief Executive Officer of NAREI, Dr. Oudho Homenauth explained that the Institution also focuses on developing new technologies and providing support and empowerment to farming communities. Among the recent technologies that have been implemented include those surrounding agriculture diversification, through the introduction of new crop types.
Samples of local products available in Guyana on display at GoInvest
Dr. Homenauith said that there is a fairly high level of spice production in the hinterland regions of Guyana. However, Guyana continues to import millions of dollars' worth of spices. The government is concerned with scaling up production in Guyana, particularly in the hinterland Regions, where the land space is available but production will have to come hand in hand with the marketing of these products locally and in the Caribbean.
In fact, the hinterland region is a major focus on the government's agenda and serves as part of President Granger's vision of tackling food insecurity. Dr. Homenauth stated that NAREI is currently finalising an agriculture programme for all the regions in the hinterland. It is hoped that the proposal for this programme will be finished by August this year, so as that allocations can be made in the 2017 budget.
And while works are being done to increase agricultural activity in the hinterland, Dr. Homenauth said that it is the coastal regions that continue to dominate with regard to crop production. Other areas of technology introduced in crop production around the country include shaded cultivation and hydroponics, the latter of which is a technique used to grow plants in water instead of soil. The technology allows the roots to absorb a balanced nutrient solution, which is dissolved in water and which ensures healthy plant development and growth.
In 2015, a hydroponics facility was set up at NAREI's headquarters, in Mon Repos, East Coast Demerara and the institution is currently involved in testing the viability of certain vegetables using that technology. Hydroponics provides for more produce in a shorter period of time among other benefits that farmers can tap into as they strive for increased productivity.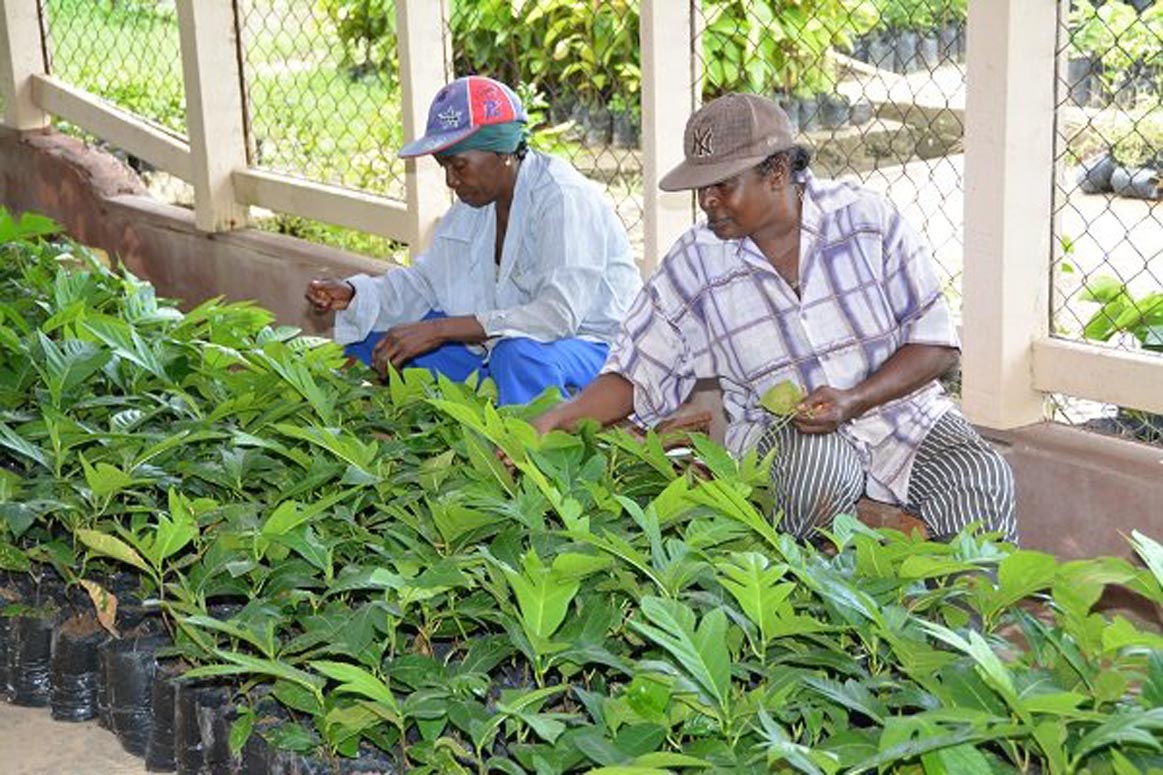 Workers attending to plants in nursery at NAREI's Headquarters
Increased productivity also comes as a result of the ability for farmers to easily transport their produce to buyers. In this regard, access to farm to market roads, which aids in the reduction of spoilage and increased production, becomes imperative.
Just this month, two new Market Roads were commissioned in Parika, in the Essequibo Islands-West Demerara Region. At that event, Minister of Agriculture, Mr. Noel Holder said that among the top items on the government's agenda is addressing the deplorable and underdeveloped infrastructural facilities in the country with a focus on farm to market roads. He stated that as Guyana seeks to expand its agricultural output to meet its national and regional objectives, adequate farm access roads and dams are critical in optimising agricultural development and production.
"The farmers, producers and buyers face difficulties in transporting produce, inputs, machinery, as well as accessing lands and farms. Roads are often inaccessible due to damage from heavy rains and an inability to accommodate the type and level of traffic required," the Minister said. As a result, he noted that this interrupts access to markets; trade and food supply and thereby reduces income and employment and affects the overall livelihood of the people, who depend on agriculture. "In essence, without projects such as this, food security would not be assured," he said.
But access roads are just one of the problems facing farmers within the regions. On a broader scale, Dr. Homenauth stated that finding adequate markets and prices for their produce remains a problem. In this regard, it is believed that value addition through agro-processing can solve not only the problem of adequate markets for farmers, but it can also further enhance the country's food security.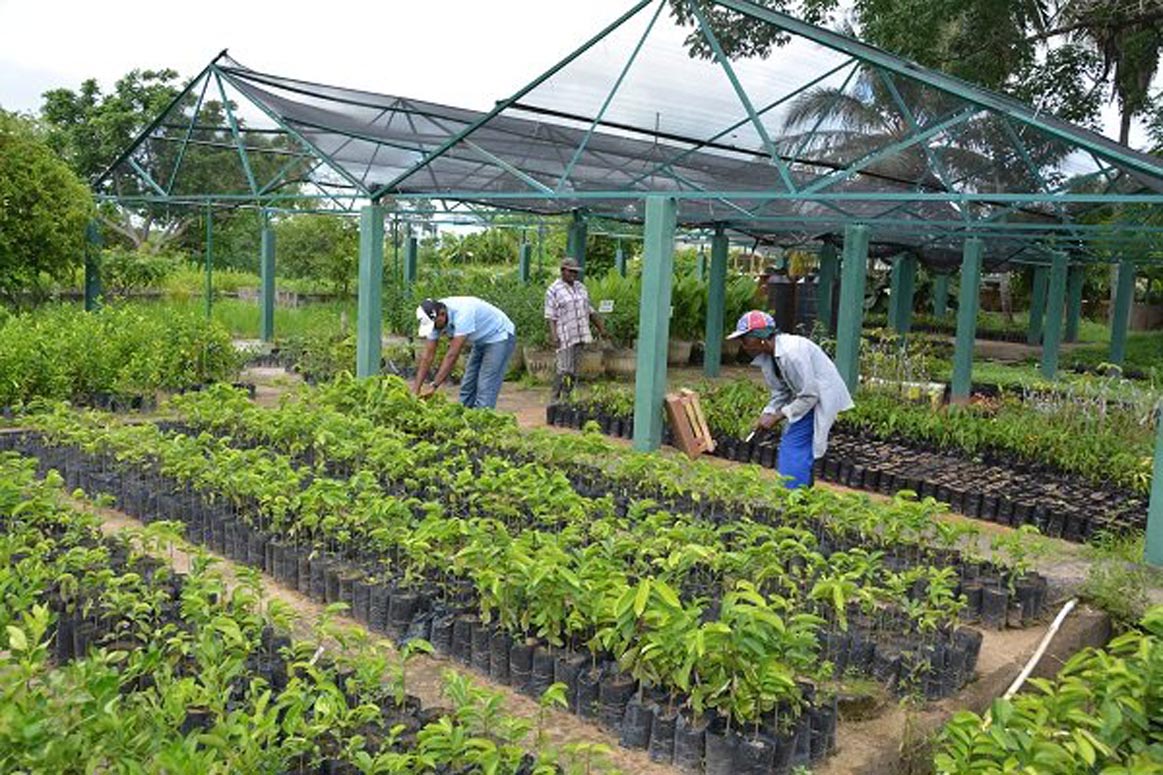 Workers tending to the plants at the nursery located at the NAREI headquarters
Minister of Business, Mr. Dominic Gaskin, in response to questions on the prospects of agro-processing in Guyana said, "Guyana holds great potential for agro-industrial development, given its relative abundance of agricultural raw materials. Therefore, strengthening our agro-processing production can be an effective means of economic growth and an improved standard of living."
To assist the farmers in this area, The Ministry of Business also collaborates with the Small Business Bureau (SBB) and the "New" Guyana Marketing Corporation (NEWGMC) in facilitating workshops for small businesses and entrepreneurs (including farmers), which provide information on how they can improve in the areas of agro-processing and also works along with the Ministry of Agriculture to aid in the development of the local agro-processing sector through a tri-country initiative funded by the European Union (EU).
One other institution that strives to encourage investment in agro-processing, so that farmers could tap into its benefits, is the Guyana Office for Investment (GoInvest). Chief Executive Officer of GoInvest, Mr. Owen Verwey, said that while the country is involved in some aspects of value addition, the majority of agricultural production focuses on commodity products for domestic consumption and exports.
He said that because of the economic benefits of agro-processing, more focus should be placed on value addition of agriculture products. As such, he stated that the institution is embarking on a study that will seek to assess which areas within the agriculture sector hold the most prospects with regard to agro-processing. The study involves a value chain analysis and is financed by the Inter-American Development Bank (IDB).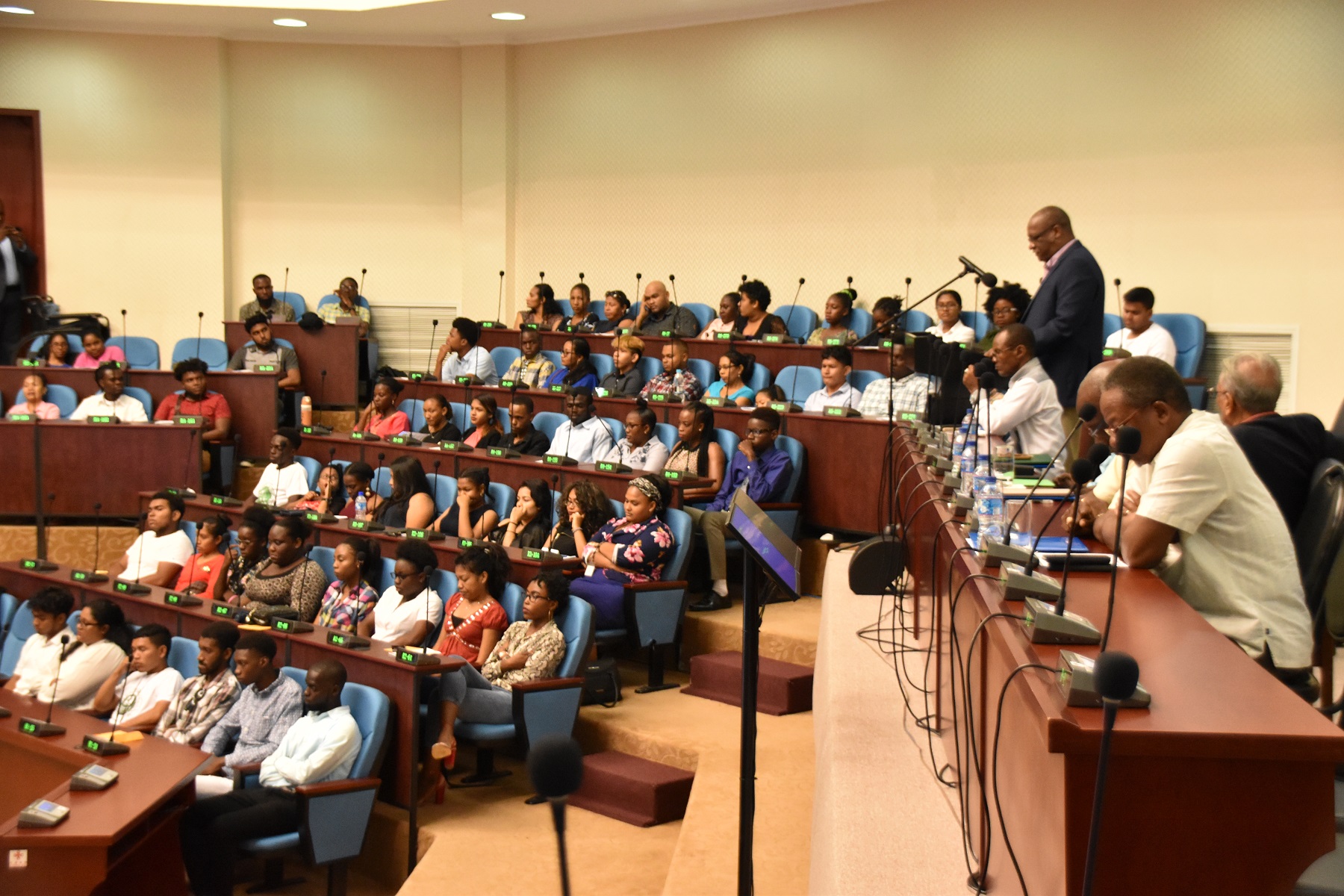 Dr. Oudho Homenauth, CEO of NAREI said that the Hinterland region is a major focus on the government's agenda.
Additionally, Mr. Verwey said that entering into agro-processing would require farmers to operate on a much higher scale of production. This would require identifying key suppliers, which can multiply their production almost tenfold what the largest producers are currently putting out. "That is not a simple task, which is why the value chain analysis will aid in identifying what is needed to attract and support them and ensure that Guyana and its economy can benefit as much as possible," Mr. Verwey said. He stated that the value chain analysis will last for five years, but that it could take just up to 18 months to assess, which industries hold the most prospects for farmers to benefit in the line of agro-processing.
President David Granger's vision for the country includes a robust economy, which itself would achieve sustainability, in part, through greater value-added production. In fact, his mantra as he travels across Guyana has been a call to value added production and agro-processing. The President has made this call in areas such as Baracara in the East Berbice Corentyne Region, the Pomeroon in the Pomeroon–Supenaam Region, Mabaruma in the Barima Waini-Region, Rose Hall, again in the East Berbice-Corentyne Region.
On the occasion of World Food Day in October last year, the President reaffirmed his government's commitment to promoting value addition and agro-processing as part of enhancing the lives of Guyanese.
"Our Government will seek to move increasingly into value-added food production; we will seek greater investment in agro-processing and we will take steps to stimulate cottage industries; what we call bottom house industries, thereby creating jobs, providing reliable sources of income particularly for women and young people coming out of school," the President said.
Meanwhile, Minister Gaskin said that farmers have relatively low income. As a result, one of the most realistic avenues for increased revenue lies in agro-processing. For Guyana, agro-processing holds the benefit for increased value of exports, reduction of importation of foreign substitutes, job creation and increased investment and enhanced food security, among other benefits.
Increased production and value added production is the way forward for the development of agriculture in Guyana. This country can and will live up to its potential is a true bread basket of the Caribbean with this two pronged approach and the continued hard work of farmers.