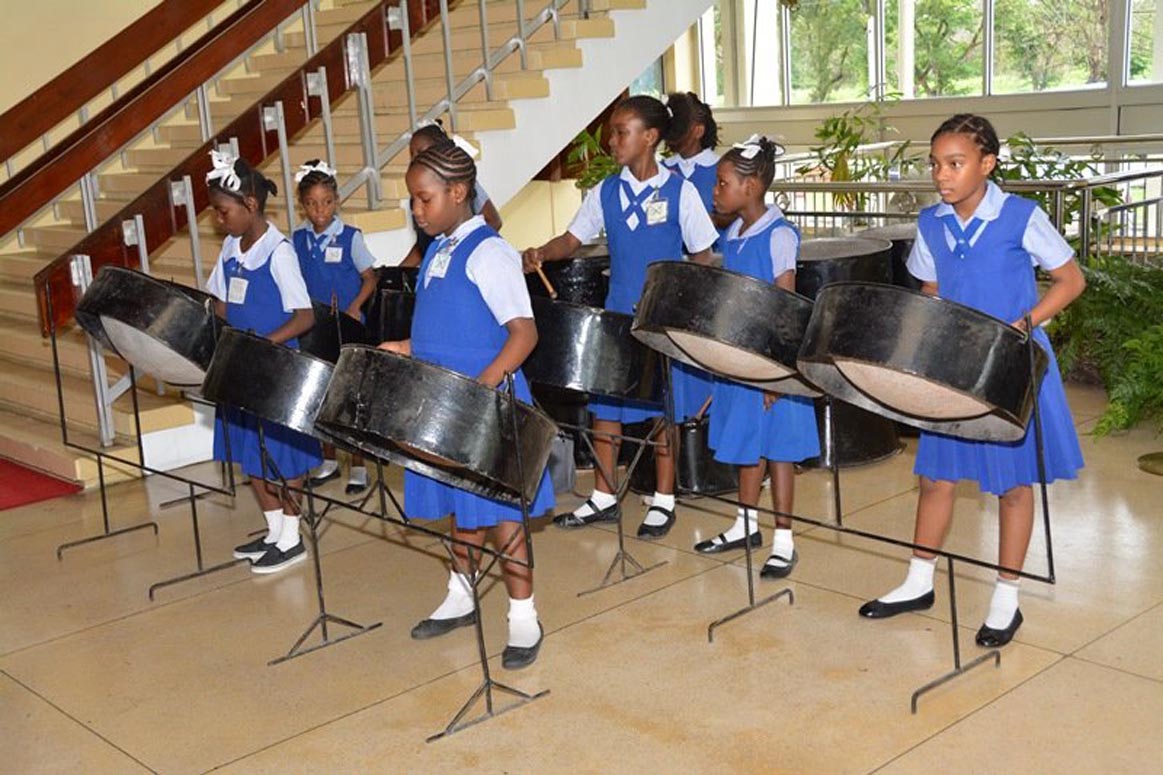 Georgetown, Guyana – (July 5, 2016) First Lady, Mrs. Sandra Granger, earlier today, charged the 117 graduates of the North Ruimveldt Primary School to "seize all the opportunities offered by education" even as she extended felicitations to them at the 16th Annual Prize-giving and Closing Ceremony, held at the National Cultural Centre.
The First Lady said that the nation's youth are living in exciting times with the recent celebration of our Golden Jubilee of Independence, the announcement of a second significant oil discovery and President David Granger's commitment to opening up of our vast hinterland region. However, she noted, our youth cannot capitalise on the opportunities that will accrue without education.
"We can begin to imagine great wealth and great progress and prosperity, but we cannot achieve this unless we are an educated nation. This is one of the focuses of our President and government, which recognises that our citizens must have a first class education to grow and succeed in the 21st century. Every child has the right to an education, and this is free at the primary and secondary levels," Mrs. Granger said.
These girls enlivened the mood in the foyer of the National Cultural Centre at the start of the 16th Annual Prize-giving and Closing Ceremony of the North Georgetown Primary School.
The First Lady emphasised that in order to enjoy what Guyana has to offer, its citizens, its youth, which accounts for more than 50 per cent of the population, must ensure that they are properly equipped with the knowledge, skills and talent to sustainably exploit our natural resources and to lead.
"Guyana cannot afford to have young people who do not know how to read or write, to speak or dress properly when they apply for a job, who do not know science and technology, which drive so much of our development these days. We must educate ourselves so that we can work in those areas open for development, while at the same time ensuring that our development is sustainable," she said.
The First Lady encouraged the graduates to chase after their dreams, set goals and work to overcome obstacles while pursuing careers of their choice. She charged them to fervently seek after their education so that they "will not only reap the rewards but also… be our best and finest citizens and distinguished members of our education nation."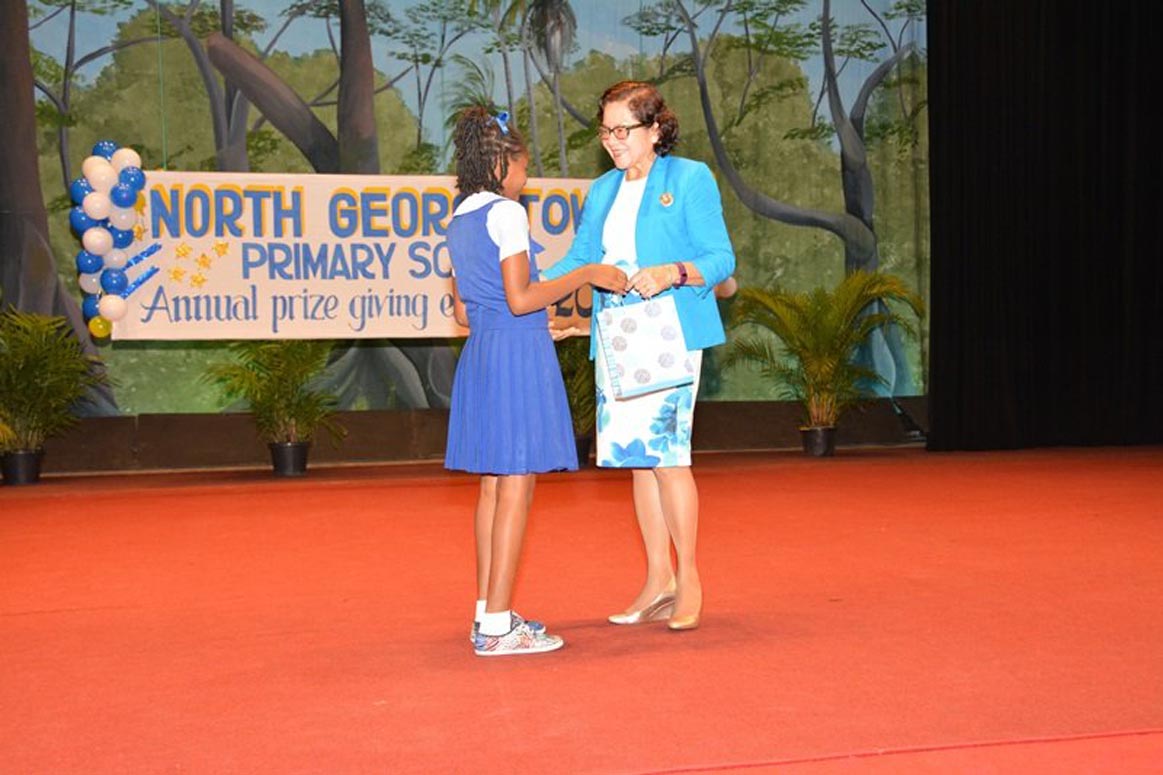 Ms. Alana Ramessar, who served as co- chairperson of the graduation ceremony presents First Lady, Mrs. Sandra Granger with a token of appreciation.
Meanwhile, Head Teacher, Ms. Donette Munroe-Liverpool said her school of 797 pupils and 28 teachers "is a warm and stimulating environment", which exemplifies its motto "To be the best". She noted that the school has incorporated several innovative approaches in delivering its curriculum and, coupled with a robust co-curricular programme, has produced students who are well educated.
Mrs. Munroe-Liverpool said the school has embarked on a development plan, which focuses on literacy, remedial work and utilises new strategies of imparting subjects on the national timetable. At North Georgetown Primary, she said, "pupils are provided with the basic educational and social skills, values and attitudes that would enable them to prepare for easy transition to further learning to take their place in the world as useful, industrious, social beings fit to live and fit to live with."
Parent/Teachers Association (PTA) President, Captain Orwain Sandy said he was pleased to celebrate the success of the graduands, their teachers, parents and guardians. He encouraged the students to embark on their new journey with enthusiasm and to uphold the values that they would have learnt at North Georgetown Primary.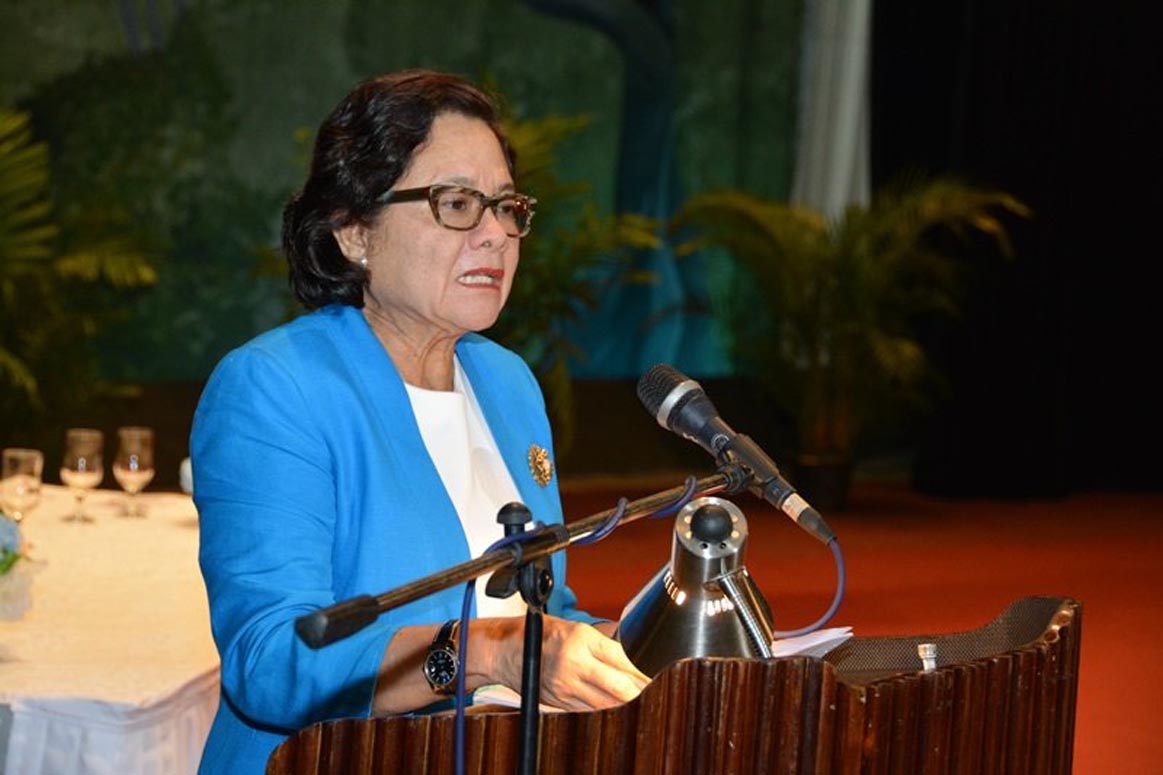 First Lady, Mrs. Sandra Granger appeals to students of the North Georgetown Primary School to continue to pursue their education, at their graduation ceremony, today, at the National Cultural Centre.
"Love your country of birth, be appreciative of those who support you, have respect for one's religion, learn the importance of education and the value of hard work, embrace technology and, finally, enjoy your school days, they are exceptional," he said.
On her arrival at the venue, the First Lady was greeted by Teacher, Ms. Annazette Lowe and given a warm welcome by the students. The packed programme was competently chaired by ten-year-old Grade Five students, Ms. Alana Ramessar and Master Yonnick Norton.
After getting off to a shaky staff, the Grade Five students entertained the audience with their rendition of Michael Jackson's "We Are the World", which included solos by six students. Later, the Grade Six girls performed a dance to Celine Dion's "Power of the Dream" and another group of Grade Six students recited a poem. After the presentation of certificates, the Grade Six boys enlivened the mood with a farewell dance performed to Pharrell's "Happy". An ensemble rendition of "You're Gonna Miss Me" by the entire graduating class and some of their younger peers added a bittersweet note at the close of the proceedings.
Other attendees at ceremony included Literacy Co-ordinator, Ms. Colette Horatio, who was singled out for her support in administering literacy at the school and for implementing the new timetable; parents, guardians and other well-wishers. Ms. Annette Davidson, former Head Teacher of the school was also honoured for her contributions to the school. Ms. Davidson selected the design and colours of the school's uniform, wrote its hymn and motto and made several other significant contributions to the school since its start in September 1997.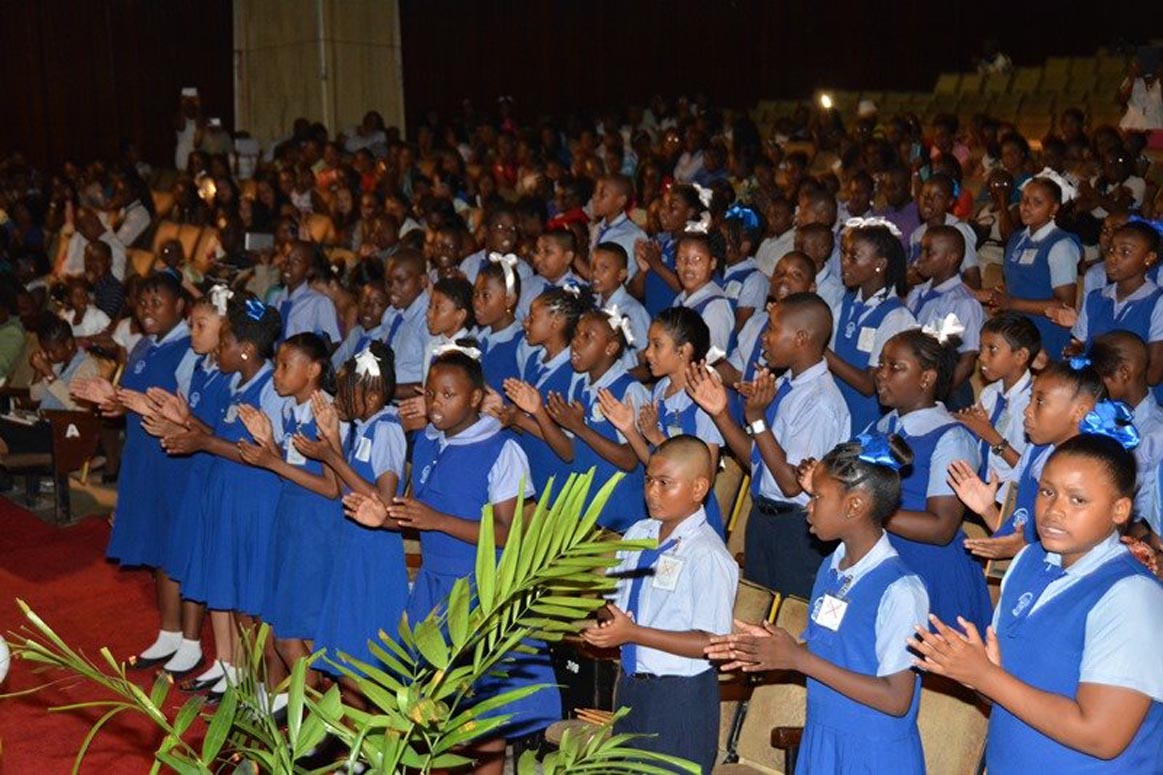 North Georgetown Primary School pupils sing "You're Gonna Miss Me" at the close of the graduation ceremony.