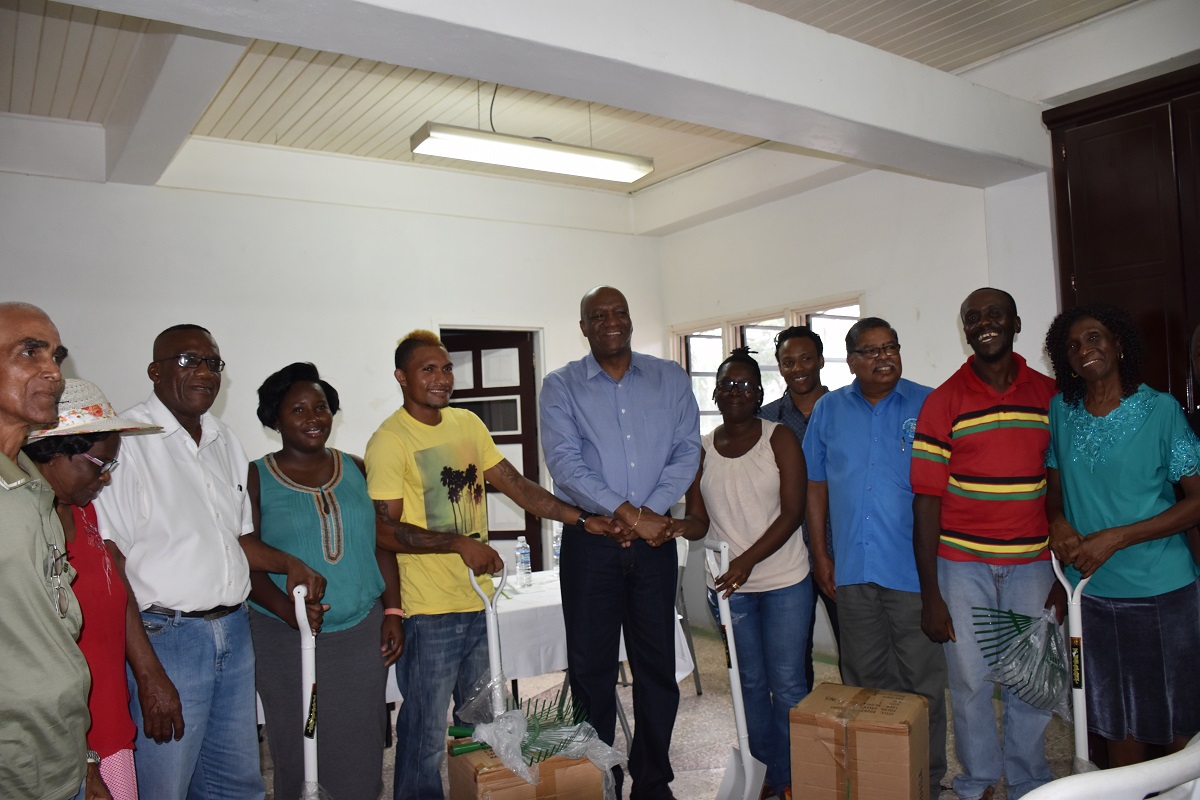 Georgetown, Guyana – (July 1, 2016) The single most important group of people in Guyana is the nation's youth. They represent Guyana's potential to march into the future and adequately tackle modern day challenges and harness the country's resources to ensure the good life is a sustainable goal for all Guyanese. However, this group is also the most vulnerable group.
In the United Nations Development Programme's (UNDP) Guyana Youth Empowerment, Inclusion and Reconciliation Project of 2012, it was recorded that youth make up more than 60 percent of the country's population and are perceived as being "marginalised, alienated and increasingly at risk of unemployment/underemployment, crime and violence, teen and unplanned pregnancy and other social and economic ills".
President David Granger, recognising these vulnerabilities, has begun to advance a broad based approach to youth development, built on a solid education foundation. During his address at the opening of the 11th Parliament in June last year, the president pledged that his government will introduce social policies that will harness and develop the creative energies of the people, which will provide a foundation for the holistic development of the country's women and youth.
"Your government is aware that too many very young and very old persons are still classified as extremely poor with an expenditure level that is far below what is required to purchase a minimum, daily, low cost diet. Poverty can be reduced and perhaps eventually eradicated with good governance and the sensible public policies that we shall introduce…Providing jobs for our people, particularly our young people will be one of our priorities. Today in our country, there's a crisis of youth unemployment. Many of our young people are leaving school and university but are unable to find jobs. Without jobs they will never be able to escape from the cycle of poverty," the President said.
However, any youth policy must have the input and buy-in of the people who it will affect most; Guyana's young people. The Government of Guyana has, over the past year, embarked on national consultations, which allowed young people all over Guyana to define their issues and propose solutions. A draft youth policy has now been completed.
The 25 young men who are currently training for the three month long heavy- duty operator programme at the Kuru Kuru Training College
The National Youth Policy
The National Youth Policy 2015 was on June 30, laid in the National Assembly. The document outlines five key priorities: Youth Identity and Empowerment, Youth Employment and Entrepreneurship, Education and Market-Driven Skills Development, Youth Leadership, Participation and Representation and Youth Health Safety and Well-being. The policy will pave the way for the subsequent development and implementation of a National Youth Empowerment Action Plan (NYEAP).
The consultations for the National Youth Policy began under the previous administration, between 2013-2014, more than 3,000 youth were engaged through regional consultations and a National Youth Forum was held in 2014. On assumption to office, the APNU/AFC Coalition, as it had stated in its manifesto, recognised the need to expand and advance the process so that a youth policy that responds to the unique geographical, economic and social challenges young people face in Guyana. In 2015, additional surveys and interviews were conducted from 52 youth organisations to identify issues affecting youth, identify entry points for youth development and to elaborate on existing youth development opportunities. The data gathered was analysed and published in the Situational Analysis of Youth in Guyana 2015 and led to the development of the draft policy, which was further shared and discussed with youth and other stakeholders at a two day working session held on July 3-4. 2015. The feedback gathered from this session was added to the draft policy.
Coming out of the information gathered, the Policy listed that youth unemployment is "hovering around forty percent", that youth entrepreneurship is in an embryonic state and that the education system has remained stagnant, among other findings. Other findings include that Guyanese youth are disproportionately affected by social problems including suicide, mental health issues and teenage pregnancy.
Most notably, it was mentioned that the greatest challenge to youth development is that there is weak youth representation and participation in the decision making process and there is a lack of deliberate strategies, opportunities and quotas that can facilitate their inclusion.
Youth Empowerment Initiatives
Elaborating on the components of the Policy, Presidential Advisor on Youth Empowerment, Mr. Aubrey Norton said that the elements aim to create entrepreneurs through methods of training and education. "The general position that is taken is that for you to empower people, you need to either educate them for employment or educate them for business," he said, adding that the draft Youth Policy takes these needs into consideration and identifies a number of strategic areas and priorities that will achieve these goals.
Even as the draft youth policy is placed before the National Assembly and is made available for public consultations, efforts have been made to establish programmes that will engage youth in these key areas. Mr. Norton explained that since taking up his current post, he and his team have conducted countrywide surveys, interacting with youth and strengthening youth organisations.
Based on feedback, Mr. Norton said many young Guyanese are interested in taking up positions of leadership but are not given the exposure or opportunity to do so. Coming out of this objective was the idea for a Leadership Training Programme, a week-long session that teaches young people practical leadership related skills. The Programmes are hosted at the Madewini Training Centre on the Linden Highway.
The students of the heavy duty operator programme will be trained in operating various types of heavy duty equipment and will be aided by the government in being licensed
So far, three of eight planned sessions have been hosted and have seen almost 200 youth from across the country trained in areas of leadership, management, event planning, communications, effective public speaking, meeting and meeting procedures.
By the end of the year, close to 500 young people would have been exposed to these programmes – which Mr. Norton said – will have a long-term impact on their lives. He added that as a spin-off to such programmes, other youth targeted initiatives are in the making.
At the graduation ceremony of the first programme early this month, Minister of State, Mr. Joseph Harmon who attended the event, informed the 57 participants that due to the challenges facing young people in Guyana such programmes should start immediately, even while the National Youth Policy is still being finalised.
"We… came into office with a very clear understanding of the critical challenges and the crises our young people face as a result of the neglect of the previous government for over two decades. We also had a very clear vision and a plan of action for youth empowerment. One of the main components of that plan is the provision of education and training for all of our young people everywhere; in all communities, in every region; on the coastland and in the hinterland because we believe that all Guyana is one Guyana," he said.
Minister Harmon encouraged the participants to be doers, not talkers so that they can achieve practical, positive and tangible goals that will benefit the country. He added that young people should become involved in the political, economic and social affairs of their communities as precursors to their involvement in regional and national affairs.
The second training session was held on June 17, 2016 where an additional 59 young aspiring leaders undertook the tasks laid out in the training session. At that Graduation ceremony, it was Technical Facilitator to the Minister of Education, Mr. Vincent Alexander who urged the group to be the type of leaders who work tirelessly for the good of their communities even as they pursue their own career goals.
He stated that as leaders, they will be expected to give specific guidance with regard to ideas, vision, organising and mobilising. He added that in carrying out these roles, it should be in a manner that shows that they truly enjoy what they are doing, rather than just doing it for an ulterior motive.
"I'm not saying leaders shouldn't be rewarded but as leaders you should be inspired not by the possible reward but by the fact that you love what you are doing and you'd like to see the results of what you're doing in the community in which you operate. If you give good leadership you will make a difference to your club and community. And the difference which you will make will impact you because you are part of it," he said.
He advised the participants to be aware that as leaders, also, their behaviour will be scrutinised, but that that could work to their favour in ensuring that they do the right thing.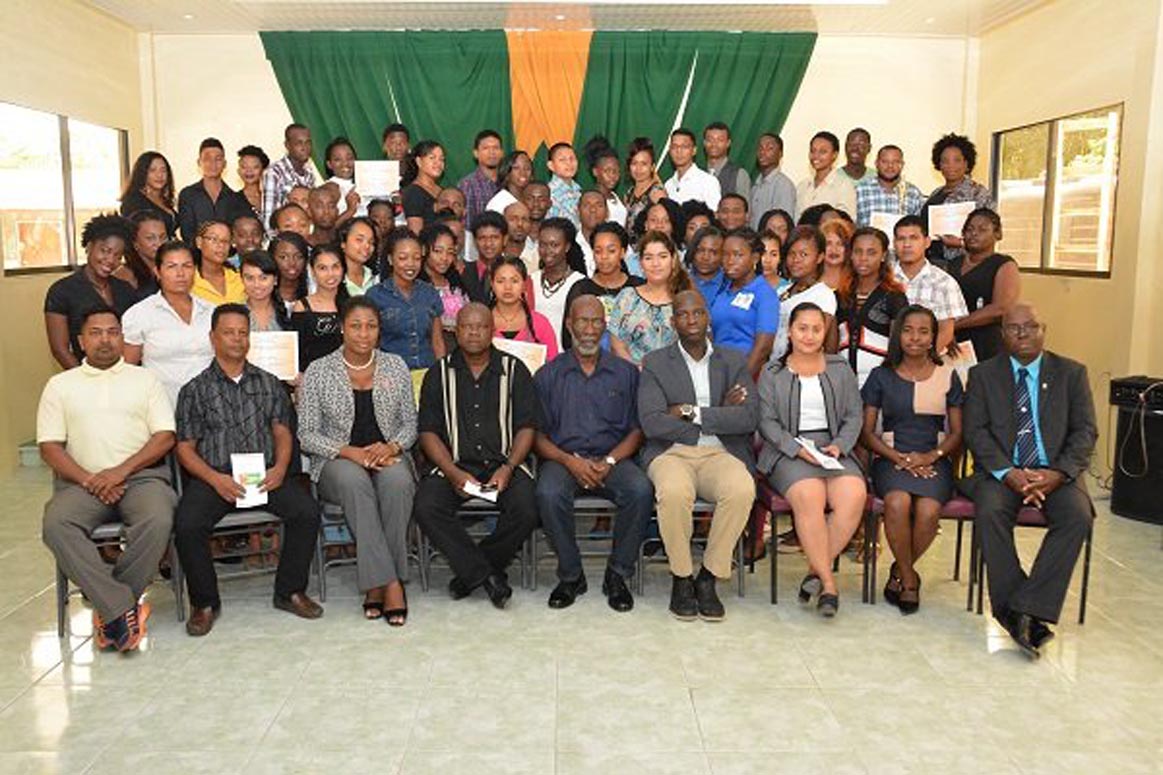 Technical Facilitator to the Minister of Education, Mr. Vincent Alexander and Presidential Advisor on Youth Empowerment, Mr. Aubrey Norton with facilitators and participants at the graduation ceremony of the second of eight Youth Leadership Training programmes.
Economic Empowerment
But Leadership training is only one part of the plans involved in the youth empowerment agenda. As part of developing enterprise, programmes in economic empowerment are also underway. One such initiative is the heavy- duty operator programme currently being conducted at the Kuru Kuru Training College.
The three-month programme will train and assess 25 young men in the theory and practice of operating heavy-duty equipment. Following the completion of this programme, successful candidates will be certified and assisted by the government to become licensed and assisted with jobs.
Like the Youth Leadership programme, the young men on the course hail from all the regions across the country and several expressed that the opportunity was one that could not be passed up, due to the prospects of certification and possible employment that are in store.
Mr. Norton explained that these are not the only programmes planned. Also on the agenda, are counselling and guidance programmes, literary programmes as well as food processing programmes. Mr. Norton said that these initiatives will hopefully be launched later in the year so as to keep the momentum that has been given to youth empowerment in Guyana.