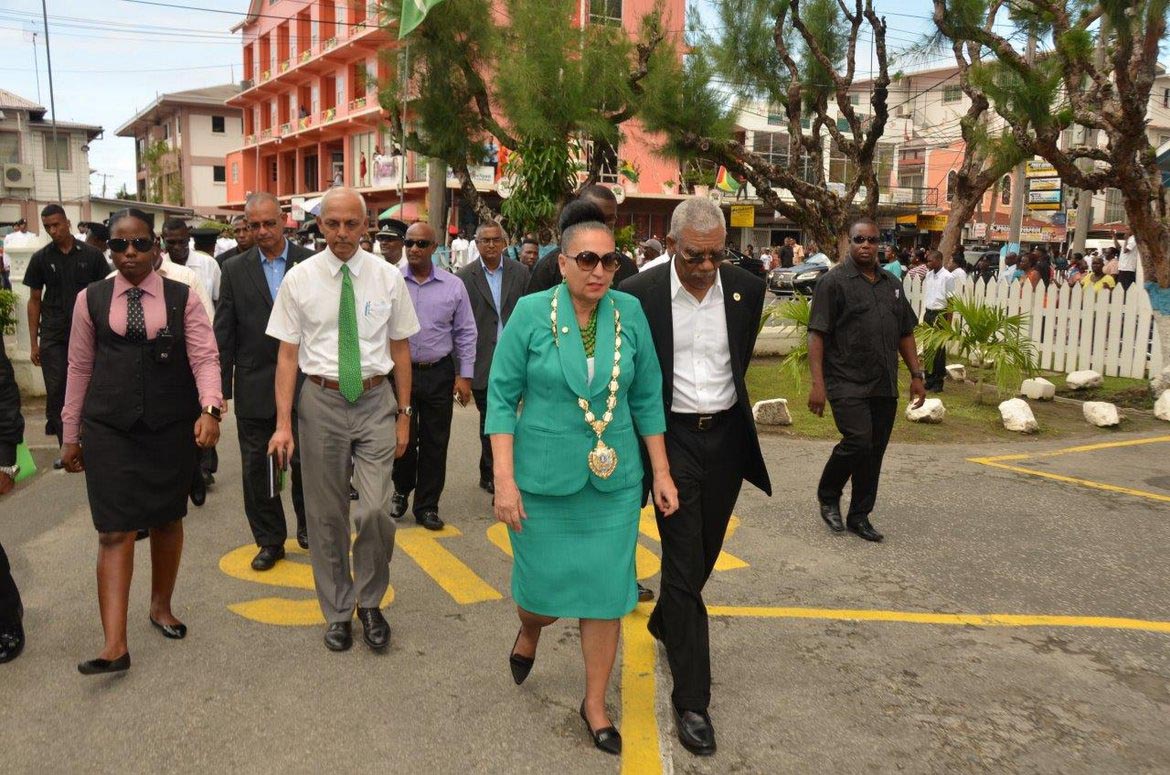 Georgetown, Guyana – (June 27, 2016) President David Granger said that Georgetown Mayor and City Council cannot shoulder the burden of urban renewal by itself as this is a task that requires cooperation between Central Government and the Council and the Council and citizens. The Head of State made these remarks earlier today when addressed the Council during a special statutory meeting at City Hall. This was the first time a sitting President has visited City Hall in over 20 years.
The President said that the City must regain its image as one of the Caribbean's most picturesque places and must become a national showpiece, whose attractions, features and services allow everyone to experience the 'good life'.
"The Council needs to plan its actions over the next 30 months until December 2018 when municipal elections will be held again. Urban renewal cannot proceed by mere good intentions. Urban renewal must be guided by a plan," he said.
He reminded the councillors that the return of local democracy in Guyana means that their re-election to Office depends entirely on their performance over the next two and a half years, not their personality or Party affiliation.
"The Council now has the responsibility of supervising municipal works and satisfying citizens' expectations for 'a good life'. Each City Councillor represents over 2,700 citizens. Each Councillor is expected to meet with his or her constituents to discuss their problems, answer their questions and propose solutions… I encourage you to remain united as a Council to work for the good of the City. I encourage you to remain committed to fulfilling your oath of Office," President Granger said.
President David Granger being escorted into City Hall by Mayor Patricia Chase-Green
He also told the Council that while the Government respects the autonomy of the Mayor and City Council of Georgetown, it expects the Council to act, at all times, in accordance with the law and consistent with the national interest.
"We are committed to ensuring that the Council is not politically constrained from securing the best interests of our citizens… The Government will support the Council's efforts to make this a city in which all Guyanese can be proud. We look forward to Georgetown becoming once again the most beautiful city in the Commonwealth Caribbean," President Granger said.
He pointed out that in the past years, the once 'Garden City' has been facing a plethora of problems such as poor solid waste management and drainage, traffic congestion, squatting on reserves, poorly maintained parapets and canals, illegal vending and complete disregard for zoning and building by-laws.
"Our national capital must never be allowed to be so neglected in such a way again, no matter which party is in power… This Council has the task of renovating this great city in an organised manner. This requires that the plan must be developed in collaboration with the Central Housing and Planning Authority and the Ministry of Communities," the President said.
He urged the Council to consider the establishment of a National Capital Planning Commission to study the numerous plans, which have been prepared over the years in order to adopt a structured approach to urban renewal. He expressed the view that the recommendations contained in these studies are still relevant to urban renewal.
In order for this new urban centre to become a reality, the President said that zoning must be reintroduced, every vendor must be placed under roof, roundabouts, pedestrian crossings, new bus and taxi terminals and parking lots should be created to curb traffic congestion and certain public places should be preserved for recreation and relaxation.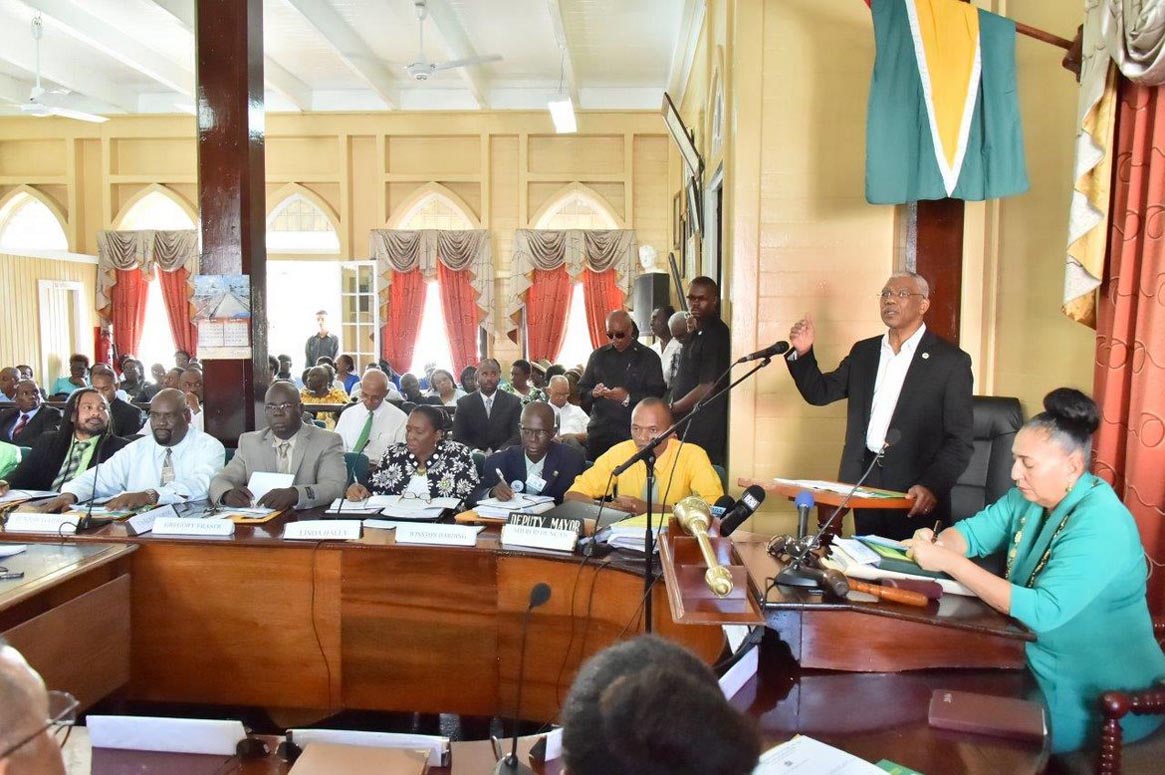 President David Granger addressing Mayor and Councillors of the municipality of Georgetown at City Hall
Additionally, he said that City streets should be well lit, sanitation and drainage must be addressed, the City's 'Georgian' architecture must be preserved and protected, trees must be replanted and avenues, alleyways, pavements, reserves and streets must be unencumbered.
In September last year, Guyana adopted the 2030 Agenda for Sustainable Development at the United Nations Headquarters in New York. The Agenda includes 17 Sustainable Development Goals of which Goal No. 11 committed the country to "Make cities inclusive, safe, resilient and sustainable." President Granger told the Council that Georgetown must aim to become a sustainable city that would meet the needs of its citizens while reducing the impact of its activities on the environment.
He said that this plan for sustainability must take into account greater use of renewable sources of energy, preserving the city's green areas, promoting the use of 'green' transportation such as electric and hybrid vehicles and providing pedestrian-only districts; supporting efforts at the recycling of waste and the protection of waterways and natural habitats.
"Investors must view Georgetown as a favoured place to do business. The city's ports must be busy with exports and imports; its commercial centres bustling with sales and purchases, its banks brisk in lending and encouraging savings and the wheels of its industries kept constantly turning. A prosperous city will create jobs and generate income and profits for citizens and businesses respectively. The City's success will catalyse and stimulate development in other areas. A successful city will provide greater resources for the city's physical enhancement," the President said.