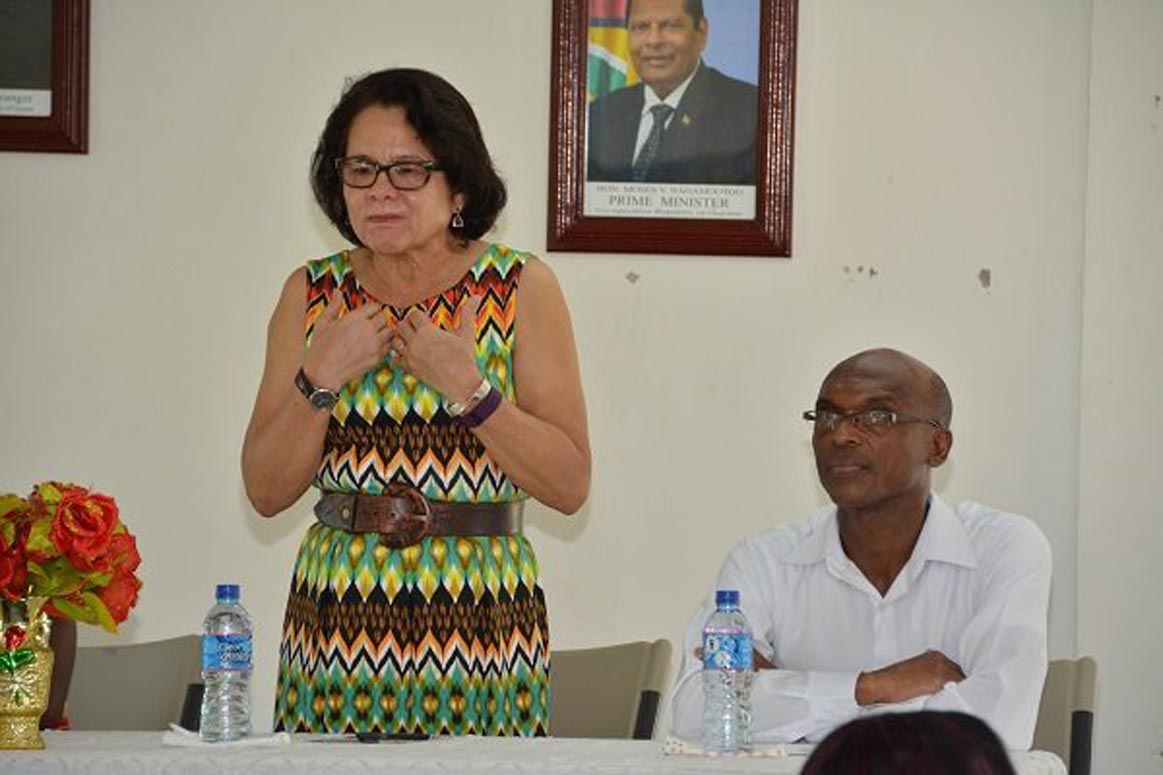 Georgetown, Guyana – (June 18, 2016) Through the Self Reliance and Success in Business workshops, which are being hosted around the country, women are accessing the opportunity to be equipped with the necessary business skills that can help them to make worthwhile contributions to society as small business owners.
These workshops are hosted by the Office of the First Lady and are funded by the Ministries of Social Protection and Indigenous Peoples' Affairs. These workshops materialised from the vision of First Lady, Mrs. Sandra Granger, whose work has, over the past year, centred on various initiatives aimed at women's empowerment as part of her approach to reach vulnerable populations with a range of services. Many of these initiatives have been supported by private initiatives and the Government of Guyana and the Self Reliance and Success in Business workshops are no exception.
The premise for the workshop was developed following a presentation made to the First Lady by Interweave Solutions – a non-governmental organisation that helps local entities in developing countries to expand their business sectors through training. Over the last few months, Self-Reliance and Success in Business workshops were held in Lusignan in the Demerara-Mahaica Region, Linden in the Upper Demerara-Berbice Region, and the Upper Takutu – Upper Essequibo, Mahaica – Berbice and Barima-Waini regions.
The idea of diversifying the economy and empowering citizens to be entrepreneurs and drivers of the economy is part of President David Granger's push to create an environment for economic growth through enterprise. President Granger, in his address to the National Assembly on June 10, 2015, said, "We should propose policies that provide opportunities for local entrepreneurs and investors and our huge diaspora to develop our abundant natural resources. We shall introduce other job creation measures that will include promoting small and medium size enterprises. We will also work towards ensuring greater access to finance and capital to start new businesses."
First Lady, Mrs Sandra Granger giving remarks during a presentation at Rosignol
The President has taken this message across the Guyana in a personal crusade aimed at ensuring every Guyanese sees themselves as a potential business man or woman, fashioning the country's abundant resources into value added products that can enrich communities.
During his visit to Baracara, Canje River, East Berbice Corentyne last, April, the Head of State said, "I want you to be businessmen and women. I want you to be able to enter into the market by producing the commodities that people need but as a private enterprise. If you come together it is up to you. If you want to form a cooperative it is up to you, but I want to see entrepreneurship, I want to see business… I want you to become entrepreneurs so people will want to come into Baracara to buy the best guava jam, guava jelly [and] guava cheese. So you must become a market place."
The First Lady has seized this message and zeroed in on mainly women, since women and their familes can certainly benefit from this type of economic empowerment. At the most recent workshop, hosted in the town of Bartica in the Cuyuni-Mazaruni Region, the First Lady said that it is important for women to be able to enhance their business skills, adding that women have lots of skills that they may not recognise could be marketable. "[This workshop] will show you how to be good business women… It will show you how to plan, keep records, look at the market, look at the competition and see how you can get beyond that and create your own niche for yourself- not only how to establish a business but how to grow and expand it," she said.
The First Lady said that since the beginning of the programme last year, men have approached her to be part of it. And while some men have benefited in certain areas, the programme remains focused on women, due to the benefits she believes it can have on the family and community.
The main facilitator of the programme is Mr. Wayne Barrow of Interweave Solutions. Mr. Barrow explained that the organisation is committed to ensuring that the key business skills are taught to the participants so as to ensure that their management skills and other entrepreneurial talents are honed.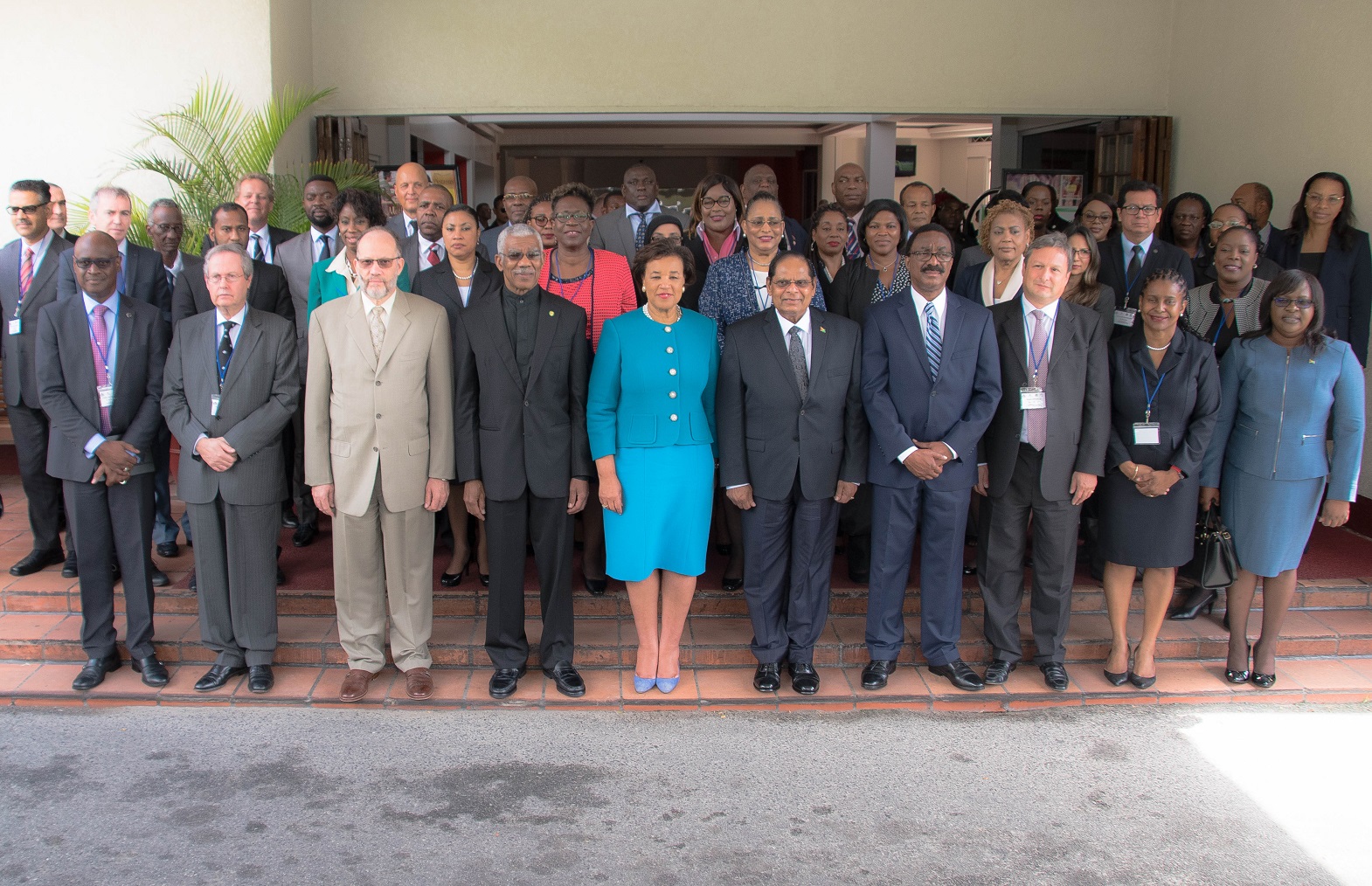 Mr. Wayne Barrow, Facilitator of Interweave Solutions giving a presentation during one of the workshops
Moreover, the purpose of the workshops is also two-fold in that it encourages the women to develop community plans which focus on the creation of groups that would discuss and resolve issues within their community. We ask ourselves why if this is a course on self-employment, why should we be concerned about the community… But it's interwoven that show we got the name 'Interweave'. The community, the business and the home- there is a dependency and this is what we taught within the workshops," he said.
Mr. Sanjay Pooran, Representative of Interweave Solutions, while hosting the Bartica Session, said that the workshops explore issues regarding finance, resource management, packaging, the fundamentals of marketing and why poor attitudes cannot contribute to successful businesses. He also highlighted some of the concerns that are usually raised by small business owners and aspiring business women during these programmes.
"Many of these women are ambitious and hardworking, but the problem is they don't have the basic skills to manage so most of the concerns that come out are related to their abilities to manage and grow their skill sets. There are some concerns about regulatory structures, but those are usually solved as we go through the programme," he said.
At the Opening Session of the workshop hosted in Bartica, Deputy Mayor Ms. Kamal Persaud was grateful that the women of Bartica and other parts of the Region were given the chance to attend these workshops so as to hone their skills. A businesswoman herself, Ms. Persaud said that she was proud to see the enthusiasm of the attendees as well as the diversity of skills that they possessed.
"I'm very happy to have it here in Bartica and to see so many women with so many diverse backgrounds take part and I hope we make the best use of this opportunity. When we can have rounded women that can mold our younger folk … in all we have a more successful community," she said.
Among the participants, several of the women shared their sentiments about their attendance at the workshop. Each woman had the hope of not only learning from the workshop, but taking the information back to their communities to instill the knowledge in others.
Ms. Cindy Meusa is a Grass Cutter/Landscaper, and is the only woman in what is considered a non-traditional sector for women. "When I first started, it was in my own yard and a lot of people would comment that they never saw a woman doing that, then a lot of people started hiring me and I began to like it, because it helped me to make my own money," she said. Ms. Meusa hopes to be able to inspire her daughters to join her so as to make the venture into an official business, and was eager to learn as much from the workshop so that she could acquire the knowledge on how to expand.
Ms. Debra Brown, a Constituency Representative, was initially intended to be present just for the opening ceremony, but asked the facilitators to stay on for the duration of the five day course after hearing about what it entails. As the owner for a small bus service in Bartica and an aspiring cake decorator, Ms. Brown said that she felt that the workshop could benefit her, especially in the e areas of book keeping and management skills.
During past workshops, the First Lady has referred to the initiative as a dream, stating that her vision for the workshops is to ensure that all the women of Guyana are empowered and independent. "I have this vision of all the women throughout the regions of Guyana being able to provide for themselves and the first thing you have to do is to be able to get the money in your hands and that way nobody can disrespect you. When they know that you are empowered, you know how to live your life and manage your budget. She stated that due to the budget, the workshops are kept small, but it is hoped that the women share the information that is given to them when they go back to their communities," she said.
The past workshops have each augured well for the communities in which they were kept. At the end of the five-day programme, after undertaking several projects, the women graduate and are presented with certificates for their endeavours. At a joint graduation Ceremony held in December for the first two groups from Lusignan and Linden, Mr. Barrow said that the workshops also work well for persons looking to access loans and grants – as it assists them in bringing their business up to a standard that allows them to do so.
Participants of those two workshops were given the chance to reflect on what they learned and all alluded to the benefits of learning the Six 'Ps' of business: Plan, Product, Paperwork, Promotion, Price and Process. Among the group from Linden, which included men who also wished to benefit from the training and advice provided within the workshop, Mr. Jazree Osbourne spoke at the graduation about his experience. He said that he was grateful to be included among the women, adding that he learnt how to diversify his poultry business and to penetrate other markets.
Minister of Business, Mr. Dominic Gaskin, in his feature address at the event, said that such programmes make a valuable contribution towards the national effort to fight against poverty and the inequality of opportunity. "Our government inherited an economy that simply couldn't provide enough jobs for all those willing and able to work. A reputable international organisation has reported unemployment levels of 40% for Guyana's youth. We have a nation to rebuild, and everyone must be able to contribute and those who can't find jobs must not be afraid to learn new skills and venture into businesses of their own," the Minister said.
The First Lady has also received accolades from officials within the various Regions for her work and the interest she has paid in women's affairs through this and other ventures over the past year. The First Lady intends to take the Self Reliance and Success in Business workshops to all the regions in the country, with the hope that, as the title suggests, women can be independent business owners who are able to contribute significantly to the economy.