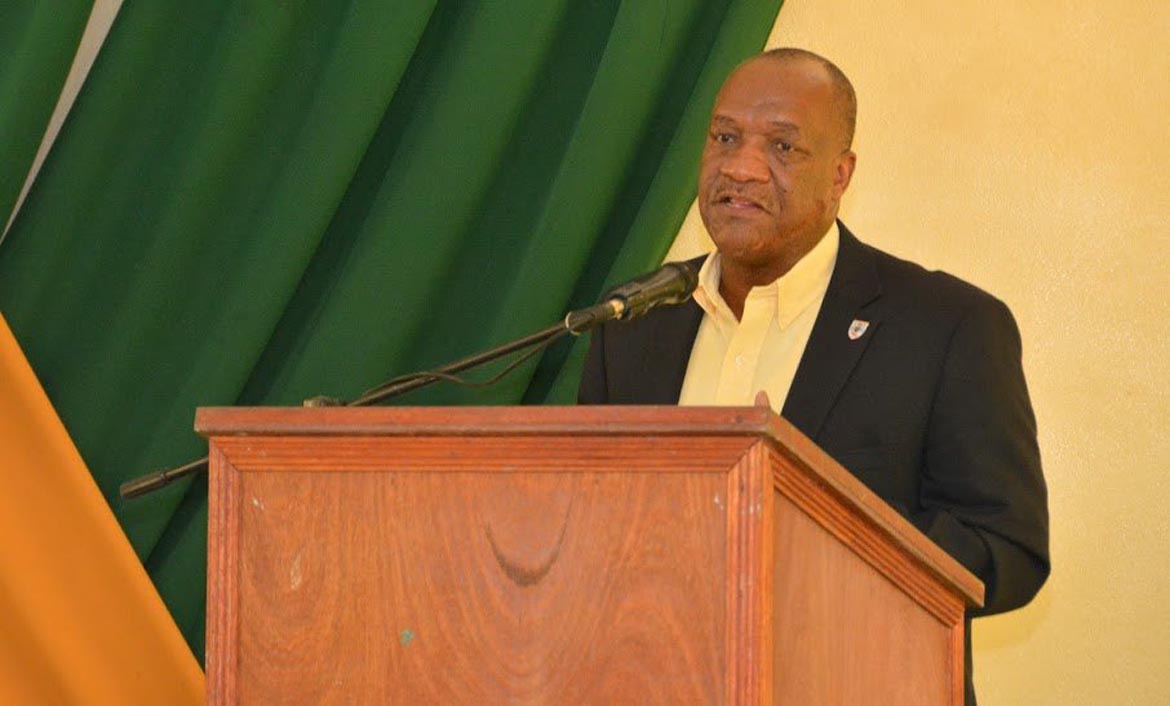 Georgetown, Guyana – (June 12, 2016) Minister of State, Mr. Joseph Harmon, today, charged 57 graduates of the Youth Leadership Training Programme, organised by the Office of the Presidential Adviser on Youth Empowerment and the Department of Youth, at the Madewini Training Centre to be 'doers' and not just talkers for the development of Guyana.
The Minister was at the time speaking at the closing ceremony of the first in a series of eight of these training programmes, which will draw on youth leaders from across the country between June and December.
"The true demonstration of your effectiveness as youth leaders will be the practical things you get done and the positive tangible things that you achieve through your endeavours. Be doers, not talkers. We have too many talkers in Guyana; people who have the best ideas about everything but they do nothing. Change that paradigm. Become agents of change, become people who do things. Make your communities better, make your regions better and ultimately you will make Guyana better," Minister Harmon said.
Referring to the contents of a publication by President David Granger, where he referred to the crises of employment, education and empowerment faced by young people, who make up 60 percent of the nation's population, the State Minister said that the APNU/AFC Coalition Government has a clear vision for the development of this important sector of the population.
Minister of State, Mr. Joseph Harmon charged the 57 graduates of the Leadership Training Programme to be "Doers" in his speech today at Madewini Camp.
Following national consultations across all 10 regions of Guyana, a draft National Youth Policy, lead by the Presidential Advisor on Youth Empowerment, Mr. Aubrey Norton has been reviewed by Cabinet and is now being prepared as a 'white paper' to be laid before the National Assembly and made public for national scrutiny and consultation.
However, Minister Harmon noted that even as the National Youth Policy is in the pipeline the challenges facing Guyana's youth are of a critical nature and hence it is important that interventions like this training programme begin immediately.
"We… came into office with a very clear understanding of the critical challenges and the crises our young people face as a result of the neglect of the previous government for over two decades. We also had a very clear vision and a plan of action for youth empowerment. One of the main components of that plan is the provision of education and training for all of our young people every where; in all communities, in every region; on the coastland and in the hinterland because we believe that all Guyana is one Guyana," he said.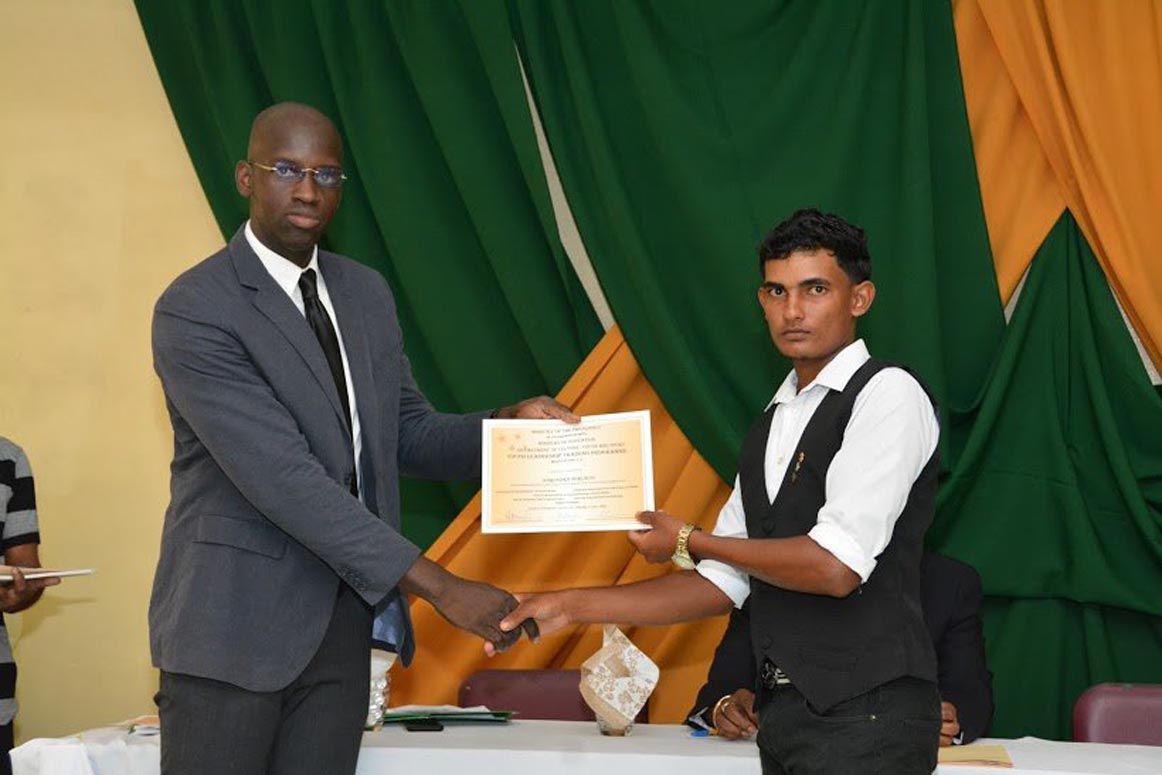 Narendra Persaud of the Anna Regina Multilateral Secondary Challengers Unit of the President's Youth Award Republic of Guyana (PYARG) receives his certificate from Department of Culture staff Ronald Austin Jr.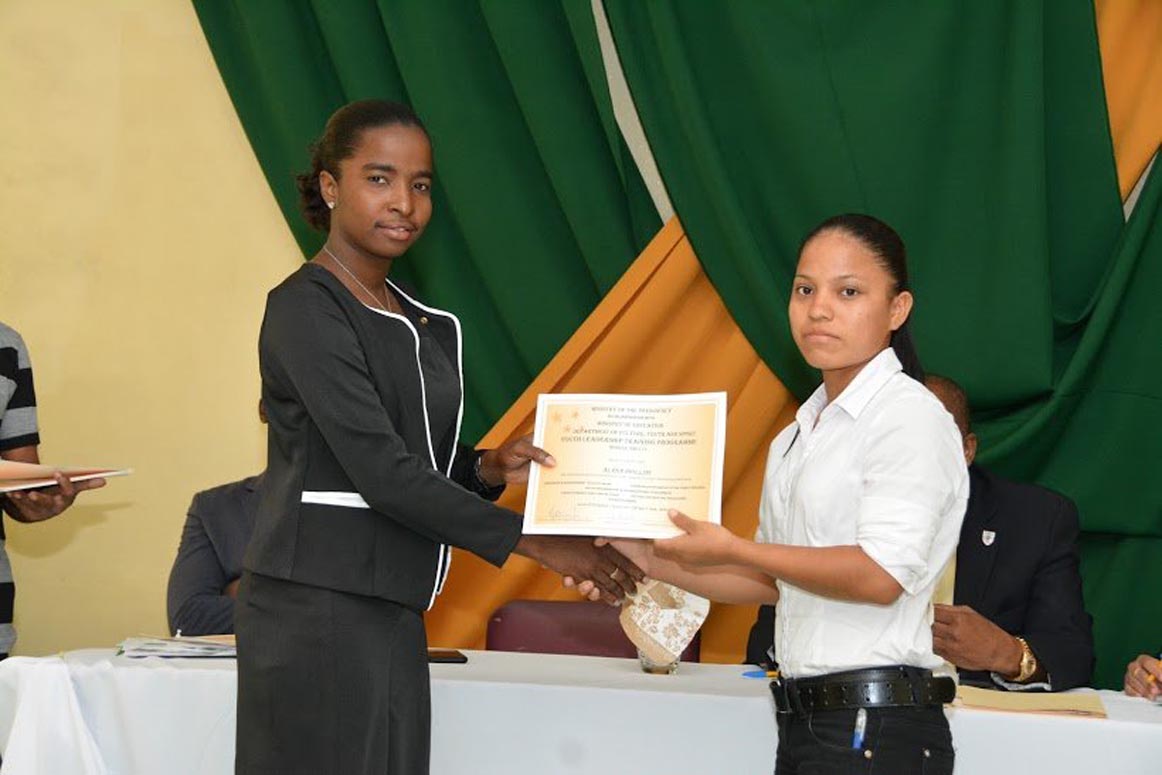 A soldier in the making! Alana Phillips of Region 2 receives her certificate.
The Minister also spoke on the importance of social cohesion and lauded the organisers of the programme for the diversity reflected by the faces of the graduates. He called on them to return to their communities and resolve to work to remove the political, economic, social and cultural barriers that divide Guyanese.
"I hope the training, which you have received here, will enable you to establish cohesive relationships and cohesive groups to foster cohesive communities and thus a truly cohesive society in our country… Your government is unequivocal and resolutely committed to the establishment of a cohesive society. We cannot; we will not develop by half or any other fraction or configuration… a holistic arrangement where all of our country's people are committed and involved is indispensable to any real development that we achieve as a nation."
Further the Minister called on each of the young people to not see politics as a 'big people' thing but to become involved in the "political, economic and social affairs of your communities as precursors to your involvement in regional and national affairs."
He added that even as they work to develop existing and new youth organisations at the community level that they must also focus on their own personal development.
"You are the new vanguard in our quest to have the youth take their rightful place in our country's affairs. In our efforts at national revival and rebirth, yours is the task of commencing the process of developing our most precious resource; our human resource… I charge you also to rigorously pursue self development; to first develop your own skills, education, work ethic even as you strive to improve the lot of others", Minister Harmon said.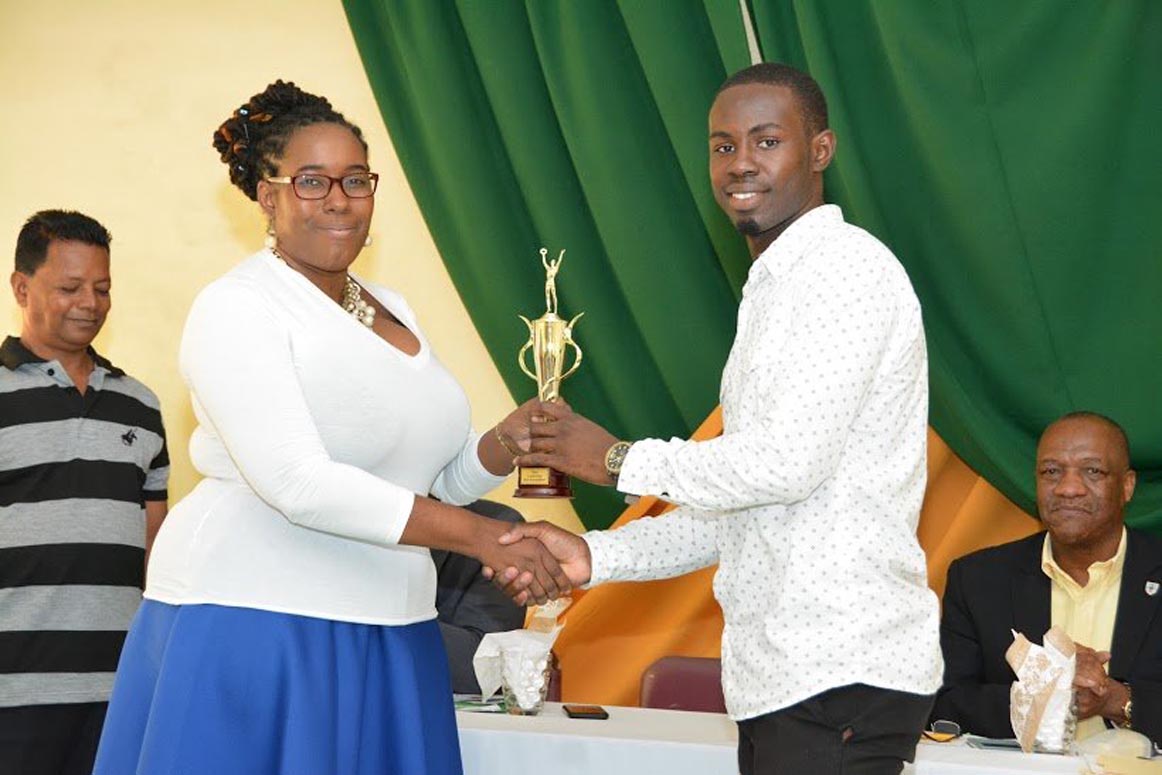 Kibwe Copeland was chosen by his peers as the male participant who best exemplified leadership.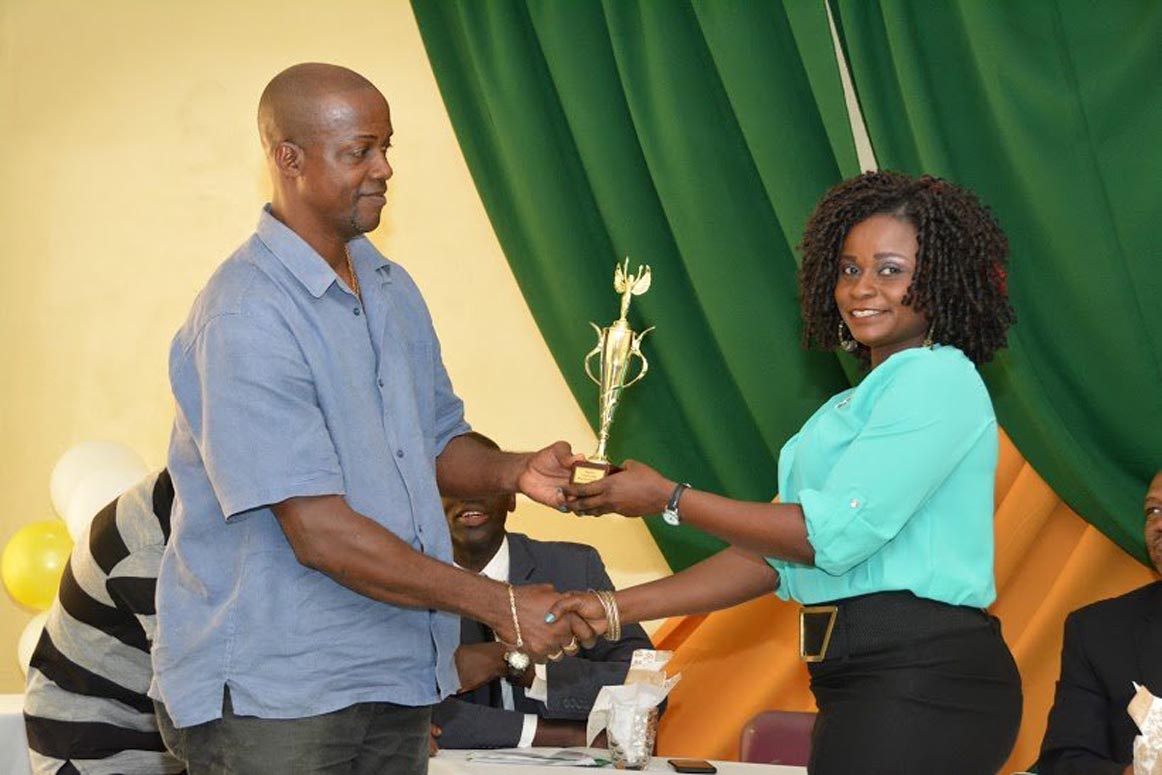 The female who best exemplified leadership according to her peers was Janet Samuels.
Presidential Advisor, Mr. Norton said that the Leadership Programme became necessary after his office supported the development of a number of new and existing youth groups and realised that there was a dearth of leadership skills. He said that module one of this training programme is offering such topics as leadership skills, event planning, communications, effective public speaking, meeting procedures, organising youth organisations, EPIC messaging and SMART Objectives. This provides youth leaders with basic skills to better manage their organisations.
Currently young people from Regions Two, Three, Four, Five, Six and Ten are benefitting from the sessions but hinterland communities will begin to benefit in July when the first such training session is held in the Rupununi.
However, this leadership training is just one part of a holistic approach to youth development. Mr. Norton said that his office is looking at the professionalisation of youth development work and will approach the University of Guyana to explore the possibility of its inclusion in the curriculum and the setting up of a youth empowerment centre.
However, acknowledging the high rate of school drop outs in Guyana and the need for the development of job and entrepreneurial skills, Mr. Norton said, "We have designed a number of programmes to facilitate economic empowerment for young people… The aim here is to create a corp of people who can serve."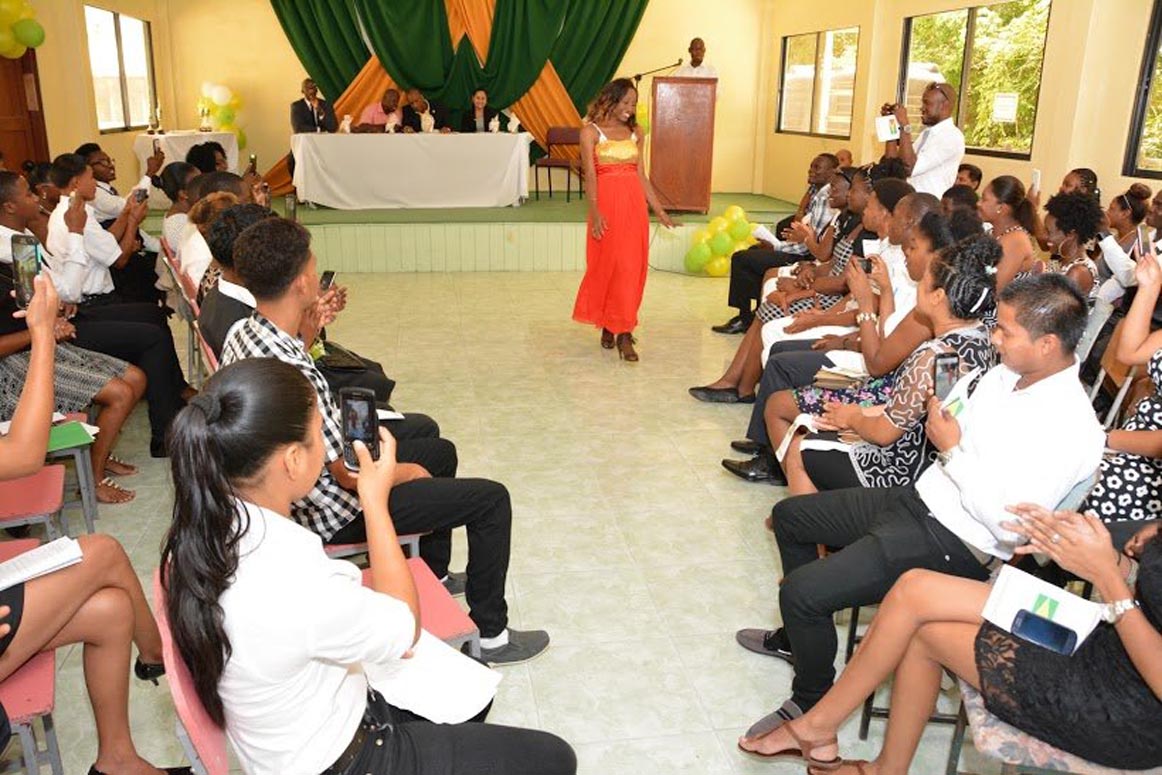 Melynda Smith models an outfit as part of the activities at the graduation ceremony for her colleagues.
With this in mind 25 young people started a Heavy Duty Operator programme today, which will see them benefitting from three months of intense training in the operation of bulldozer, bobcat, front end loaders and other such machines. Once participants are successful in the practical and theoretical aspects of the programme, they will be supported through the licensing process. "It is an area of ready employment. One of the things we are trying to do is programmes that the market is demanding," Mr. Norton said.
Along this line recruitment is currently ongoing for three food and fruit processing training programmes targeting 100 young people. Aiming to tackle the school drop out problem, trainings will be conducted for a corp of literacy and numeracy tutors in communities across the country. A youth counselling and guidance training programme is also on the cards.
In invited comments some of the young people, who participated in the Leadership programme, told the Ministry of the Presidency that they believe they have benefitted significantly from the training they received.
Alana Phillips of Region 2 said that though she is a shy person she feels her confidence has grown and that she learnt a lot about how to manage an organisation. Phillips, who wants to be a Guyana Defence Officer, said that she believes employment is the most important thing that is needed for youth development. She said that having is a job allows young people so show who they really are.
"Being an Army Officer is something that I always wanted but everybody keeps telling me that I am not good enough and I am too little… but I think I am good enough," she said.
Thelston Williams, Chairman of the Hopetown Youth Unity Organisation said, "The thing that stood out the most for me was qualities of a good leader. I believe that what I was doing as a leader was not acceptable so learning those qualities I can now go back into my organisation and put them into practice."
Narendra Persaud of the Essequibo Coast and representing the Anna Regina Multilateral Secondary Challengers Unit of the President's Youth Award Republic of Guyana (PYARG) said his vision is to break down social and political barriers and believes a practical way to breaking social barriers is for all groups to participate in each others activities regardless of ethnicity.
Meanwhile, Melynda Smith of the Guyana Youth and Student Movement from 'A' Field Sophia said that school drop outs is very common among young men under the age of 15 years old in her community and urged the development of a programme, which promoted skills training. She said that tertiary institutions should embark on door to door enrolment and offer school clothing and meals as an incentive.
"That could give them a skill and a skill is a job and a job that could help build Guyana. All jobs are necessary in order to build our society more," she said.
The graduation/closing ceremony was planned by the participants as part of there practical training and event management and included several cultural performances.