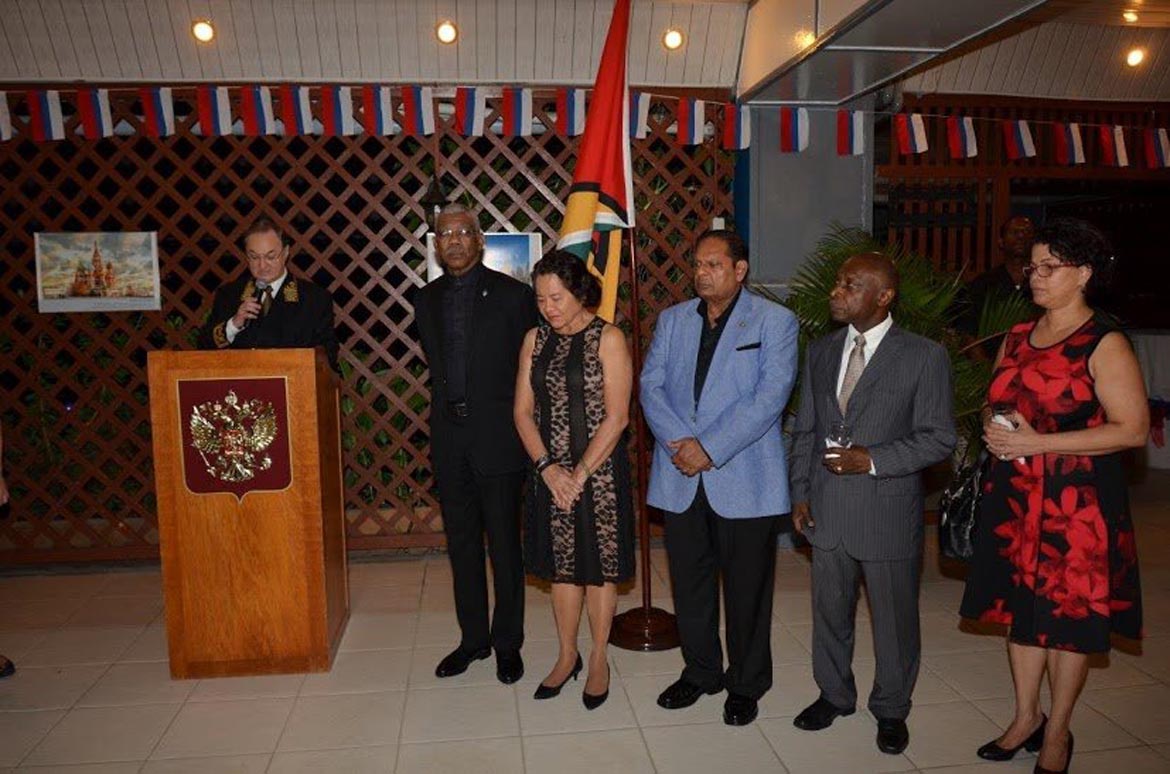 Georgetown, Guyana – (June 9, 2016) President David Granger, last evening, reiterated Guyana's commitment to strengthening ties with the Russian Federation at a reception held to mark National Day at the Russian Embassy in Kitty.
The President was accompanied by his wife, First Lady, Mrs. Sandra Granger. Prime Minister, Mr. Moses Nagamootoo and several Government Ministers and Parliamentarians also attended the function.
The President said that Guyana is grateful for the generosity of the Russian Federation, particularly as it relates to the granting of debt relief. He also noted that relations between the two countries, over the years, have contributed to increased collaboration in the political, economic, social and cultural fields.
"We applaud the recent agreement waiving visa requirements for Guyanese to visit the Russian Federation, a measure that will encourage trade, travel and investment between our two countries… We are particularly encouraged by the prospects of enhanced security cooperation with Russia, especially in the training of our law enforcement personnel. We are also keen to increase investments by Russian companies within our economy," President Granger said.
The Head of State also pointed out that even though the Russian Federation is the largest country in the world, it has never ignored the plight and concerns of small states and uses its considerable experience and expertise in the extractive industries to assist other countries in developing their natural resources.
Meanwhile, Russia's Ambassador to Guyana, Mr. Nikolay Smirnov remarked that National Day is a symbol of unity that brings together all Russian citizens, irrespective of their age, religion, or where they reside.
Ambassador Nikolay Smirnov, delivers his speech as (from left) President David Granger, First Lady, Mrs. Sandra Granger; Prime Minister, Mr. Moses Nagamootoo; Foreign Affairs Minister, Mr. Carl Greenidge and Director General of the Ministry of Foreign Affairs, Mrs. Audrey Waddell listen attentively at the Russian Federation's National Day reception.
He informed that in the coming months, Guyanese can expect more bilateral agreements to be signed with Russia particularly in the area of education. The Ambassador said that talks are ongoing between the Lumumba University and the University of Guyana to establish an agricultural centre in Berbice.
Additionally, Ambassador Smirnov said that Guyana and Russia share similar perspectives on most issues on the international agenda, including climate change, terrorism, drug trafficking, sustainable development and environment protection.
Guyana and Russia have enjoyed cordial relations since the establishment of formal diplomatic relations on January 8, 1992. However, the relations between the two countries date back 46 years when Russia was part of the Union of Soviet Socialist Republics.