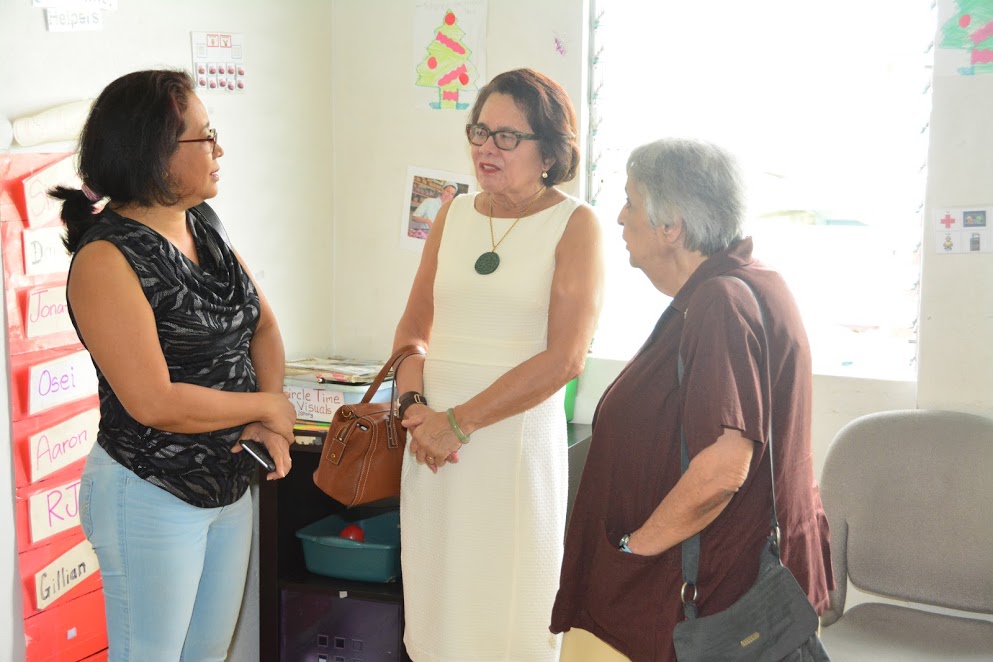 Georgetown, Guyana – (June 3, 2016) First Lady, Mrs. Sandra Granger, today, participated in the Guyana Early Childhood Education Film Project, which is aimed at encouraging parents and guardians to participate more in recreational activities with their children, particularly in the area of reading. The filming was done at State House.
Ms. Quenita Walrond, Nursery Technical Coordinator for the Guyana Early Childhood Education Project within the Ministry of Education, in an invited comment, said that from the inception of the project, Mrs. Granger has been a staunch supporter.
The project, Ms. Walrond said, looks at how the gaps can be closed in children's performance in the public school system; children from the hinterland as compared to the performance of children from the coastland.
First Lady, Mrs. Sandra Granger reads a story book to promote reading in the home, as part of the Guyana Early Childhood Education Film Project.
"We found that there were certain key areas where we could work to help our children and families from the hinterland to improve those education outcomes and literacy and numeracy specifically. So the project has three actionable components, one of which includes a mass media campaign that is targeting all parents and caregivers across Guyana that says parents and caregivers spend the most time with their children and so they are their first and best teachers. And that is where the First Lady comes in," she said.
Mrs. Granger, who has always been a firm believer in early childhood education, said she was happy to participate in the project, noting that it is education which will ultimately lead to a nation's growth and development.