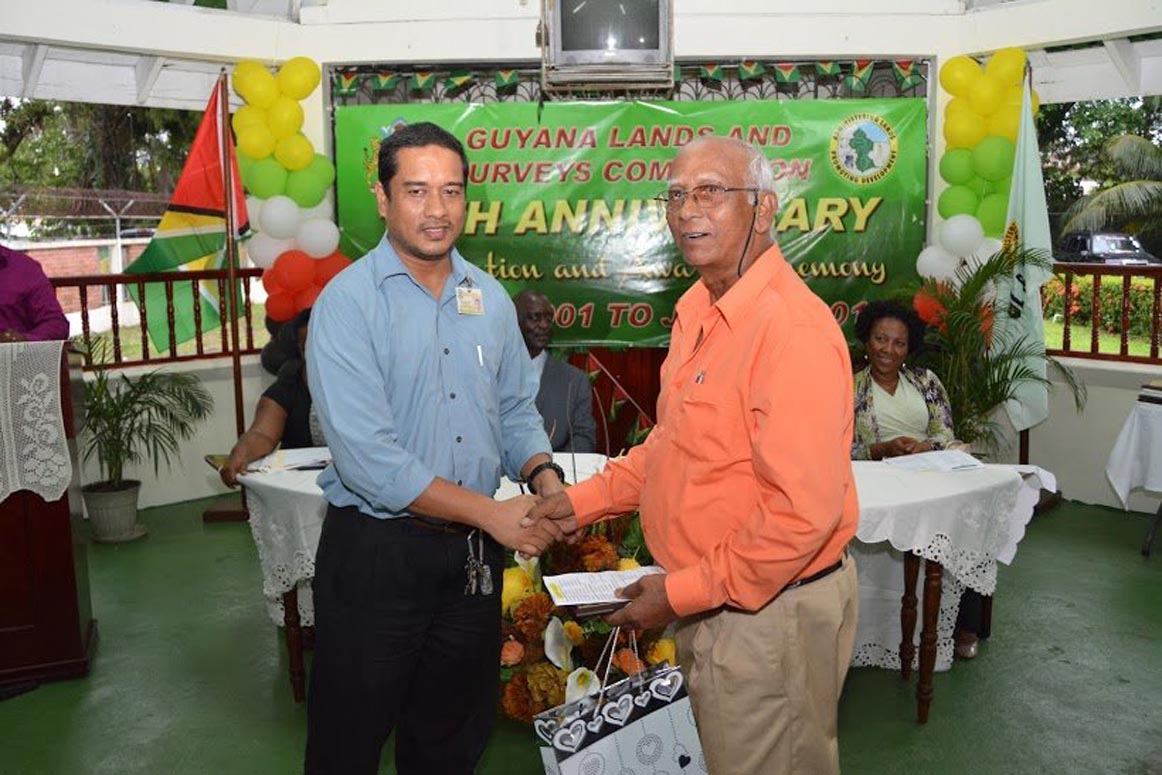 Georgetown, Guyana – (June 2, 2016) Minister of State, Mr. Joseph Harmon, yesterday, expressed confidence in the new board and administration of the Guyana Lands and Surveys Commission's (GLSC) capacity to make management and land use consistent with international standards and best practices. He assured staff of the Commission that any reasonable application by their management to enhance their welfare will be considered favourably by the Government.
The Minister was at the time speaking at the Commission's 15th anniversary and awards ceremony, during which 52 employees were honoured for their sterling contribution to the organisation's work. Minister of Indigenous Peoples' Affairs, Mr. Sydney Allicock, Minister within the Ministry of Communities, Ms. Valerie Patterson, Presidential Advisor on the Environment, Rear Admiral (ret'd) Gary Best and representatives of the United Nations Development Programme (UNDP) were also among those in attendance.
"Land is the most basic of all economic resources and fundamental to the form that societal development takes. Whether it is agricultural activities, urban development or ecological sustainability, land and land issues are of vital importance to us all. Its availability, distribution and management are crucial to the development of any society," Minister Harmon said.
The Commission's ability to identify lands for development is important to the expansion of Guyana's economy, he said, adding that it now has the capacity to use its own resources to turn its fortunes around.
Land Information and Mapping Manager, Mr. Naseem Nasir presenting a special award to Mr. Abdul Khan who will be proceeding into retirement after serving the Commission for 15 years.
"We have to ensure that this generation of Guyanese become owners of a piece of land and that we reserve portions of our land for the next generation of Guyanese and this is a challenge, which the GLSC will have to take very seriously," the Minister said.
Minister Harmon also condemned the indiscriminate award of leases for lands that constitute State reserves. He reminded that these reserves were meant for common purposes and not individual use. He also called for an end to any discriminatory practice with regard to the issuance of lease applications.
"We have to ensure that the work of the Commission is transparent and that Guyanese people, wherever they are, can be satisfied that whatever document evidencing the lease or licence that they have…is something with which they can stand firm with and can go to the bank or any other institution with," he said.
Meanwhile, Chief Executive Officer of the GLSC, Mr. Trevor Benn reaffirmed his commitment to working with the Government and the Board and staff of the Commission to increase its efficiency by reducing the time it takes to process leases, improving customer relations, increasing its presence in the Administrative Regions, monitoring State lands and ensuring that the relevant laws are effectively enforced at all times.
The GLSC is a semi-autonomous agency that is responsible for land surveying and administration in Guyana. Its mandate includes the administering of lands, maintenance of a land register and cadastral records and the optimising of land use. Additionally, it is also responsible for the development of land use policies and plans and land information systems.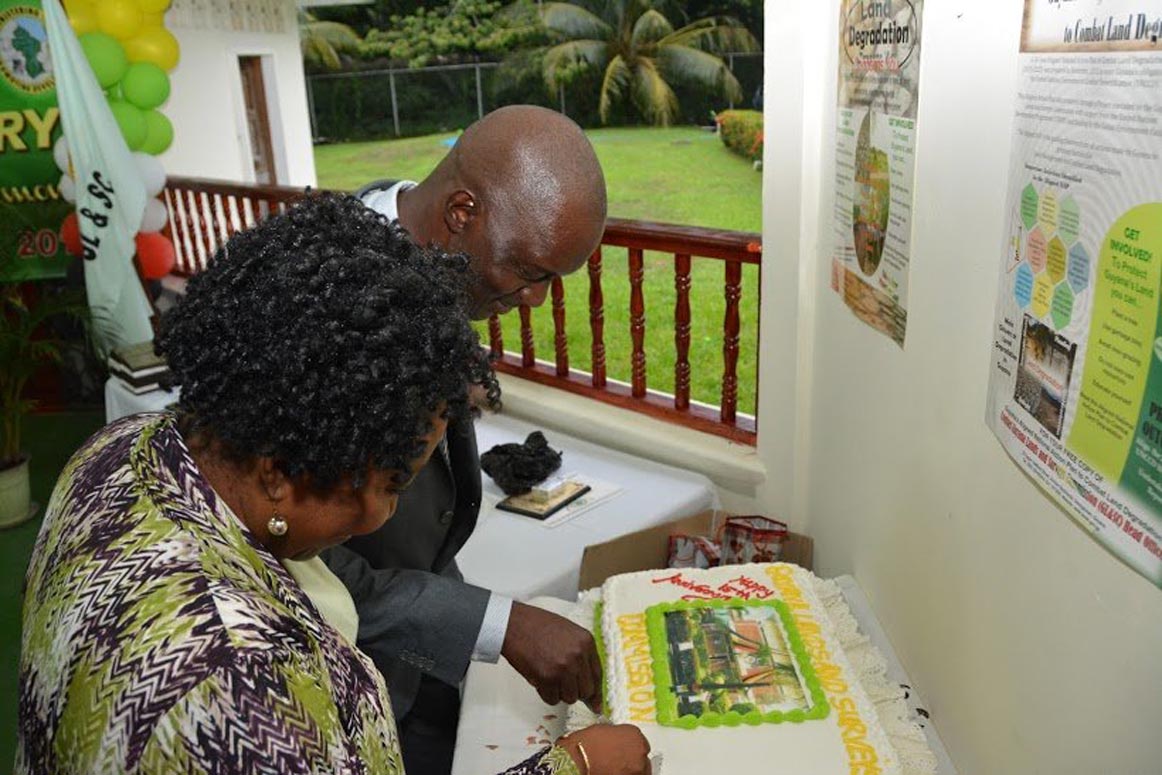 Chief Executive Officer of the GLSC, Mr. Trevor Benn and Chairperson of the Board, Mrs. Paulette Henry cutting the Commission's 15th anniversary cake