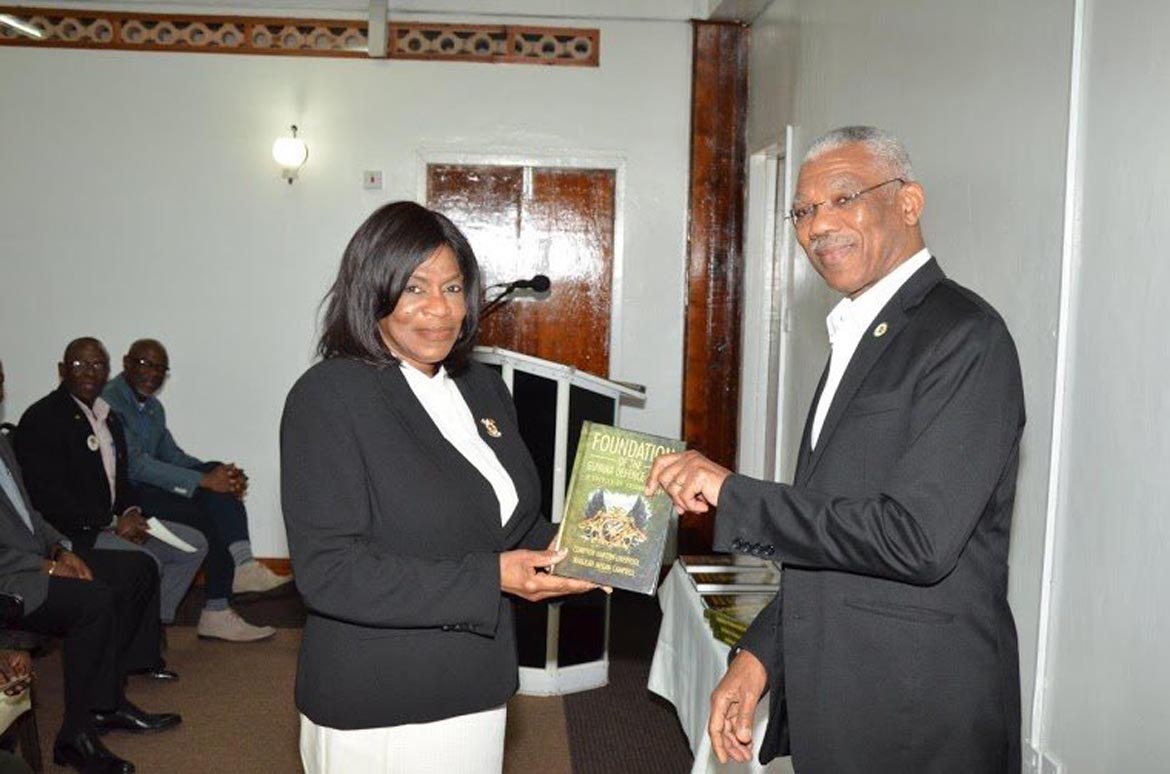 Georgetown, Guyana – (May 31, 2016) President David Granger, last evening, attended the launch of a book titled "Foundation of the Guyana Defence Force-A Soldier of Valour Story", which was authored by Lt. Col. Hartley Liverpool and co-authored by Ms. Khalilah Campbell. The book was launched at the Officers Mess at Base Camp Ayanganna.
Lt. Col. Liverpool, who could not attend the launch due to illness, spoke to the audience via teleconferencing and remarked on the timeliness of the book being launched in Guyana's 50th Independence Anniversary year. He noted that it "is dedicated to soldiers past and present and even those to come in the future."
He urged all the ranks to make a special attempt to read the book, which essentially chronicles the various stages of development of the Guyana Defence Force (GDF) from as far back as 1939. Lt. Col. Liverpool said that this book gives insight into events, which may very well be unknown to many people.
President David Granger receives his copy of the book "Foundation of the Guyana Defence Force-A Soldier of Valour Story" from co-author, Ms. Khalilah Campbell
Ms. Campbell, who has been working closely with Lt. Col. Liverpool since 2013 to bring this project to fruition, explained that the book focuses on four distinct periods, 1939, 1941, 1948 and 1965; highlighting the courage and dedication demonstrated by soldiers in their service to Guyana.
Meanwhile, Major General (retd) Normal McLean described Mr. Hartley, with whom he joined the British Guiana Volunteer Force in 1954-1955, as a man with a great love for the military.
"This book is an excellent account of part of the history of the GDF and of Guyana… Hartley detailed from his memory, everything that has taken place in the GDF," he said.