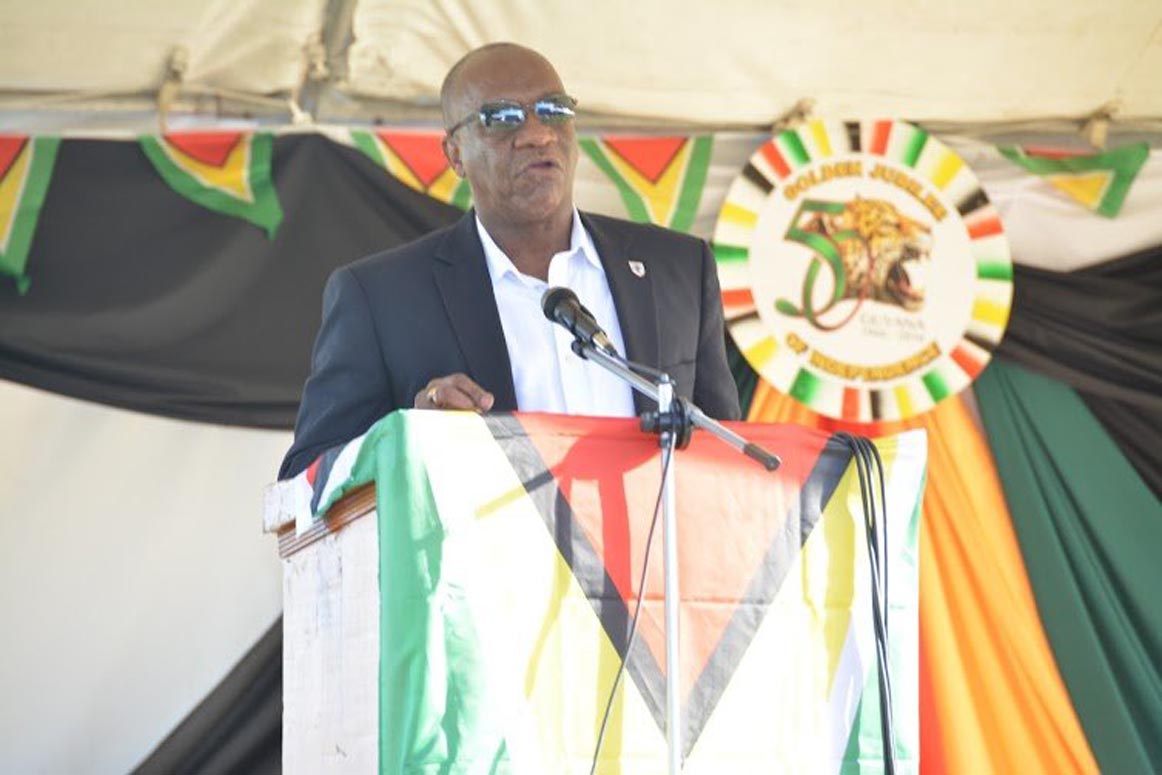 Georgetown, Guyana – (May 25, 2016) Minister of State, Joseph Harmon, today, called on residents of Essequibo Islands-West Demerara (Region Three) to rise above political, ethnic and religious differences and work together as one in order to protect the gains of past generations of Guyanese, who sacrificed their lives for Guyana's Independence.
The Minister was at the time delivering remarks at a flag raising ceremony organised by the Regional Administration of Region Three held at the Synthetic Athletic Track at Leonora, West Coast Demerara.
"Where we are today is a result of the hard work done by all of the governments that we have had since Independence. I make no distinction here because we believe that every government, every politician and every individual had a role to play in making us who we are and allowing us to be where we are today," he said.
Minister of State, Mr. Joseph Harmon delivering remarks at the flag raising ceremony in Region Three
The Minister said that 50 years ago when Guyana achieved Independence from Britain, it was in a state of crisis with poor and in some cases, non-existent roads, schools and other vital infrastructure. He said that today some of those challenges still persist but assured that the Coalition Government stands committed to providing the kind of leadership that is required to make the country a better place for future generations.
"We can fix these problems if we work together as one people. National unity is [an] imperative… If we work together our destiny will be a strong one," Minister Harmon said.
He also spoke of the Administration's policy of ensuring that Guyana becomes an education nation. He said that education moves a nation from poverty to prosperity and said that, "we are going to create the conditions in this country that would make you want to remain here to work and live and those who would have migrated would want to return home."
Meanwhile, Regional Chairman, Mr. Julius Faerber also spoke of the struggle for Independence and said that it is an extremely great achievement of which all Guyanese must be proud.
Apart from the flag raising ceremony and military parade done by ranks of the Joint Services stationed in the Region, there was also a packed cultural programme with performances by students from a number of schools in the region.